Putting on a movie night or presenting to an audience can be a challenge, so how can you engage them? It's like being in a theater, or with crystal-clear sound, you can enjoy your favorite blockbuster, all in front of a big screen. 
Well, guess what? You can easily achieve that by connecting Projector to Bluetooth speakers. Whatever your taste in movies, your level of presentation skills, or just a love of good audio, Team Fab-audio Visual has got you covered.
Let's walk step by step through the process of connecting your Projector to Bluetooth speakers in today's guide. Say goodbye to those tiny built-in projector speakers or your wired speakers and say hello to immersive audio and elevate your viewing or presenting like a pro.
Bluetooth Speakers And Projectors: What You Need To Know
I will tell you some things to learn before you connect your Wireless Bluetooth speakers with your projector system.
Check Bluetooth Option
First, you need to ensure both the Projector and your wireless speakers are Bluetooth-enabled. If your Projector does not contain built-in Bluetooth functionality, then I will recommend you to purchase a Bluetooth transmitter separately.
Bluetooth Connection Range
Second, check the range of your Bluetooth connection, which depends on your devices and the environment. Projector and Bluetooth speakers must be within 30 feet of each other so that they will perform with excellence.
Bluetooth Speaker Pairing Mode
Third, please verify that your Bluetooth speakers are in pairing mode so that they are easily discovered by your Projector. (You can check your Bluetooth speaker Manual for putting them on pairing mode.)
Turn ON Projector Bluetooth
The fourth recommendation is turning on the Projector's Bluetooth wireless connectivity so it will start discovering your speakers and easily show the Model shown in the Bluetooth pairing list. (Please Read the manual that came with your Projector to learn how to activate Bluetooth.)
Check Compatibility
To check whether a Bluetooth Speaker or Projector supports the technology, it should be possible to check their compatibility.
Step By Step Connect Your Bluetooth Speaker With Projector System
I am sure the process is very straightforward, so keep following me:
Please note: In order to address any model-specific issues, refer to your projector's or Bluetooth speaker's respective manuals.
First Step:  Access Projector Settings
Go to > Projector's remote or control panel > Settings Menu
Find an option related to audio or sound settings
Second Step: Enable Bluetooth Pairing on Projector
Go To Projector Settings > Locate > Bluetooth section.
Enable the Bluetooth pairing mode of the Projector.
Third Step: Pair the Devices
Under Projector Discover List, you have to find your Bluetooth Speaker Model.
Select it to initiate the pairing process.
Fourth Step: Confirm Pairing
Your Projector and Bluetooth speaker should display confirmation messages once the devices are paired.
Note: It is possible that some projectors require a PIN or that you confirm the pairing by means of the device.
Fifth Step: Adjust Audio Settings
Now, Go to your Projector's audio settings menu.
Select your Bluetooth speaker as the audio output source.
Sixth Step: Test the Connection
Test whether your Bluetooth speakers are working by playing a video or audio clip on your Projector.
Seventh Step: Fine-Tune Audio
Depending on your Projector, you might have options to adjust audio settings, such as volume, balance, and EQ, so use them properly to get the highest possible sound quality.
Step By Step Connect Bluetooth Speakers Via Bluetooth Transmitter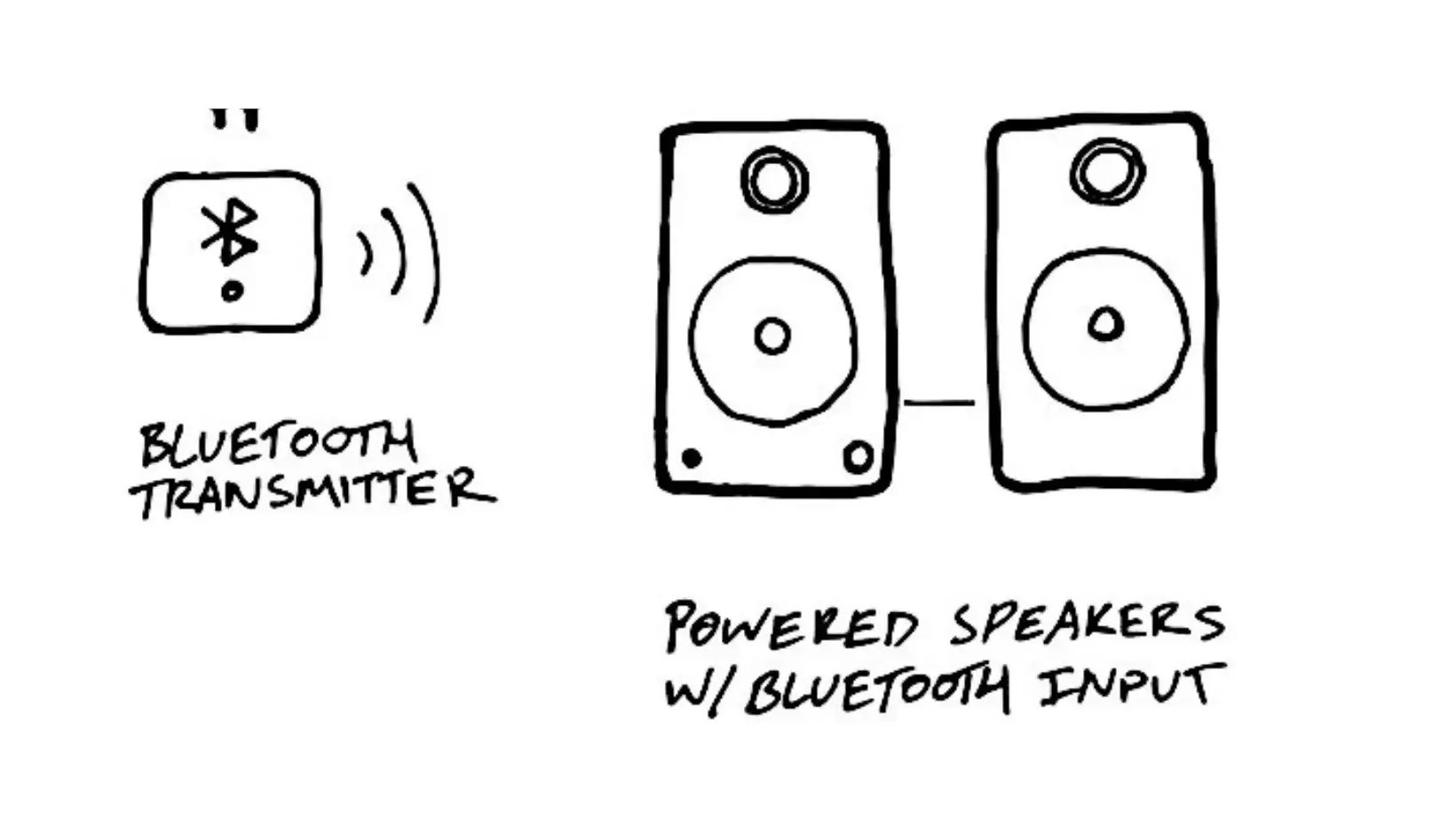 Here, I will show you Six steps for pairing your Bluetooth speakers with a Projector by using a Bluetooth Audio Transmitter below:
Note: You can also use a wireless display adaptor setup if you have one. We use a wireless adapter in situations when your Projector does not contain built-in Bluetooth Functionality.
Steps To Follow
First, find the audio jack port on your Projector.
Second, Turn On your Bluetooth Transmitter
Third, you have to put your Bluetooth Transmitter on pairing mode, which you can do by Pressing the Button For 4-5 Seconds.
Light with a blink on your Transmitter (Turn On Sign)
Active your Bluetooth Speakers Pairing Mode
Put speakers Near the Bluetooth Transmitter (Both Lights will Blink, which means they are paired successfully.)
All done, and enjoy the sound coming from your Projector.
Optical connection or Bluetooth Speakers
Also, using an optical connection for your speaker is better than Bluetooth, and experts also recommend them. Higher bandwidth makes optical connections more efficient, resulting in clearer sound with less loss. Despite Bluetooth's convenience, it can sometimes cause delay and compression problems that affect the quality of your music.
Benefits Of Connecting Wireless Speaker To Projector
I'll show you why wireless speakers are so awesome for projectors below:
Enhanced Audio Quality 
Say goodbye to those puny built-in projector speakers. A wired speaker will not deliver the same level of sound quality as a wireless Bluetooth speaker, as it provides richer, more immersive audio that enhances your visual experience.
Cinematic Experience
With wireless speakers, you get a theater-like effect with surround sound, so conversations can be heard clearly, and explosions can rumble.
Flexibility in Speaker Placement
The freedom to move your wireless speakers around your home gives you a great deal of flexibility. No matter where you sit, you can ensure the best possible sound.
No Clutter, No Cables
Tired of tripping over cables? It's easier to keep your setup neat and tidy with wireless speakers because audio cables do not need to be run.
Seamless Connectivity
If you have a wireless speaker, connecting it to the Projector is usually easy. There is usually no need to deal with complicated connections with most projectors and Bluetooth speakers.
Versatility
You can set up your Projector for more than just movies. Also, for gaming, sports, presentations, and slideshows for top-tier audio, wireless speakers can be used.
User-Friendly Control
The major benefit is easy-to-control options; like while watching something on Projector, you can control speakers easily via a smartphone app (Volume adjustment, settings, EQ, etc)
Impressive Impressions
Hosting a movie night or a presentation? Wireless speakers add that "wow" factor, making a lasting impression with exceptional audio quality.
In A Nutshell
In a nutshell, Your Projector's audio experience will be transformed with immersive, high-quality sound when you connect wireless speakers to it. So do follow the steps and enjoy sound coming from your Projector in a well-defined manner.
A slight delay may be heard in the audio (also known as audio latency) when using Bluetooth speakers with a projector. Depending on how long the delay is, the audio may not match the video perfectly. So team Fab-audio will recommend you to look for transmitters with low-latency technology to minimize this issue.
Frequently Asked Questions
How can I connect my Projector to Bluetooth speakers Quickly for sound?
Here are quick steps to follow:
You'll need a Bluetooth audio transmitter.
Afterward, connect the Projector audio output to the transmitter so that your Bluetooth Speakers will be able to receive the audio from your Projector.
Which Bluetooth transmitter should you use? There must be a Bluetooth transmitter with an audio input that matches your Projector's audio output. It is essential to look for transmitters supporting the same audio connection type, such as 3.5mm, RCA, or optical. For pairing more than other speakers with an audio transmitter, you need to check its capability. So be sure to check the transmitter's specifications.
Can I use a projector without audio output if it doesn't have one?
In the event your Projector lacks a sound output, an HDMI audio converter may be necessary. It will extract the audio signal from the HDMI output and provide an audio output. Afterward, you can then connect to your Bluetooth transmitter. For higher-end audio quality, you can consider higher-end Bluetooth codecs like aptX or AAC.