AV receivers will cost more overall if it has more ports, higher amplifiers, and better video processing. Every year, several top-notch receivers are released by the most reliable manufacturers without costing more than $500.  It is not required to have a receiver in your home theater setup. AV receivers are the center of a home theater system and its primary power source. AV receivers collect audio or video signals from several sources and channel those signals through commonly used home electronics, including TVs, speakers, monitors, and projectors. 
By enhancing your audio and organizing your visual sources, AV receivers improve home theater experiences. Additionally, that sound is amplified, and the signal may even undergo single-room correction, which enhances the sound. An organized and crisp acoustic environment gives users a cinematic experience at home. 
AV receivers provide several controlling features which vary from brand to brand. Besides the brand, you can control several channels, Sound Codecs, video and audio Resolution, Room Equalization, power, and more through an AV receiver. Before buying, check what controlling features your AV receiver provides and your requirements. After testing in the lab below, team Wooster Audio listed the best Av receivers under $500 so checkout them.
Our Recommendations For Best Av Receivers Under $500
Best Av Receiver Under $500 Reviews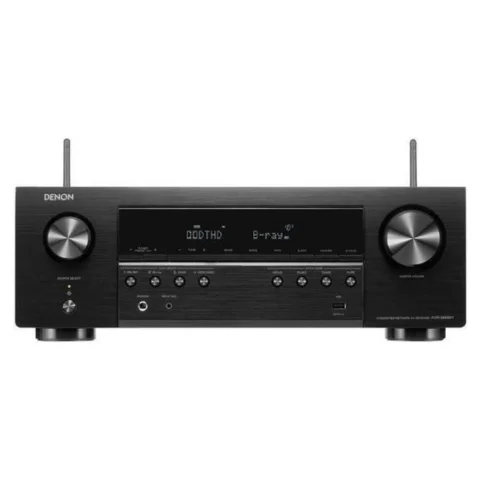 View on Amazon Read Customer Reviews
The first AV receiver team Wooster Audio tested in the lab was Denon AVR-S660H, which is a 5.2 channel AVR giving an unmatched performance in audio and video, and after testing a bunch of movies, music, and games, we were surprised. You will find three dedicated 8K inputs featuring Denon AVR-S660H, which helps you in connecting any 8K devices easily to give you the enjoyment of stunning visuals in detail.
As the Denon AVR-S660H supports 8K/60Hz and 4K/120Hz video pass-through so no doubt you will enjoy playback of videos that is smooth and seamless; so for watching movies, listening to music and gaming, this AVR-S660H AV receiver gives you experience without lag.
The AVR-S660H by Denon supports HDR10, HDR10+, Dolby Vision, and HLG for Increasing the color intensity, contrast, and brightness of your content, and I found that it supports Variable Refresh Rate (VRR), Auto Low Latency Mode (ALLM), and Quick Frame Transport (QFT) for boost gaming performance even further. You will find connectivity options including Wi-Fi, Bluetooth, or AirPlay featuring an AVR-S660H AV receiver to deliver seamless streaming platform-agnostic features such as Pandora, Spotify, and TuneIn, and there is also built-in HEOS Multi-Room digital streaming feature available so every room in your house can be filled with your favorite music.
The Denon AVR-S660H is your home audio system's heart which provides great connectivity options for CD players, Blu-ray players, and turntables and also, there is subwoofer connectivity, with two pre-outs so if you need then just add your additional subwoofer to get bass that is deep and powerful.
The Denon AVR-S660H supports the latest 3D audio formats, including Dolby TrueHD, Dolby Surround, DTS-HD Master Audio, and DTS Neo:6, to ensure that the audio experience is rich and multidimensional. You will find a bunch of connectivity options on Denon AVR-S660H, which includes 6 HDMI inputs, 1 HDMI output, two digital inputs, two analog inputs, coaxial input, and a phono input, so with these connectivity options galore; you are allowed to connect your all audio and video sources. So overall, the Denon AVR-S660H is the best Av receiver under $500, which you can use to increase the quality of your audio and video.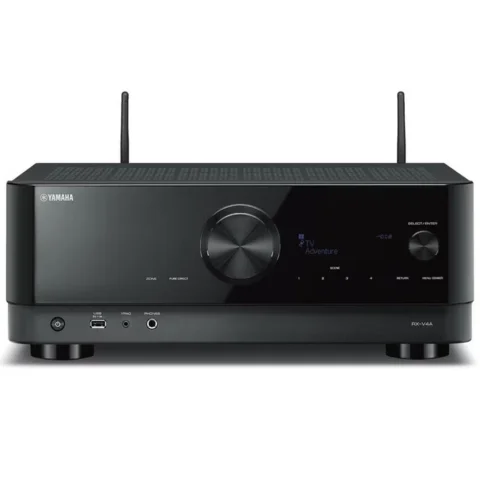 View on Amazon Read Customer Reviews
After the Denon AVR-S660H AV receiver, I tested Yamaha RX-V4A in a Wooster audio lab. The Yamaha RX-V4A is also a 5.2-channel receiver that provides a versatile, high-quality performance under the $450 range.
You will find Yamaha RX-V4A in Black design with a sleek look that adds an elegant touch to your entertainment system and is packed with advanced features. The RX-V4A by Yamaha processes video in accordance with the latest technologies, including 8K60B and 4K120AB, to provide incredible detail and clarity and also supports Dolby Vision, Dolby TrueHD, DTS-HD Master Audio, and HDR10+ so you can play your favorite music and movies.
If you are a full-time gamer, then you can adapt this Yamaha RX-V4A AV receiver which gives you enhanced gaming functionalities, including Auto Low Latency Mode (ALLM) and Variable Refresh Rate (VRR), so no matter which game you play, Like GTA 5 or Far Cry 5, you will always experience reduced input lag and smoother gameplay.
You will find four HDMI inputs on the Yamaha RX-V4A receiver in support of the latest HDMI standards to give you better connectivity to wide devices like consoles like Xbox series x or Blu-ray players and streaming devices.
I found that the Yamaha RX-V4A AV receiver has a rated output power of 80 W (6 ohms, 0.06% THD), and its Zone B feature provides zone control, so it helps you to enjoy music (audio) to different audio sources simultaneously in different rooms.
To get the most out of your home theater, the RX-V4A by Yamaha utilizes a High Slew Rate Amplifier for reproducing audio dynamically in a precise manner sound gets more optimal due to its YPAO Room Calibration and YPAO (Yamaha Parametric Room Acoustic Optimizer) which increase sound quality by analyzing your room's acoustics.
The Yamaha RX-V4A AV has common options as Denon AVR-S660H has Wi-Fi for MusicCast multi-room audio, Bluetooth for streaming music seamlessly, and AirPlay 2 for easy wireless playback from your Apple devices also, you will find wireless surround speakers support so you can create 5.1-channel home theater setup with MusicCast 50 or two MusicCast 20 wireless rear speakers. So overall, the Yamaha RX-V4A AV Receiver is the best Av receiver under $500, which will give you power experience of Yamaha engineering and increase your home theater level.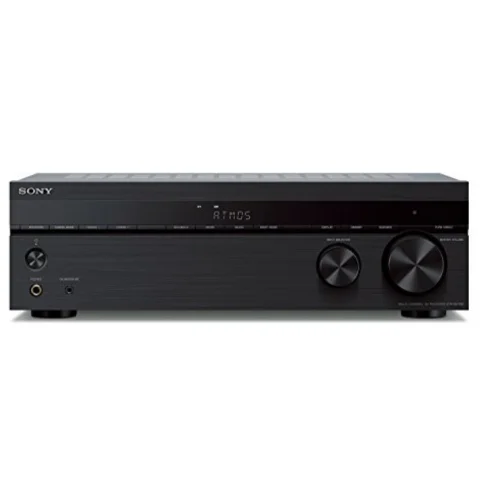 Best 4k AV Receiver option
View on Amazon Read Customer Reviews
After Yamaha RX-V4A, I tested STR-DH790 by Sony, which is a 7.2 channel system better option than 5.2 channel Av receivers and gives you a surround sound home theater experience. The Sony STR-DH790 is able to deliver full-resolution sound, and with support for Dolby Atmos and D.T.S.: X, you help to create a room-filing three-dimensional soundstage.
To ensure compatibility with the latest audio formats and video standards, you will find Sony STR-DH790 equipped with Dolby Vision, HDR10, and Hybrid Log Gamma, so you will get deliver vibrant colors and audio.
The Sony STR-DH790 features an eArc connection, and if we talk about other connections, then you will find 4 HDMI inputs and 1 HDMI output, so if you have UHD Blu-ray Disc players, consoles like Ps5 then use these connections, and additionally, there are optical, coaxial digital, and analog audio connections are also available so with these you will find great help in connecting various audio sources.
The Sony STR-DH790 features Advanced D.C.A.C. (Digital Cinema Auto Calibration), so it uses this technique to analyze any room's acoustics and then, after analyzing the A.V. receiver, automatically optimizes the audio settings to give you super sound quality. Putting the Sony STR-DH790 near a home theater or conventional A.V. cabinet is easy as it has a low-profile and space-saving design.
If you want to enjoy a private listing, then Sony STR-DH790 gives you the connectivity option of the headphone jack and 3.5mm audio input, which you can also use for connection of external audio devices too. You will find three power digital signal processors featured by Sony STR-DH790 for better audio processing capabilities, and this Sony AV receiver amp utilizes a glass-epoxy circuit board and for better audio, the STR-DH790 has reinforced frame and rigid beam chassis, so the least vibrations produced which never feels during plays.
The Power is supplied by a large transformer on the Sony STR-DH790 so that every component will get a reliable power supply, and Sony also has installed a heat sink in STR-DH790, so you do not have to worry as the Sony receiver remains cool during demanding use.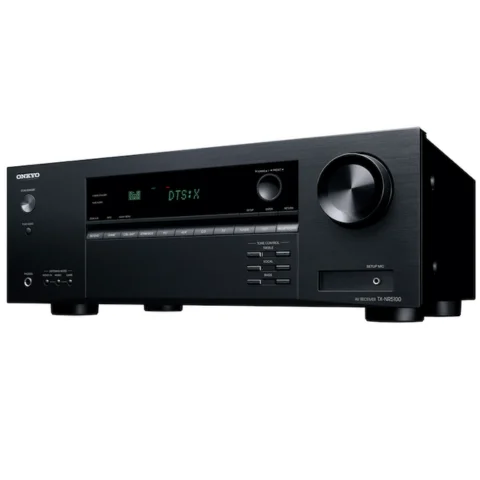 View on Amazon Read Customer Reviews
After the Sony Flagship STR-DH790 receiver, I took a great test of the Onkyo TX-NR5100 in Wooster Audio lab, and I found that it is also a 7.2-channel home theater receiver which hosts excellent features and design under the $500 affordable range.
The Onkyo TX-NR5100 AV receiver is equipped with HDMI 2.1 technology and capable of supporting 8K resolution, ensuring crystal-clear visuals in depth and with 4K/120Hz HDR pass-through and features like ultra-fast motion, VRR (Variable Refresh Rate), and Quick Frame Transport no doubt this Onkyo receiver gives you gameplay that is fluid and doesn't stutter or tear.
The Onkyo TX-NR5100 Receiver is also supporting Auto Low Latency Mode (ALLM) and eARC (Enhanced Audio Return Channel), which is also available in other AV receiver models by Sony and Yamaha.
The Onkyo TX-NR5100 will give you the availability of the latest high-bitrate audio formats with Dolby Atmos, DTS-HD Master Audio, DTS: X, and Dolby TrueHD support so with these; you will get a genuinely cinematic experience where the Dolby Atmos Height Virtualizer features of TX-NR5100 will give you simulating overhead audio and no need of dedicated height speakers.
Furthermore, as common, the Onkyo TX-NR5100 is also providing you HDMI 2.1 connectivity and streaming options Sonos 1, Chromecast built-in, AirPlay 2, and DTS Play-Fi, and with this TX-NR5100 receiver, you can do select the streaming option as liking to enjoy favorite music from popular services Spotify, Amazon Music, Pandora, TIDAL, Deezer, and TuneIn.
As compared to Sony STR-DH790, the Onkyo TX-NR5100 also features a user-friendly interface and sleek design, and Onkyo's commitment to giving you cutting-edge technology and audio quality under the $500 range which is great.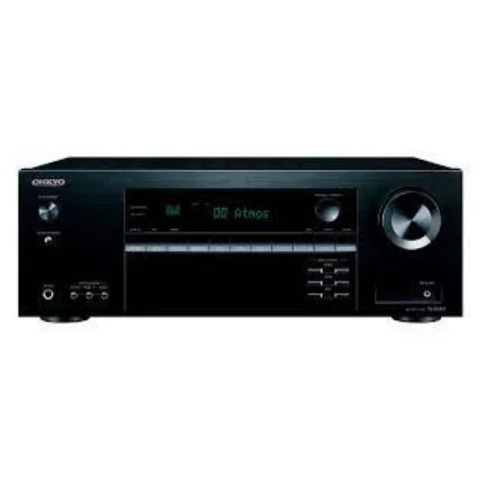 View on Amazon Read Customer Reviews
After Onkyo TX-NR5100, I came to take a test on one more Onkyo AV receiver, which was TX-NR5100 and is also a 7.2-channel receiver with 160 watts per channel and gives you the selection to select the speaker layout that is most appropriate for you weather 7.2-channel setups as well as other configurations based on your needs.
The Onkyo TX-NR5100 gives you the experience of stunning visuals with HDR (High Dynamic Range) support, including HDR10, HLG (Hybrid Log-Gamma), and Dolby Vision and also supports the BT.2020 color space to achieve lifelike colors with vibrant hues.
The Onkyo TX-NR5100 has six HDMI inputs, including an ARC-ready MAIN OUT and SUB OUT that pass 4K/60p signals with HDCP 2.2 compliance to keep your devices connected seamlessly.
With the Onkyo TX-NR5100, you will experience captivating audio of Dolby Atmos and DTS:X, and moving sound effects are brought to life with Dolby Surround and DTS Neural:X, so you will have a realistic feel where you will also find a Dolby Atmos Height Virtualizer features available in TX-NR5100.
So overall, the Onkyo TX-NR5100 falls among the best Av receiver which is under $500, like Denon AVR-S660H, Onkyo TX-NR5100, and Sony STR-DH790 and gives you an easy-to-navigate interface physically, and the latest video/audio technologies in technically which you want from any AV receiver.
Quick Buying Tips
Buying an AV receiver under $500  range needs some factors to consider:
Number of channels 
An AV receiver's channel count indicates how many speakers it can power. Even if you can play audio with just two speakers, you'll need a lot more. You should buy more channels than you anticipate using. By doing this, you may subsequently add more speakers without purchasing a new receiver.
Power output 
It's different from volume, but power is crucial for audio quality. Even at low volume levels, a powerful amplifier sounds great. Consider your speakers and the space they will be playing in when determining how much power you require. At a minimum, the wattage per channel should equal the wattage per speaker.
Features
The cost will increase with the number of features. Check your needs and the features an AV receiver offers before you buy. However, the intriguing characteristic of room equalization may significantly enhance audio quality. Look for an AV receiver with a multi-room capability if you have speakers in several rooms.
Connectivity
Do think about the connection that the AV Receiver offers before you buy. It's also essential to consider potential additions you could buy if you intend to use the receiver for a long time. Consider using different connections, such as a Phono input, to connect a record player.
Size Of Room
Using more speakers and an AV Receiver in a small space can damage your health and also give you worst output. Consider your available space and number of speakers before buying an AV Receiver.
AV receiver channel configurations
2.0: This stereo setup features two speakers.
2.1: This stereo setup features two speakers and a subwoofer.
5.1: Five speakers and a subwoofer make up the 5.1 surround sound system.
7.1: This surround sound setup uses seven speakers and a subwoofer.
9.1: This surround sound setup has nine speakers plus a subwoofer.
11.2: This surround sound setup has eleven speakers and two subwoofers
Frequently Asked Questions
What common features ever found in any AV receiver?
In any AV receiver, you will find plenty of features, including Digital audio inputs/outputs, HDMI inputs/outputs, Tuner, Speaker calibration, and Remote control, but not only that you some AV receivers like also give more features, including Wi-Fi and Bluetooth connectivity, AirPlay 2 and Spotify Connect, etc so AV receiver features should always be checked before purchasing.
Which is best? 4K and 8K AV receivers?
You will need to decide on the device to which the AV receiver will be integrated to get the best video quality. For example, if you have a 4K TV, you can get a 4K video result with a 4K AV receiver. If you have an 8K TV, I recommend an 8K AV receiver to get the best video quality possible.
AV Receiver With eARC?
Your receiver and your TV or speakers must be eARC-compatible to take advantage of all of HDMI eARC's features. You can only hear the downsized versions of the audio if you have eARC on both of your devices.
What to do to improve audio quality from an AV receiver?
Improving music quality will highly depend on your speakers and the brand of your AV receiver. If your receiver provides the feature of adjusting sound, you can easily find the setting in the menu. Try turning off Eco mode from the AV receiver; it will help in better music quality.
HDMI straight to Tv or HDMI straight to AV receiver?
You can use both methods. However, a single cable should generally connect all devices to the receiver and then to the TV. Alternatively, use a single audio connection to connect all devices to the TV and AV receiver. The only significant difference will be the device you flip inputs on.