Those living in small apartments or who want to minimize clutter will appreciate bookshelf speakers that are compact and small, allowing them to fit in smaller rooms with limited space and placed on a bookshelf, desk, or stand and deliver powerful quality sound. A notable fact is that budget bookshelf speakers are category best sellers. If you're looking for bookshelf speakers, you may find the article below helpful.
For each bookshelf speaker, Team Wooster separately conducts a test which includes positioning, source material, sound settings, listening test, critical listening, volume test and a great comparison test so our teammate Aleena Effort will give you a sense in making the right decision for purchasing any bookshelf speaker.
Furthermore, bookshelf speakers come with customer reviews on Amazon, which is a beneficial resource.
We've put together a list of the best bookshelf speakers under $1000, including Dynaudio Xeo 2, Edifier R2000DB, Klipsch RP 160M, SVS Prime, KEF Q100W, Klipsch R-15 PM, KEF LS50 Mini, Q Acoustics 3020i and ELAC Debut 2.0 B6.2 bookshelf speakers and we'll tell you everything about them so you can decide which one to buy. In terms of bookshelf speakers, you should keep in mind that if you don't have a bookshelf speaker stand, you'll have to put them on a tabletop.
Our Recommendations For Best Bookshelf Speakers Under $1000
Best Bookshelf Speakers Under $1000 Reviews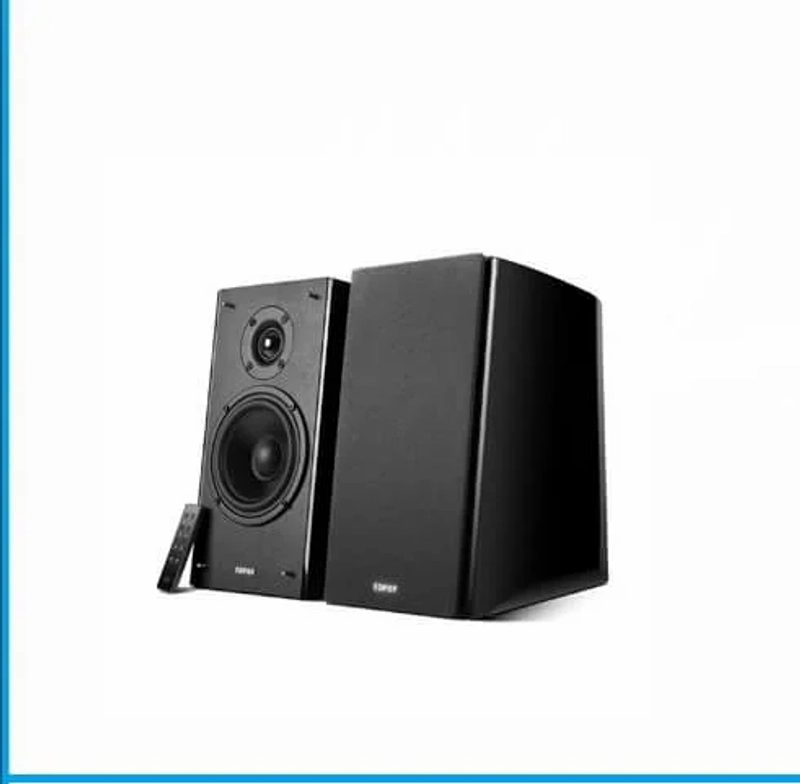 SPECIFICATIONS
TOTAL POWER OUTPUT: RMS 24W × 2 + 36 W × 2 | SIGNAL TO NOISE RATIO: ≥85dBA | FREQUENCY RESPONSE: 55Hz-20KHz(±3db) | INPUT TYPE: RCA x2, Bluetooth | ACTIVE/PASSIVE : Active Bookshelf Speaker
REASONS TO BUY
✓ Best Astonishing sound
✓ High gloss piano finish
✓ Deliver an authentic listening experience mirrored
✓ Hi-tech wireless functionality
✓ Wireless connectivity
REASONS TO AVOID
✗ Occasionally, control can be problematic
Edifier R2000DB are excellent bookshelf speakers for the price, delivering all of the power you need from two channels and with the surprising bass response from their small size and has use DSP digital processing technology and excellent chipsets, including TAS5508 chip and digital power amplifier chip for immersive sound and can be use with Vinyl record player.
The Edifier R2000DB bookshelf speakers sound great at a price point and under the $350 range; the speakers feature excellent construction quality; they come in black and wood design with a high-quality glossy finish.
The Edifier R2000DB speakers have an optical fibre connection which is significant for TVs without an HDMI port, and not only that; you can also connect them using a 3.5mm wired connection, and for wireless, you will find Bluetooth connection support.
The Edifier R2000DB bookshelf speakers are for most people who want something that does not take up the entire room with electronics, and they feature a 25mm coated silk dome tweeter and use DSP frequency division technology for pretty great sound, and this near-field speaker has ample low-frequency volume.
One of the great features of Edifier R2000DB speakers is the core power amplifier circuit that uses two 60W TI TAS5342 Class D amps, so that is why these are the best bookshelf speakers under $1000.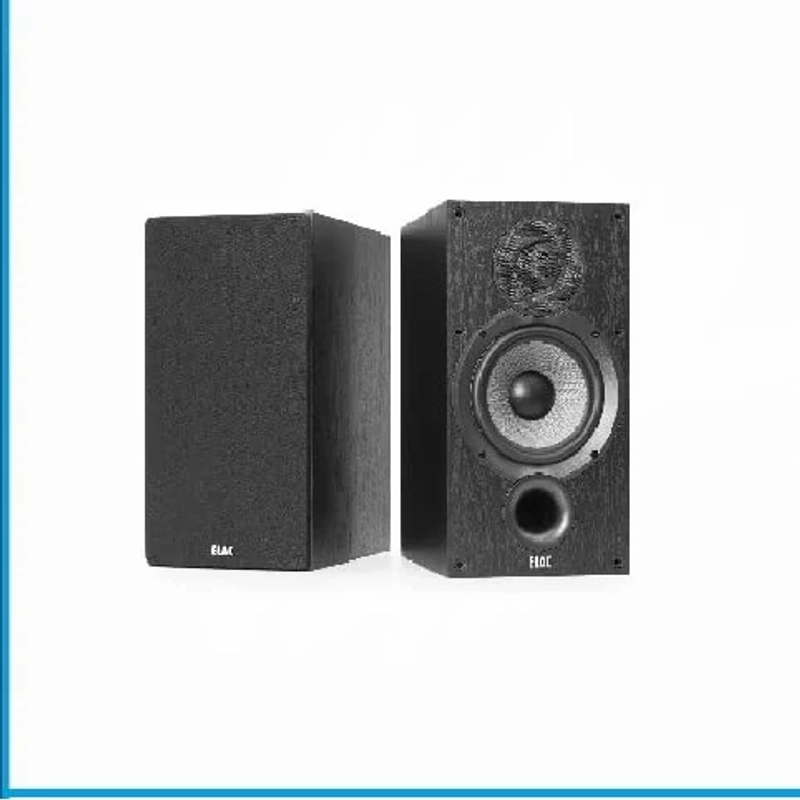 SPECIFICATIONS
Tweeter Size: 1" Soft-Dome | Woofer Size: 6 1/2" Aramid Fiber | Nominal Impedance: 6 Ohms | Frequency Response: 44Hz - 35kHz | Sensitivity: 87db @2.83v/1m | Finish: Black Ash Vinyl
REASONS TO BUY
✓ Wide-dispersion waveguide
✓ Hugely transparent
✓ Rhythmic and dynamic
REASONS TO AVOID
✗ Voices are barely audible
Music lovers will love the ELAC 2.0 B6.2 Bookshelf Speakers, which have a flexible design that allows you to place them anywhere in your room and get excellent sound quality without sacrificing performance or accuracy.
When listening to rock, jazz, or other genres, the ELAC Debut B6.2 speakers feature a one-inch Soft-Dome Tweeter and a 6 ½ inch Aramid Fiber woofer to create deep and powerful sounds with incredible bass and sound clarity.
Furthermore, the ELAC Debut B6.2 has a built-in high-pass speaker, which doesn't interfere with your subwoofer's sound and has internal speaker bracing for an exceptional bass response for any music you like to listen to.
If we compare ELAC Debut 2.0 with KEF Q100W and Klipsch RP 160M, then we find that it has more precise sound quality than theirs. 
In summary, the ELAC Debut B6.2 has a beautiful Black Ash Vinyl finish and is one of the best-sounding bookshelf speakers.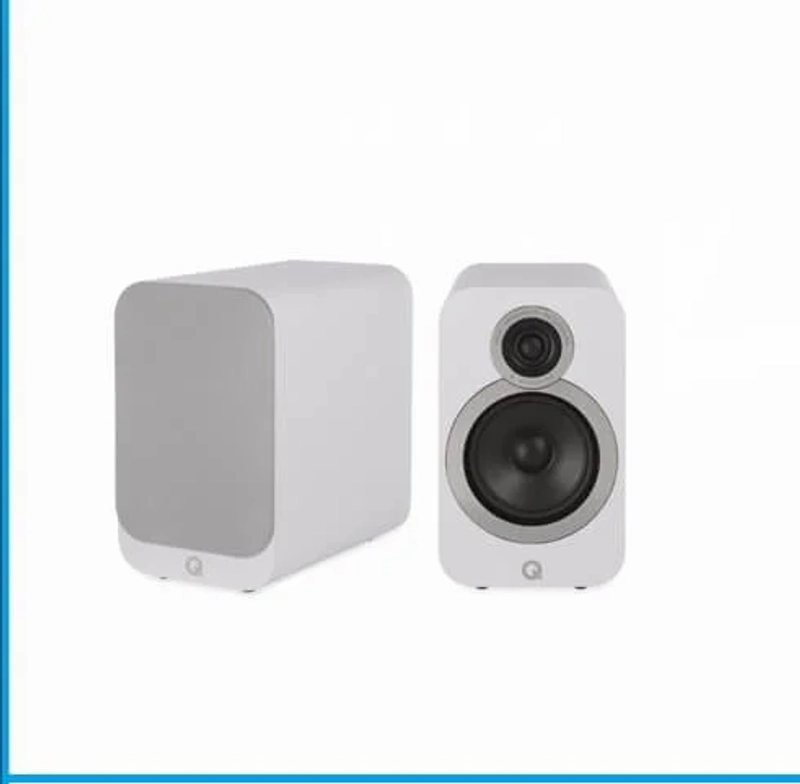 SPECIFICATIONS
Enclosure type: 2-way reflex | Bass Unit: 125 mm (5 in) | Treble Unit: 22 mm (0.9 in) | Nominal Impedance: 6 Ω | Minimum Impedance: 4 Ω | Stereo Amplifier Power: 25 - 75w | Crossover Frequency: 2.4kHz
REASONS TO BUY
✓ Increased Cabinet Size Deliver
✓ 22mm decoupled high-frequency driver
✓ Added low-profile binding posts (Easy for positioning)
✓ Excellent bass and mids
REASONS TO AVOID
✗ Non-existent bass
✗ While intervening on the amplifier, some rumbling sound comeout
The Q Acoustics 3020i, a compact bookshelf speaker with a built-in subwoofer, is ideal for small to medium rooms, has the best bass response, and delivers powerful sound. The Q Acoustics 3020i offers Hi-Fi listening enjoyment and better soundscape, and due to its size and price range, they are perfect.
The Q Acoustics 3020i quality has high-quality drivers and cabinets made from plywood and MDF and comes in graphite grey, English walnut, carbon black, and arctic white colour, which looks pretty sleek and contemporary and features point-to-point (P2P) cabinet bracing (quieter) and also Aleena observe about cabinet corners internally braced.
The Q Acoustics 3020i speakers have an RMS power of 75W (the measurement for continuous power), and the built-in subwoofer,20mm soft dome tweeter and 12.5cm mid/bass driver offer enough bass to please most listeners and have full bass and precise treble, and sweeping dynamics.
The Wooster Audio team tested and compared the Q Acoustics 3020i with the KEF LS50 Mini and the Klipsch R-15 PM bookshelf speakers and found that their build quality is a little robust, but the sound quality is lower than either of those two speakers.
The Q Acoustics 3020i comes with all necessary cables, including speaker wire and banana plugs, so that you can plug them in quickly. So, the Q Acoustics 3020i is the best bookshelf speaker for under $1000.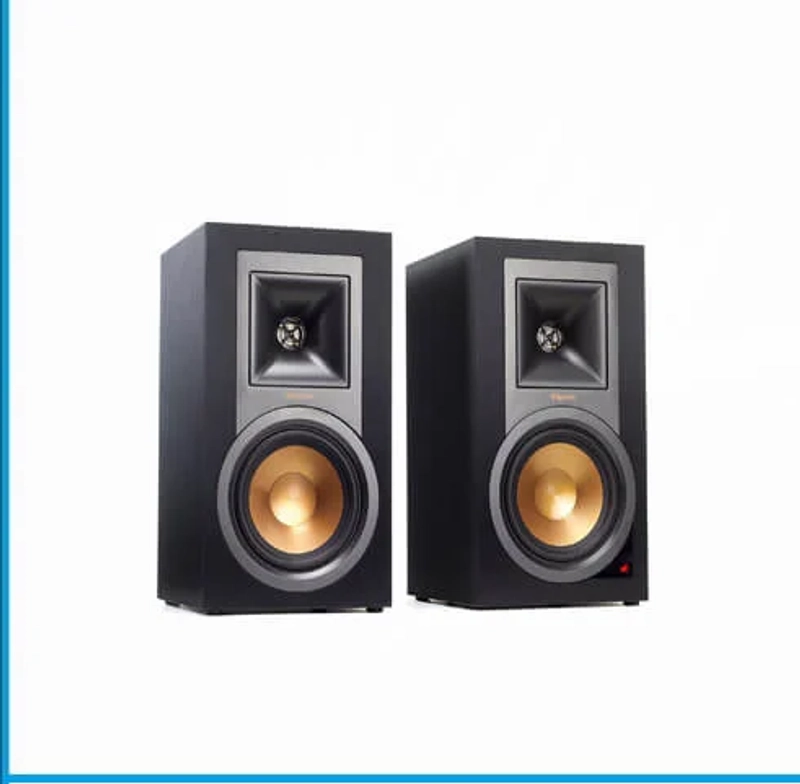 SPECIFICATIONS
Bluetooth wireless technology: Yes | Full-featured IR remote: Yes | Digital optical: 1x | 3.5mm mini-jack: 1x | Horn: 90° x 90° square Tractrix | Woofer: 5.25" (copper spun magnetically shielded IMG )
REASONS TO BUY
✓ High-Efficiency Amplification
✓ System Expandability
✓ Full-Featured IR Remote
✓ Switch for Phono/Line input versatility
✓ Integrated phono pre-amp
✓ Bluetooth wireless technology
REASONS TO AVOID
✗ Sound quality decrease after a 10-minute speaker use
Klipsch R-15 PM is a great bookshelf speaker for all your listening needs, and they come with super features which everyone wants, such as a dual high-frequency horn (made of polypropylene) for superior clarity and making it resistant to the extreme temperatures of common areas such as garages, Bluetooth wireless technology for connectivity, Ir remote for batter controlling it via remote or your device IR Blaster (dedicated source selection, track controls, and play/pause) and the other feature is high-efficiency amplification.
Klipsch R-15 PM also features an acoustic suspension design for the best musical accuracy and provides high sound, smooth and clear for movies, games, and music; where it has many features like integrated phono preamp, digital optical, analog RCA, and USB inputs and has subwoofer to enhance low frequencies.
So overall, the Klipsch R-15 PM speakers are engineered to work superbly on the floor or desk near your couch and are the best bookshelf speakers under $1000.
Sophia Review: I own the Klipsch model RS series, and they produce a natural and warm sound that can't be beaten by anything else at this level.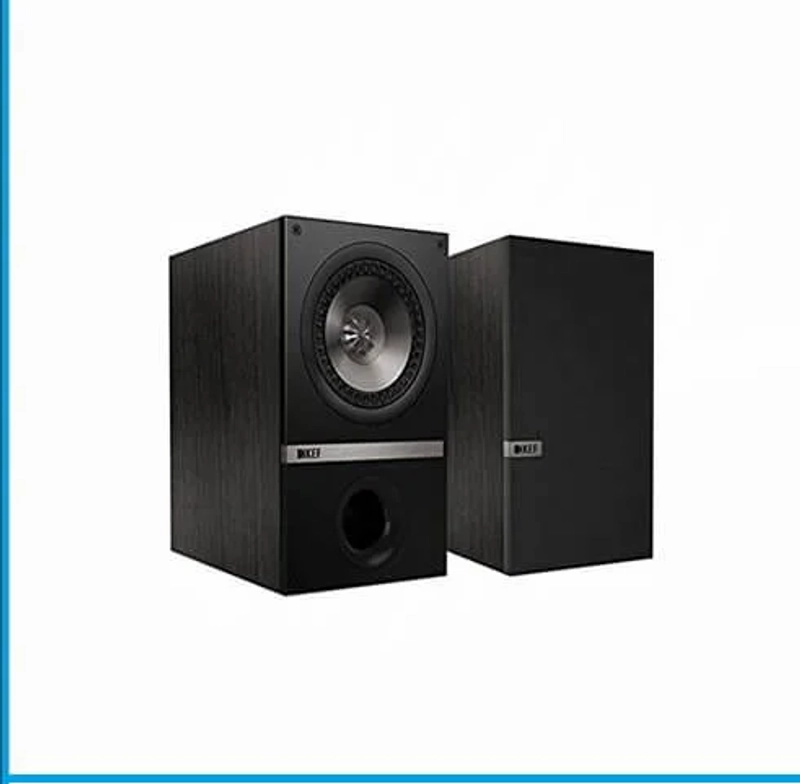 Best Overall Bookshelf Loudspeakers
SPECIFICATIONS
Uni-Q Driver: Yes | Bass Driver(s): Uni-Q Driver Array | Frequency Response: 49Hz - 40kHz (±3dB) | Crossover Frequencies: 2.5kHz | Amplifier Requirements: 10W - 100W | Sensitivity: 86dB | Maximum Output: 107dB
REASONS TO BUY
✓ The compact loudspeakers of Q100 have a very high sound benchmark
✓ Features point-source Uni-Q driver array
✓ Amazingly loud and level resistant
✓ Wall bracket option
✓ Bi-amping option
✓ Very good playback quality
✓ A wide stage is built up
REASONS TO AVOID
✗ Not the strongest bass
The KEF Q100 are great-sounding speakers that have been built with a curved cabinet made of MDF (medium-density fiberboard) construction, and also there is added bracing, and you going to find three vinyl colours: black, white, and walnut, so overall, the KEF Q100 are too much light weighted speakers with having a vinyl coating is resilient and high-quality materials made.
The KEF Q100 bookshelf speaker features a bass reflex porting system that helps to offer more accurate sound reproduction and the SPL balance, which offers improved performance at high volumes, including less distortion and increased sensitivity. The KEF Q100 has an aluminium mid/bass drive coaxial driver so that you can enjoy quality sound.
The Uni-Q driver array is a feature of the KEF Q100, which helps to provide a uniform sound across all frequencies for a clearer and wider soundstage. In addition, the KEF Q100 1-inch tweeter can deliver smooth and precise high frequencies and sounds surprisingly full range. So, the KEF Q100 are the best bookshelf speaker for under $1000.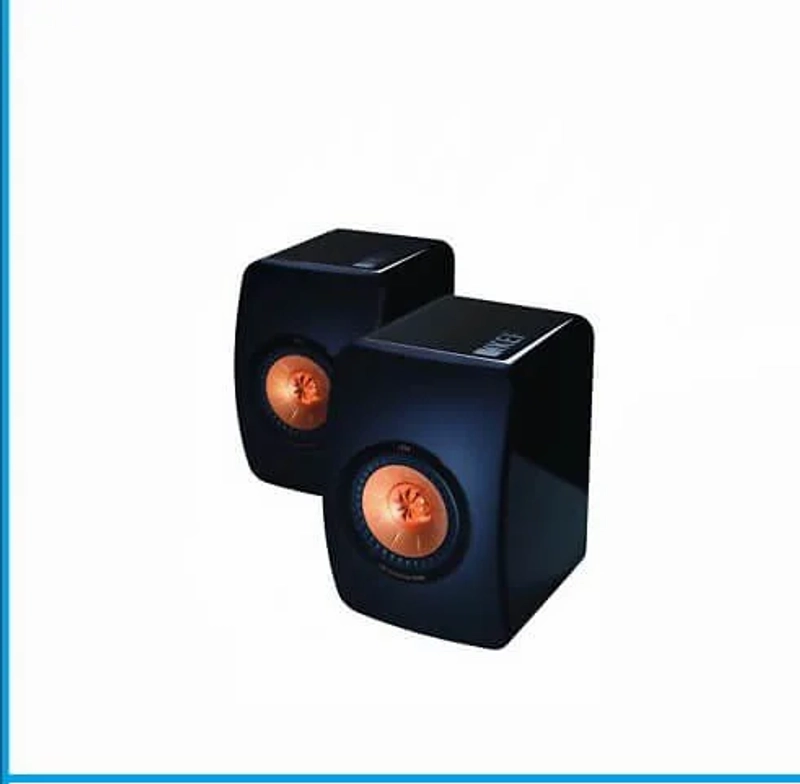 SPECIFICATIONS
Design: Two-way bass reflex | Drive units: 5.25in. Uni-Q Driver Array | Frequency range (-6dB): 47Hz - 45kHz | Amplifier requirements: 25 - 100 Watts Per Speaker | Sensitivity (2.83V/1m): 85dB | Maximum output: 106dB
REASONS TO BUY
✓ Bare wire, banana plugs, spades, and pin connectors
✓ KEF LS50 is available in three finishes
✓ Very tight mid-bass
✓ Extremely clear mid-range and high frequencies
✓ Great solid build quality
REASONS TO AVOID
✗ Not a budget selection
The KEF LS50 Mini is a small bookshelf speaker with a powerful sound at all frequencies, including deep bass notes. The KEF LS50 Mini bookshelf speakers have been designed to be easy to install in any room or space by installing ceiling mountings, wall brackets, etc., for optimum positioning.
The KEF LS50 Mini comes in two different colours: matte black with the black driver, gloss white with an electric blue driver, and gloss black with a rose gold driver, and has a Two-way bass reflex design and KEF's latest technologies.
The KEF LS50 Mini has a 5.25 driver unit,85dB sensitivity and 47Hz - 45kHz frequency response, so setting up these speakers can more easily as it comes with binding posts (bare wire/banana plugs/spades/pin connectors) you can use the cable of your choice. But if we compare KEF LS50 with Klipsch R-15 PM, Edifier R2000DB, ELAC Debut and KEF Q100W, then they are too much expensive and under the $2000 range, you will get them.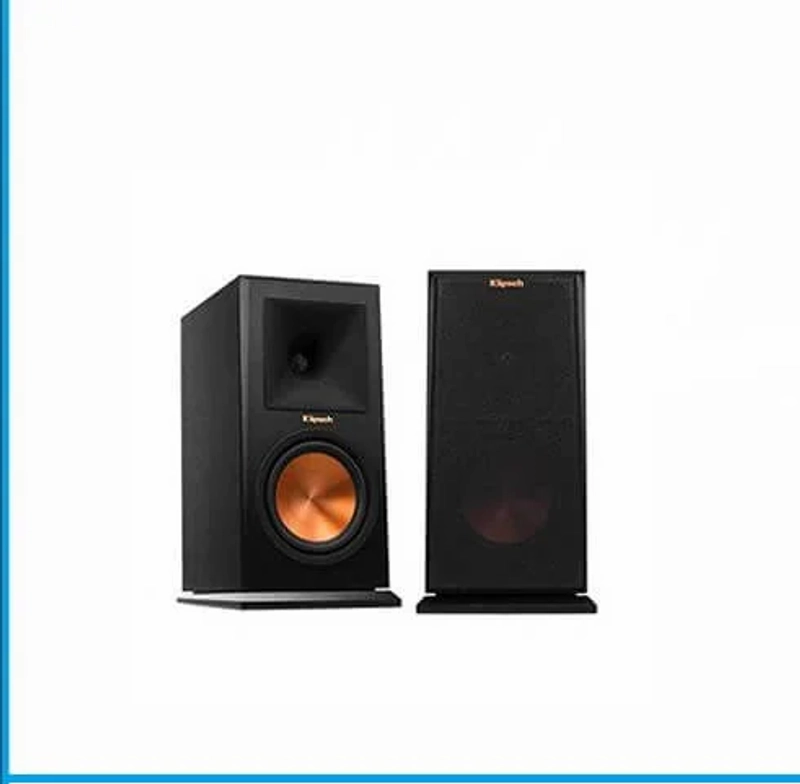 Klipsch's long-standing hallmarks
SPECIFICATIONS
Removable Grille: Yes | MDF Cabinet: Yes | Woofer: 6.5" Spun Copper Cerametallic Cone Woofer | Suspension: Linear Travel Suspension | Horn: 90x90 Hybrid Tractrix Horn
REASONS TO BUY
✓ Well constructed
✓ All New Tractrix Port
✓ Linear Travel Suspension
✓ Subwoofer added
✓ Strong, Flexible Removable Grille
REASONS TO AVOID
✗ Not better for real music enjoyment
The Klipsch RP 160M are exceptional bookshelf speakers which are available in three colours, namely Ebony, Cherry, and Black and these instant classic design speakers have solid construction as made of a substantially sized cabinet inside which they contain 1" horn tweeter and 6-1/2" woofer for outstanding performance.
The Klipsch RP 160M bookshelf speakers are guaranteed prolonged use because they are made from materials that are durable and have been proven effective in extreme weather conditions such as rain, snow, or ice.
The Klipsch RP 160M body is made from a mix of high-quality, durable materials, and its drivers are made with the finest quality so they can be used for years to come. It is excellent that the Klipsch RP 160M speakers have a removable Magnetic Grille that can be taken off when you want to show them off.
To enhance the sound of your bookshelf speakers, you can purchase an optional Klipsch R-115SW subwoofer. Moreover, if we take a look at Klipsch RP 160M technical specifications, then they have  8 ohms impedance, 95 dB sensitivity, and they have 100 watts RMS power handling and a special feature they have is 90° x 90° Hybrid Tractrix Horns. So overall, the Klipsch RP 160M is the best bookshelf speaker under $1000.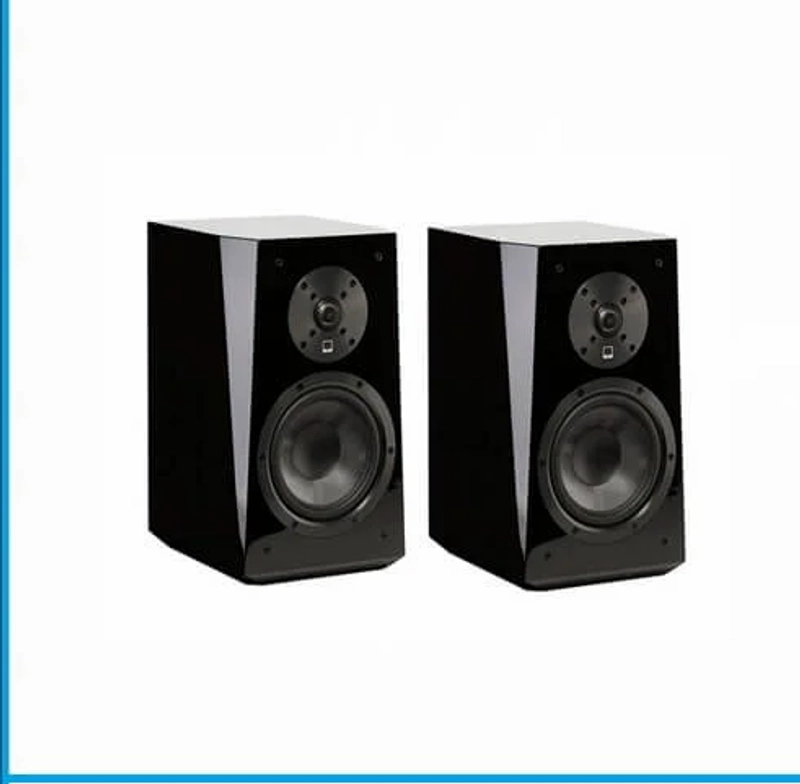 SPECIFICATIONS
Frequency response: 48 - 25Hz ± 3dB | Tweeter-to-woofer crossover: 2.3kHz | Amplifier power: 20 - 150 watts | Dome Tweeter: 1 aluminum dome tweeter | Woofer: 6.5" woofer
REASONS TO BUY
✓ Sophisticated Crossover Design
✓ Premium quality drivers
✓ Good front baffle of the cabinet
✓ Smooth high-end and outstanding imaging
✓ FEA-Optimized Diffuser
✓ Low-frequency extension
✓ World-class build quality
✓ Airy highs with hood articulation
REASONS TO AVOID
✗ The mids are not well pronounced
Featuring huge sound, SVS Prime bookshelf speakers deliver a big sound. After KEF, ELAC Debut, and Klipsch Brands, the SVS Prime is the most powerful set of bookshelf speakers on our list and has a reputation for being one of the best soundings.
The SVS Prime bookshelf speaker has 1" aluminum dome tweeter augments and a 6-1/2" polypropylene woofer for accurate sound reproduction and more open sound.
The SVS Prime speakers are compact, come in gloss black and black colours, and are FEA and CAD optimized.
We found that SVS Prime Bookshelf Speakers produced more sound than Edifier R2000DB and Dynaudio Xeo 2, but their design seemed normal (classy). The Prime Bookshelves have elegant styling, excellent build quality, low-frequency extension, rigorous engineering, and precision components and provide excellent premium sound and world-class performance.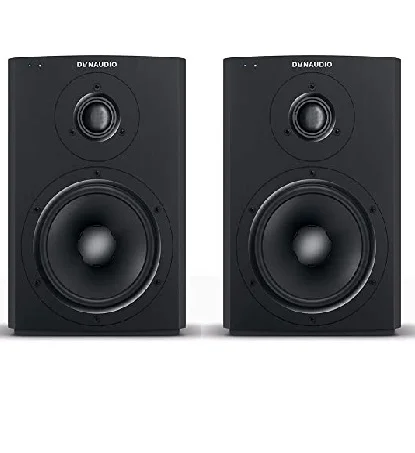 Wireless Bookshelf Speaker
SPECIFICATIONS
Dome tweeter: 1-inch soft | Woofer: 5.5-inch | Amplifiers: Dual 65 Watt | Hi-Res Audio support: Yes up to 24-bit/96kHz | Frequency Response: 40Hz to 24kHz
REASONS TO BUY
✓ Wireless Bookshelf Speakers
✓ Stain black cabinet design
✓ Wireless speaker control (Stream wirelessly via Bluetooth)
✓ Best mid/bass driver
✓ Digital coaxial connections (wireless hi-res streaming)
✓ Dynaudio Connect box
✓ DLNA support
REASONS TO AVOID
✗ Heavy interference in 5G band (Customer complain)
For many years, Dynaudio has produced the best speakers in the world.
The Dynaudio Xeo 2 has fantastic options for music lovers; they reproduce high frequencies with its 1-inch soft dome tweeter for clear sound without distortion, and there is a 5.5-inch magnesium silicate polymer long-throw woofer is installed that has incredible durability and can handle big sound waves without breaking due to its large excursion range.
The Dynaudio Xeo 2 can handle up to 65 watts of power and is also equipped with a detachable power cord, so there's no doubt that with the dual 65 Watt amplifier packs a serious sound punch and are designed to deliver true bi-amp sound and can handle two separate audio signals and be distributed evenly to each speaker and thanks to their power output, they're perfect for use in any room of your home. 
The Dynaudio Xeo, 2 speaker system, is equipped with digital signal processing (DSP) and FIR filters, which allow the system to generate a wide range of sound textures and tones while reducing interference and noise and tuning the sound to your personal preferences with a band equalizer. As a result of the FIR filters on the Dynaudio Xeo 2, noise is reduced, and sound clarity is improved, and Hi-res audio support is integrated to ensure clear, distortion-free sound. 
A new technology called Direct Stream Digital (DSD) is used in the Dynaudio Xeo 2, providing superior sound quality over MP3, WMA, and AAC formats. The Dynaudio Xeo 2 has a 40 Hz to 24kHz frequency response, which means it can reproduce all of the audio spectrum, from low lows to high highs. 
The magnet system of Dynaudio Xeo 2 makes them ideal for home theater systems, and it remains mounted despite strong winds or vibrations. Also, the Dynaudio Xeo 2 aims to disperse sound throughout the room evenly with its wide dispersion pattern. In addition to the wood cabinet, the Dynaudio Xeo 2 bookshelf speakers feature neodymium magnets in their drivers.
Dynaudio Xeo 2 bookshelf speaker features an IR remote and Bluetooth capability for easy control from anywhere in the house and touch-sensitive buttons on the speaker cabinets for better control. Designed for both stereo and multi-room setups, the Dynaudio Xeo 2 bookshelf speaker can connect to your home entertainment system using an HDMI cable and has a built-in amplifier.
 The Dynaudio Xeo 2 bookshelf speaker is versatile enough for living rooms, bedrooms, and bathrooms. In spite of their powerful and crisp sound quality, the Dynaudio Xeo 2 fine-sounding speakers maintain a strong aesthetic focus. The Dynaudio Xeo 2 Bookshelf Speaker is a premium speaker from a premium manufacturer that makes great sounds without breaking the bank.
John Review: The Dynaudio Xeo 2 are an excellent choice for small spaces, and I did not want to run wires, and they are a real upgrade from your traditional bookshelf speakers.
Quick Buying Tips
Do you want the best sound quality for your house at a reasonable price? Don't worry if you want superb sound but need more space to buy a full system; there is an affordable option. Bookshelf speakers under $1000 are an excellent way to receive high-quality sound without breaking your budget. 
They are compact and portable, and they can produce high-quality music. This guide can help you find the best option to get high-quality audio on a low budget. We'll discuss the key factors like sound quality, size and power, connectivity, and more that you should consider when choosing Bookshelf speakers. Let's get started!
Topic: How to arrange bookshelf Speakers
Sound Quality
The sound quality of Bookshelf speakers little over $1000 will vary depending on their brand, model, and features. Discovering speakers that offer balanced frequency responses and clear, detailed music with extensive research is feasible. Consider factors like the speaker driver, the materials used, and your room's acoustics to get a rich and immersive listening experience.
Speaker Size and Design 
$1000 Bookshelf speakers are available from small to large, in many different sizes and styles. The size of the speaker can influence its overall appearance, power handling, and bass response.
Designs can include classic boxy shapes, sleek, modern aesthetics, and unique finishes. Consider the space available in your area and your aesthetic preferences when choosing a design and size that fits your setup.
Speaker Components
Bookshelf speakers below $1000 usually comprise a few key components. Speaker drivers (such as woofers or tweeters), speaker enclosures made from wood, or other materials, crossovers that divide audio signals among drivers, and binding posts for wiring are all possible. 
Other features may include built-in amplifiers, Bluetooth connectivity, or adjustable frequency response. It is critical to evaluate the quality of the components when choosing speakers for your bookshelf.
Connectivity Options
Connectivity options for Bookshelf speakers can vary depending on the model. Some common options include wired connections such as binding posts, banana connectors, and speaker terminals. These require separate receivers or amplifiers. 
Wireless connectivity is also available on speakers, such as Bluetooth or WiFi. It enables you to connect to the sound source wirelessly. When choosing Bookshelf speaker models within your budget, consider your preferred connectivity options and audio source compatibility.
Amplification
Bookshelf speakers priced under $1000 can be passive or powered. Active speakers have amplifiers, whereas passive speakers need an external receiver or amplifier. Active speakers have built-in amplifiers, whereas passive speakers require an external amplifier. When choosing passive or active bookcase speakers, consider your audio setup preferences.
Brand Reputation and Reviews
It's important to read reviews and research brand reputation before buying Bookshelf speakers for under $1000. Look for brands with a track record for creating superior products. Customer reviews provide insight into speakers' real-world performance, durability, and satisfaction. You can make a better choice by examining your brand's reputation and consumer comments.
Budget
Bookshelf speakers under $1000 are a great option for anyone seeking high-quality audio at a reasonable price. You can find impressive Bookshelf speakers within this price range by researching and considering sound quality, size and design, connectivity, and brand reputation.
Room Acoustics
The room acoustics are crucial to the overall sound of a Bookshelf speaker. Audio performance can be affected by the room's size, shape, and furniture. Consider the room's acoustic features, including reflections, standing waves, and resonances. The placement of speakers and the treatment of the room can enhance listening experiences and optimize their performance.
Warranty and Support
It's vital to verify the manufacturer's warranty and customer support when purchasing a Bookshelf speaker under $1000. Brands with a long warranty and reliable customer service are the best. You are covered against any defects in manufacturing or other issues and have access to support if needed.
Read Reviews And Purchase Top Notch Audio Gadgets!
Frequently Asked Questions
What specifications does a great $1000 bookshelf must have?
A Bookshelf speaker's ideal impedance will depend on its model and personal preferences. As a guide, Bookshelf speakers may have 4-8 Ohms impedances, sensitivity between 85-92dB, a frequency response from 50Hz to 20kHz, and an amplifier power between 20-100 watts. For optimal performance, it's crucial to match these specs with your audio setup.
Do my Passive bookshelf speakers need an amplifier?
People frequently ask this question because passive bookshelf speakers can be pretty deafening without an amplifier (An amplifier is unnecessary for active bookshelf speakers). Even though it is possible to get by with only the speakers and no amp, many feel the sound quality could be better.
An amplifier will increase the power of your passive bookshelf speaker, resulting in a more transparent sound and better performance all around. Therefore, do your research before considering adding an amplifier to your passive bookshelf speaker setup.
Does Bookshelf speaker under $1000 worth it?
Those who value high-quality audio and are willing and able to invest in features of premium quality, aesthetics, and build quality can benefit from expensive Bookshelf speakers. Their value is determined by personal preference, budget, and intended use. Otherwise, Bookshelf speakers under $1000 are beneficial for you.
Do bookshelf speakers sound as good as tower speakers?
Most people typically imagine either tower speakers or bookshelf speakers when they think of audio. Which, however, is superior? Tower speakers are frequently regarded as the pinnacle of audio performance. Due to their bigger size and wider range, they provide a more immersive listening experience. The only drawback is that tower speakers can be quite expensive, so not everyone can afford them.
However, bookshelf speakers are typically less expensive and simpler to set up. Additionally, you can put them almost anywhere in your house because they are smaller. They may even be more portable in some people's eyes than tower speakers.
Ultimately, A tower speaker is the best option if you want to get great sound. However, a bookshelf speaker might be a better option if cost and portability are your top priorities.
Should the Tower speaker be replaced with a bookshelf speaker?
It might not be the best idea to use a bookshelf speaker to replace the Tower speaker (floor standards) as they produce good audio quality and are comparatively simple to replace. However, the tower speaker's sound quality may outweigh the bookshelf's. Additionally, the bookshelf speakers might not fit in specific settings and might not be as noticeable as the tower speaker.