If you are using old hand-me-down speakers, then after getting active speakers, you will realize how major sound quality they can produce. Its genuine truth that active speaker provides clear sound, and for any turntable lover, these are perfect speakers as they feature built-in amplification, so the turntablist does not need a separate amplifier and can directly connect them to their turntable audio system to enjoy vinyl record music or other music genres like classical music, pop music, country music. It is easier to enjoy your music by connecting your turntable to active speakers, eliminating the need to use a stereo receiver and passive speakers. Just plug in the turntable, turn on the powered speaker, and enjoy the vinyl tunes. In order to fully enjoy analog music, TEAM Wooster Audio has selected the best active speakers (powered) for turntable systems for you.
Our Recommendations For Best Active Speakers For Turntable
Best Active Speakers For Turntable Audio System Reviews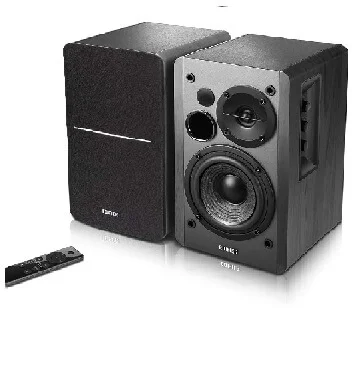 SPECIFICATIONS
Pre-amp: No | Inputs: RCA, 3.5mm Auxiliary | RMS: 42 watts RMS (21 watts per channel) | Frequency Range: 75 Hz - 18 kHz | Sensitivity: 89 dB | Impedance: 4 ohms
Pros
+ best for fluance turntable
+ Clear, Punchy bass
+ Sturdy construction
+ Has Great Physical knobs (Bass/Treble)
The Edifier R1280T speakers make their debut on our first list! Anyone looking for sound solutions will be satisfied with these R1280T versatile speakers for their home theater, media center, and vinyl music setup. 
The Edifier R1280T features two 4-inch (106mm) bass drivers (4" / 6Ω / bass reflection port) and a 13mm silk dome tweeter, ideal for medium to large spaces. As compared to Prosonic BT30, the R1280T also has a built-in amplifier but lacks preamp functionality, so to connect a turntable with Edifier R1280T bookshelf speakers, you will need a turntable with built-in phono preamp or do purchase a separate one.
The Edifier R1280T speakers are compatible with most home theater systems and easy to set up, so anyone looking for a sleek speaker with high-quality sound can't go wrong with R1280T. You can choose from three colors for the Edifier R1280T which are:
The Edifier R1280T is a 2.0 Stereo speaker featuring great input sensitivity of LPC: 750mV ± 50mV and Aux: 550mV ± 50mV and has Input type RCA of 3.5mm Auxiliary (RCA), wheres with digital input/output you can quickly hook it up to your devices. In short, the Edifier R1280T is the perfect active speaker for use with vinyl record players if you need high-quality audio reproduction, and they're easy to set up. Does your budget for bookshelf speakers under $200 range?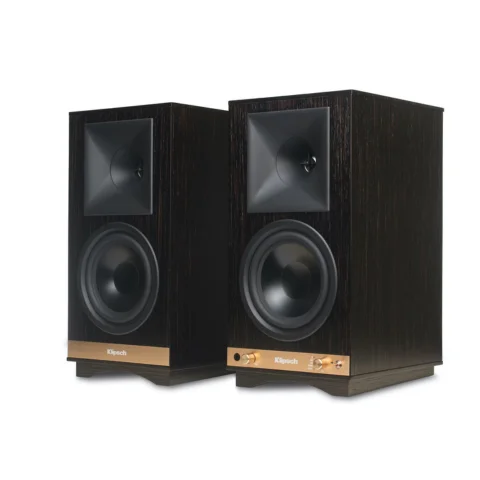 SPECIFICATIONS
Frequency Response: 40Hz to 20kHz (-3dB) | Enclosure: Bass-reflex | 1 Inch Tweeter | 6.5 Inch Subwoofer | Color: Walnut Veneer, Ebony
Pros
+ Reliable bluetooth connection
+ Great built quality
+ Dedicated output for subwoofer
+ Digital optical input
Cons
- Some Customer facing issue with Klipsch The Sixes like turning off suddenly
It's time for Klipsch The Sixes, a renowned American brand that creates a great active speaker for turntable systems. The Klipsch The Sixes features low-frequency volume and is remarkably rich, engaging the listener with captivating audio. Learn how to get original Klipsch Speakers instead of fake ones.
The Klipsch The Sixes you will find equipped with Bluetooth functionality, so easy wireless connectivity for your smart devices and If you have a wireless turntable, then pair it—a testament to Klipsch's consistent design philosophy. The Klipsch The Sixes features a bass-reflex port-type design style for better sound performance, and there is a 1-inch titanium tweeter which, coupled with a waveguide so it, allows you to achieve high-frequency clarity and detail.
Topic: Do you want all in one stereo system with a turntable?
The Klipsch The Sixes features mid-bass and is handled by a 6.5-inch woofer, resulting in profound, fuller, and looser bass tones, and I found that there is the presence of a reflection hole at the back that boosts the speaker's acoustics even further. The Klipsch The Sixes hosts a built-in amplifier that provides 100W of power per channel; the Klipsch The Sixes offers a medium-power amplification capability, and with its low-frequency extension, you can reach an impressive 40Hz assuring deep, immersive audio.
The Klipsch The Sixes, at a distance of 1 meter, the speaker can deliver a maximum sound pressure of 106dB, creating engaging and dynamic soundstages. You will find at Klipsch The Sixes a back panel of the right speaker equipped with various terminals, including two sets of analog inputs, and these inputs consist of a 3.5mm and an RCA input to provide flexibility in connectivity and with high-level input or phono input selectable RCA input enables direct connection to a turntable, eliminating the need for a separate phono preamplifier. Additionally, at Klipsch The Sixes, you will find the ground terminal is conveniently located on the side.
The Klipsch The Sixes also offers digital inputs, optical inputs, and a USB type-B input, Increasing device compatibilities such as TVs, Apple TVs, Blu-ray players, and computers. I found that Klipsch The Sixes also has a built-in USB DAC that ensures high-quality signal decoding, supporting 24-bit/192KHz signals, further enhancing the speaker's audio fidelity. So overall, no matter which turntable you have, like Rega Planar 3, Audio-Technica AT-LP120USB, or Pro-Ject Debut Carbon EVO, the Klipsch The Sixes plays vinyl records perfectly. So overall the Klipsch The Sixes are best active speakers for turntable.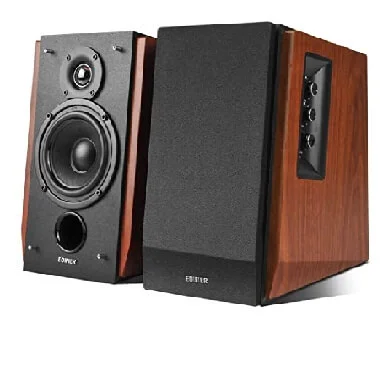 Near-field studio monitors
SPECIFICATIONS
Connectivity Technology: RCA, Bluetooth, Auxiliary | Speaker Type: Bookshelf | Bluetooth: Yes | SNR: ≥85dBA
Pros
+ Performance/Price
+ Aesthetics
+ Handling of singular tones
+ Bass+treble adjustment
Cons
- Noisy soundstage
- Lack of low-end bass
You might want to check out the Edifier R1700BT speaker, which features excellent wireless connectivity, about the same as the Prosonic BT30 speakers we reviewed. In comparison to Edifier R980T and Edifier R1280T, the Edifier R1700BT speaker system is a cousin of both of these speakers and has very similar dimensions and features. There is also Built-in Tone Control you will find in Edifier R1700BT.
Similarly to Edifier R980T, Prosonic BT30, and Edifier R1280T, the Edifier R1700BT has an amplifier built in and features 5.1 Bluetooth connectivity (strong resolution / low power consumption), and there is no doubt about the connectivity for which company has introduced a bunch of inputs including dual RCA inputs and 3.5mm auxiliary input which you will locate at the back panel of R1700BT and more over back panel also contains Durable power switch, a 5-pin connector and power input (100-240v full range).
The Edifier R1700BT speakers contain a 4-inch bass driver and 19 mm dome tweeter with Tractrix horn and Φ19 mm silk dome treble driver for clear communication with the listener. The R1700BTS comes with multiple specifications like 60Hz-20kHz frequency response,4" (Mid-range and bass) + 0.75" (Treble), SBC audio codecs, etc.
Input sensitivity
Line In1: 700±50mV;
Line In2: 550±50mV;
Bluetooth: 400 ± 50mFFS
The Edifier R1700BTS speakers are perfect for any record player, but there is no built-in phono preamp option but still, if you pair R1700BTS with a turntable system, then you will get quality sound. I tested Edifier R1700BTS speakers by pairing them with Audio-Technica AT-LP120X and Rega Planar 3, and I played Pink Floyd - Dark Side of the Moon album (My fav), and I heard accurate sound quality with optimal performance, and I loved that.
 As the Edifier R1700BTS has 60Hz to 20kHz of frequency response so it powerfully reproduces frequencies found in vinyl recordings and fills medium-sized rooms with the clearest sound quality but not beast for large rooms, so you can purchase Klipsch The Six for playing turntable music on larger spaces. You must learn about arranging bookshelf speakers properly.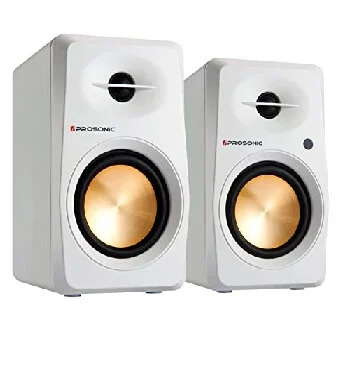 Best Speakers For Wireless Turntable
SPECIFICATIONS
Speaker Type: Woofer
Bluetooth Technology: 4.2
30W and 2 RMS Audio output Power
4 Ohm Nominal impedance
INPUTS: RCA Line-in Optical, Coaxial and Bluetooth
100V-240V Power supply
Pros
+ Super easy to set up
+ Sound quality is pretty decent
+ Toslink port available
Cons
- Bass isn't well at high volume
After KANTO YU4, here is the Prosonic BT30 speaker review. These are simply designed Prosonic BT30 speakers unit looks stylish and excellent and are made of strong material, and on the side body, you will find volume options like treble, bass, and volume control knob also, there is a function switch and function and power indicator with green light. Whereas on the back side of KANTO YU4, you will find the Coaxial, Optical, and Analogue Inputs options. With a removable power cord, you can easy to move KANTO YU4 speakers around the house.
The Light indicator on KANTO YU4 indicates you with different colors:
Blue Light: Bluetooth
Green Light: Line-in 1
Red Light: Line-in 2
White Light: Optical
Purple Light: Coaxial
The Prosonic's BT30 active speakers feature powerful Class D amplifiers that drive 0.75" Silk dome tweeters and 4" full range drivers, and you can enjoy sound wirelessly within a 30-foot range if properly connected to your Bluetooth-enabled device, including your smartphones, tablets, or wireless turntable.
The Prosonic BT30 Active Powered Speakers are perfect for the room, including a turntable setup beside any moving wooden chair, and also, rather than vintage music, you can also enjoy movie sound in clarity. The Prosonic BT30 has 84dB signal-to-noise ratio distortion </= 4% and frequency response of 55Hz / 20KHz.
The Prosonic BT30 falls under the budget option, and for under $100, you can start listening to Simon & Garfunkel vinyl music. So please don't wait any longer to purchase Prosonic BT30 for your turntable as they are easy to use and simple to connect, or gift Prosonic BT30 to your friend who is a discerning vinyl fan and wants to enjoy vinyl music to relax their mind. So overall the Prosonic BT30 are best active speakers for turntable.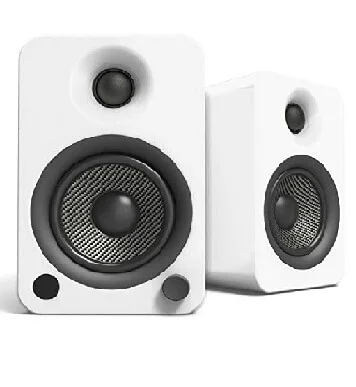 SPECIFICATIONS
RMS: 70 Watt (140 W Peak) | Bluetooth: Yes  | Frequency Response: 60 Hz – 20 kHz
Pros
+ Has great phono preamp
+ Provides remarkable sound
+ Power-up modes / Automatic standby (Options)
+ Kevlar drivers (For clear highs)
Cons
- Subwoofer required
Having a white pair of any bookshelf speaker like the Kanto YU4 model is an amazing choice, and not only that, there are more color options available, including Bamboo, Gloss Black, Walnut, Gloss Red, Gloss Teal, and Matte Gray, so choose your favorite one.
With a high-frequency range delivering Silk-made 1-inch tweeter and 4-inch Kevlar drivers, the Kanto YU4 gives its best in reproducing superb sound quality while playing vinyl record albums or songs. Speakers like the Kanto Yu4 are highly advanced and powerful and an ideal solution for turntablist, audiophiles, or DJs looking for high-quality sound without having to carry around large systems.
You can wirelessly connect Kanto YU4 speakers to your devices to enjoy music without having to deal with wires because they come with Bluetooth 4.0 technology with Qualcomm® aptX™ (Popular codec). For the turntable, you can use Kanto YU4 speakers by simply pairing, and as there is a built-in phono preamp so that is great.
I think KANTO YU4 speakers look much more elegant if placed near any turntable setup as they are made of acoustic grade MDF cabinets, and you can wall mount them by using the 1/4″-20 Threaded Mounting Hole option.
But as compared to Edifier R980T, Prosonic BT30, Edifier R1280T, Edifier R1700BT, and Edifier R1280DBs, the KANTO YU4 Powered Speakers are a little expensive under $500; you can quickly grab them.
With KANTO YU4, you can pair a separate subwoofer which you can attach using sub output, and can also utilize input connectivity options like 3.5mm mini-jack AUX, RCA with Phono Switch, and Dual x Optical (TOSLINK) options.
So these above-listed features make these KANTO YU4 speakers easy to use and connect to your turntable quickly. Additionally, the KANTO YU4 utilizes a Class D amplifier, which is a popular amplification method to power drivers, so as a result, you will enjoy clear sound production. Do you need speakers for digital piano setup?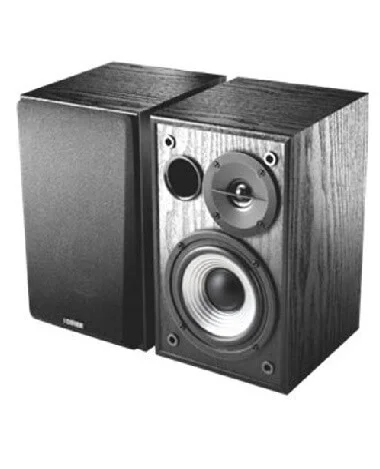 Best Budget Speaker ($100)
SPECIFICATIONS
THD + N 10% | Distortion: ≤0.5% | RMS:  12W × 2 | SNR: ≥85dBA | Input sensitivity: 700±50mV (PC) 550±50mV (AUX)
Pros
+ Pretty wooden design
+ Well-Rounded Speakers
+ Multi media speaker inputs
Cons
- Not beast for large rooms
After Edifier R1700BTS now, I will review Edifier R980T, which is another Edifier bookshelf speaker model in our list.  As opposed to Prosonic BT30 and Edifier R1280T bookshelf speakers, Edifier R980T speakers also feature a built amplifier, bass port, and incredible wooden accent design, making them an ideal choice for any audiophile like me. The Edifier R980T speakers are perfect for a home theater, gaming system, or turntable system.
The Edifier R980T speakers have a decent bunch of features like Dual RCA input for input connectivity, Φ13mm silk dome tweeter, same as R1280T, 4 inch 6Ω (116mm) bass unit and ≤0.2% THD + N.
For crisp highs and deep bass tones, the R980T bookshelf speakers come with 4" subwoofers and a silk dome tweeter. If we talk about the Edifier R980T design, then they have 226 mm length and 196 mm width, looks much more compact, and its enclosure featuring rugged wooden paneling, which is coated with black paint, looks pretty impressive with a black turntable system.
The reason behind the Edifier R980T producing super bass sound is due to its flared bass reflex port which improves airflow and reduces turbulence. So you can use Edifier R980T and connect it with a phono-preamp to your turntable, but you can not expect sound quality as high-end speakers like Klipsch The Six, but still, the R980T  model produce good sound.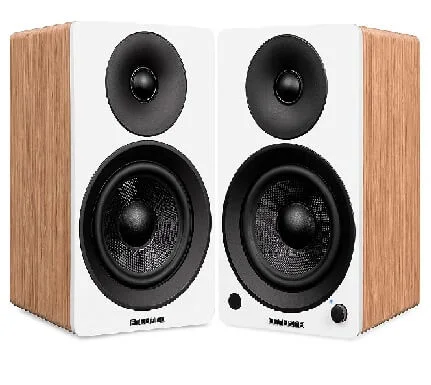 2-Way Speakers For Turntable
SPECIFICATIONS
Connectivity Technology: RCA, Bluetooth | Speaker Type: Wireless, Subwoofer, Bookshelf | Brand: Fluance
Pros
+ Vivid dynamic range
+ Premium bookshelf speaker deisgn
+ Versatile connections available
The Fluance AI41-powered speaker is able to add some extra oomph to your audio experience with its 2-way technology, and its premium ported wood cabinet design looks durable and beautiful, and the company manufactures its design in the sense of reducing unwanted resonance while working (internal bracing) to provide high-quality sound performance, and they're perfect for use in any home or office setting.
Many of you think that buying Kanto YU4 speakers is little, and maybe you guys are searching for alternative Kanto YU4 speakers, so here is an alternative: Fluance AI41 speakers featuring wireless connectivity,1 inch Silk Soft Dome tweeter, 5-inch Woven subwoofer, excellent RCA connectivity,35Hz – 20KHz frequency response and 2800 Hz crossover frequency under $300 budget.
Designed for turntablists seeking stylish and affordable speakers, the Fluance AI41 2.0 stereo bookshelf speakers not only deliver on quality but also on price. 
The Fluance AI41 is technically frequency response of 35Hz – 20KHz and a sensitivity of 12dB SPL, and if we talk about drivers, it features two 1W drivers and a 2-way crossover which helps to deliver better the sound of record players or other music genres or source.
Think about how you use your bookshelves. Most likely, you either shelve books vertically or horizontally. But what if you could combine the best of both worlds? With Fluance's AI41 stereo bookshelf speakers, you can! These speakers feature a built-in subwoofer and two high-quality drivers that create an incredibly realistic sound experience.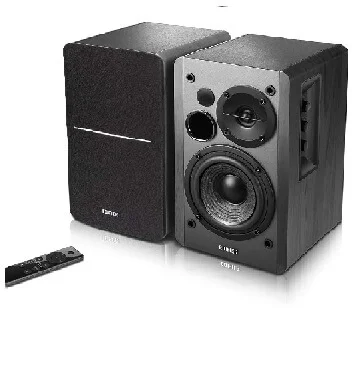 SPECIFICATIONS
SNR: ≥ 85dB(A) | RMS: 21W + 21W | Bluetooth: Yes | Frequency Response: 51Hz - 20kHz
Pros
+ Great speaker for Audio-Technica AT-LP60XBT-BK turntable
Cons
- Nothing at this price
Do you want to enjoy Pink Floyd, Carole King, or Crosby Stills (Best vinyl music) on your bookshelf speaker after attaching it to your vinyl record player? Here comes the Edifier R1280DBS, which is a genuinely Bluetooth speaker featuring Qualcomm Bluetooth technology and is perfect for speakers on the go, just like the Edifier R1700BT and Prosonic BT30!
You can get Edifier R1280DBs in two color options which are wood and black colors, and for driver protection, there is a front grill installed. The R1280DBs feature great drivers that are placed under a strong Wooden enclosure.
On the single R1280DBs side, you will find a small panel containing volume, bass, and terrible controlling knobs as your taste. For pairing, you can utilize  R1280DBs featuring connectivity inputs including Optical, 2x RCA inputs, and Optical, and also you will be surprised with its Bluetooth option.
With the availability of Sub-out output on Edifier R1280DBs, you can attach a separate subwoofer that will reproduce a full range of bass frequencies. So overall, the Edifier R1280DBs is providing good value under the $200 range, and bass boosts the sound quality and when I tested and played  Dark Side of the Moon (A great Album) on one of my turntables attached to Edifier R1280DBs so after playing I heard the excellent sound but I also heard somewhere bit muddy bass coming after five mints speaker use.
Recommended Video For You!
In A Nutshell
Suppose you're looking for a set of active speakers that can help improve the sound quality of your vinyl collection. In that case, a few models come highly recommended: Prosonic BT30, Edifier R1280T, EDIFIER R980T, EDIFIER R1700BTS, and EDIFIER R1280DBS. Note that not all active speakers are created equal. Some models offer better sound quality than others, but you must ensure you buy one that suits your needs.
For example, you want an active speaker compatible with a vinyl record player and also streaming services like Spotify, Apple Music, etc. In that case, consider purchasing one of the best active speakers for turntable, which we have extensively reviewed in a significant way and compared each active speaker with each other considering price, build quality, sound quality, and more.
More Related For You
Frequently Asked Questions
What are Best ways to prevent powered speakers for vibrating?
Consider the following steps to don't let your powered speakers vibrate:
Place the speakers on a stable surface that is level.
Use stands or isolation pads to separate the speaker from the surface.
Be sure to tighten all screws properly.
Reduce volume levels if excessive vibrations occur.
Avoid placing the speakers near walls or corners, as they can increase vibrations.
Can an active speaker for a turntable be bi-amped or tri-amped, and what are the benefits of this setup?
Active speakers for turntables can be bi-amped (or tri-amped), meaning separate amplifiers are used for high, mid, and low frequencies. This setup allows for better control of each frequency range and can improve clarity, detail, and overall sound quality. This setup lets you adjust the sound more easily according to your preference or room acoustics.
Is it better to have a sealed or ported enclosure design for an active speaker for a turntable, and why?
Choosing a sealed enclosure or a ported one for an active turntable speaker depends on your taste and intended use. Sealed designs are generally better for critical listening and provide a tighter bass, while ported enclosures can deliver a more powerful bass ideal for events or parties.
Why an active speaker for the turntable?
Active speakers for turntables have an integrated amplifier. It eliminates the need to purchase separate amplifiers or receivers. It's easier to install and cheaper than buying individual components. Active speakers also work well together to ensure compatibility and optimal sound quality.