When it comes to finding the best set of speakers, people often opt for white bookshelf speakers as their ultimate white audio theme setup. Adding the new white bookshelf speaker to an audiophile's home would complete the decor. Nothing feels better than listening to your favorite songs on a great set of white bookshelf speakers.
With a clean and elegant appearance, white bookshelf speakers go with any home décor and have a beautifully designed and contemporary style that is appealing to anyone. You can place our white bookshelf speakers on your white television stand, modern coffee table, living room cabinet, or home theater TV table, and they will look great. For urban living, bookshelf speakers that are compact and designed in a cabinet are ideal.
Second, despite their excellent sound quality, the white bookshelf speakers cannot compete with floor standing speakers but still provide good sound on a budget.
With so many brands and models available, it can be hard to decide which white bookshelf speakers are right for you. After considering their size, design, sound quality, portability, and budget, Wooster Audio selected these white bookshelf speakers. As a result of considering all of these factors, we have compiled the following list of the best white bookshelf speakers:
Read: How to arrange bookshelf speakers
Our Recommendations For Best White Bookshelf Speakers
Best White Bookshelf Speakers Reviews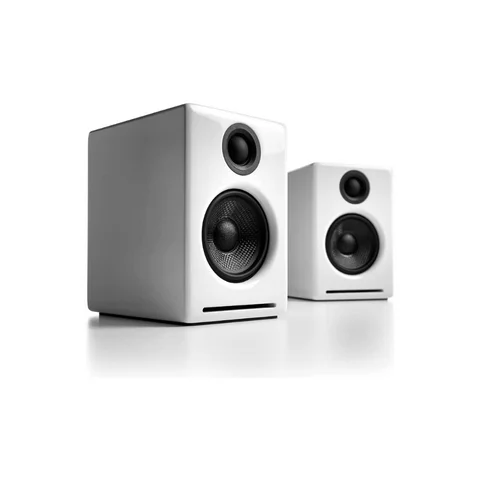 Award-winning A2+ Wireless Speakers
View on Amazon Read Customer Reviews
Audioengine A2+ Plus Is Wireless Streaming Made Easy | Built-in Bluetooth for all your devices | Perfect for Hi-Fi
The Audioengine A2+ Plus Wireless Speaker, that can be used with any device, is an excellent option for those who want a powerful speaker that can be used with any device. Audioengine has been around for quite some time, and they're well known for their high-quality speakers. In addition to the white color available for the A2+ speaker, two other colors are also available, Red and Black. These speakers have painted wood cabinets, making them even more elegant.
Audioengine A2+ Plus Bluetooth speakers provide true stereo sound that fills a room (detailed and accurate). With A2+ speakers, you have different connectivity options, such as wireless and wired (both), and also, you can easily connect A2+ speakers to your Mac or desktop computer via USB audio. These speakers connect to all of your music and can stream wirelessly to Bluetooth-enabled smart devices from up to 100 feet away, ensuring you have an Ultra-wide range.
Connections:
Wired
Wireless
USB audio input
Dual analog audio inputs
The Audioengine A2+ also features auto-sensing sleep mode, which will help you in saving your money after saving power (When not in use). The A2+ Plus also comes with a built-in amplifier which has Dual analog class A/B monolithic type and driving 2.75" custom aramid fiber woofers and 3/4″ silk dome tweeters and using RCA variable output; you can also connect Audioengine S6 or S8 subwoofer to the subwoofer output of A2+ (Extra for Boom Punch).
The Audioengine A2+ bookshelf speaker features a 60W peak power total (15W RMS / 30W peak per channel) AES.
In summary, the Audioengine A2+ Plus bookshelf speaker is an excellent choice for anyone looking for a basic yet functional speaker for white home theater setups; the compact speaker can be purchased for under $300, and there is no need to install any software to connect the speakers.
Inside the box
Audioengine A2+ Wireless Powered Speakers
6.5ft speaker wire
Power supply & cord
5ft USB cable
5ft mini-jack audio cable
Microfiber speaker and cable bags
Setup guide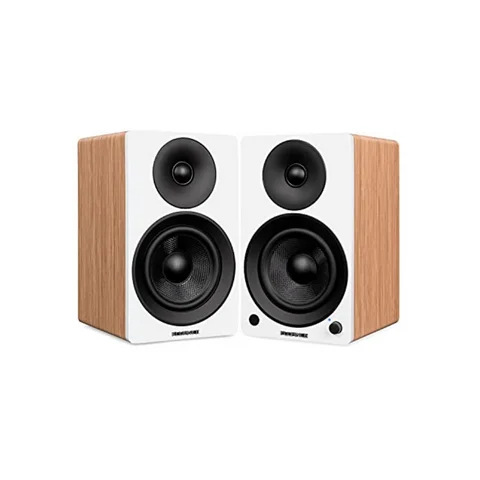 View on Amazon Read Customer Reviews
Fluance Ai61 White Bookshelf Speakers | Wireless | Upgraded Bass | Enjoy Sound at Its Best
For the white theme of your home audio, you might consider Fluance Ai61 Powered 2-Way 2.0 Stereo Bookshelf Speakers, which come in white walnut, lucky bamboo, black ash, and natural walnut designs in three different sizes:
With round Stand
Without stand
Square Stand
The Fluance Ai61 is Enhanced with DSP to produce a more balanced frequency response and has an Integrated class D amplifier that delivers a robust, powerful sound. Designed to reduce unwanted resonance with internal bracing that results in precise and distortion-free sound.
All components of the Fluance Ai61 speaker are premium, and its ported cabinet is acoustically tuned for natural bass and deep sound.
The Fluance Ai61 bookshelf speaker comes with an integrated class D amplifier of 120 Watts which drives 1 inch Silk Soft Dome Neodymium Ferrofluid Cooled tweeter for natural highs and 6.5-inch Woven, Glass Fiber Composite Drivers with Butyl Rubber Surrounds woofer to deliver unprecedented room-filling performance and detailed mids and deep natural bass.
The Fluance Ai61 speaker has a Rear Port Bass Reflex Design Dampened design enclosure; both left and right speakers will provide you top-notch sound so that while spinning your latest vinyl, home cinema, or streaming music, you can use Ai61 speakers to get breathtaking stereo sound.
The Fluance Ai61 Powered speakers feature an Ultimate sound solution and have a Crossover Frequency of 2800Hz, Phase Coherent of 12dB/Oct, and include PCB Mounted Circuitry totally.
There are different types of inputs on the backside of the Fluance Ai61 speaker, including USB Type-C, RCA L/R, Bluetooth, and Digital Optical TOSLINK, which allows you to choose what kind of connectivity you want, and you can enjoy wireless music in a long-range with its 5.0 Bluetooth connectivity.
Overall, the Fluance Ai61 white Bookshelf Speakers are a great choice for anyone looking for high-quality stereo sound reproduction under $300.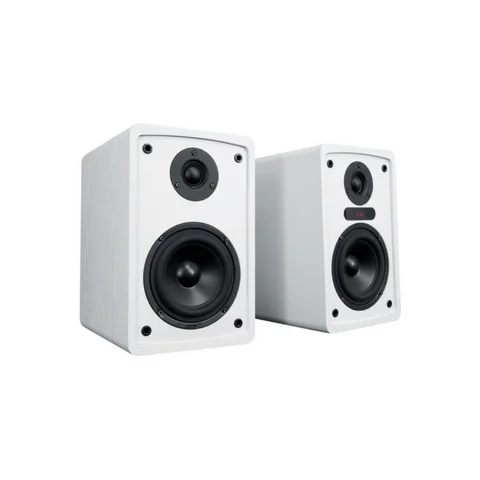 View on Amazon Read Customer Reviews
The Rockville ELITE-5W WhiteHome Audio 5.25" Wireless Bookshelf Speakers are stylish and modern and come in white and black and classic brown color with a 0.5" MDF cabinet with a vinyl finish, which looks pretty awesome, and on the top front, you will find the front led display.
Not only that, the Rockville ELITE-W is a compact and powerful rounded-edge of cabinet with a pre-installed flush-mounted grill which you can Detach whenever you want. On the side of Rockville ELITE-5W, you will find a light indicator and Bass and treble knobs for music and Bass and little (rear port enhances low bass frequencies); below, there is a headphone jack connectivity port and voice button.
The Rockville ELITE-5W White design is perfect for people having a white gaming setup and home theater setup. With a wireless Bluetooth 5.0 connectivity of the Rockville ELITE-5W, you are able to enjoy crystal clear sound within a 40-foot range. The Rockville ELITE-5W bookshelf speakers have 45Hz-20Khz of frequency response and feature a 5.25" 4-ohm Woofer with 25mm voice coils that are powered by the built-in Digital class D amplifier, and these speakers can handle 800 Watts Peak / 200 Watts RMS. So Overall, team Wooster audio will highly recommend the Rockville ELITE-5W White speakers.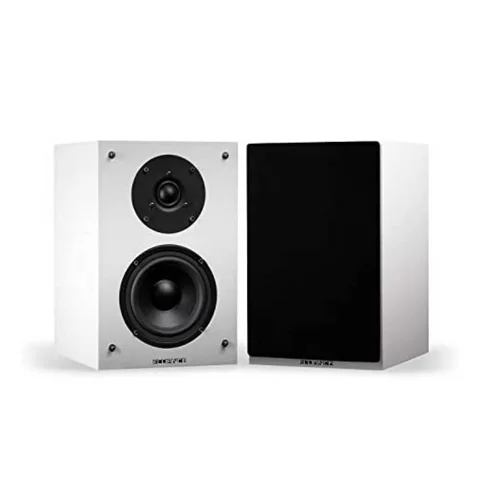 View on Amazon Read Customer Reviews
Take your audio to the next level with Fluance Elite SX6W 2-Way Bookshelf Speaker.
For people who need a white pair of bookshelf speakers for their white turntable setup, then here is the Classic Elite Fluance Elite 2-Way Bookshelf Surround Sound Speaker series that features a contemporary design and has 3 different color options which are white (most demanding), natural walnut and black ash and provide you exciting audio performance.
The Fluance Elite BS (bookshelf speakers) comes with butyl rubber surrounds, which will help speakers increase their durability and sound performance. These surroundings will reduce distortion for a broader dynamic range. The Fluance Elite speaker, specifically its white color design, harmonizes perfectly with modern living areas, and these are more budget-friendly than Audioengine A2+ and Fluance Ai61 speakers.
The Fluance Elite Bookshelf Speakers offer exceptional sound reproduction in a sleek, all-in-one design and have broad frequency response and low distortion and; it has the virtue of the tuned bass reflex cabinet and 5-inch high-performance drivers for delivering dynamic low-frequency response.
On top of all of this, the Fluance Elite Bookshelf Speakers are absolutely beautiful, and their walnut veneer finish is also stunning and pairs perfectly with any décor style - traditional or contemporary. 
Plus, with their powerful sound, you'll feel as if you're in the scene of your favorite film or video game. With 1 Inch Soft Dome Ferrofluid tweeter and 5 Inch Polymer Treated Driver woofer, speakers provide rich lows, clear mids, and crisp highs.
The Fluance Elite speakers pack a serious sound punch, delivering crisp audio with deep bass tones where they are able to handle 30 - 100 Watts of power, have 60hz - 20khz frequency response, 89±3db @ 2.83v / 1m sensitivity,3500hz Pcb Phase Coherent crossover frequency as compared to Fluance Ai61 the Fluance Elite is cheaper and but still in that price range it has Mounted Circuitry Butterworth Design and Tuned Rear Port Bass Reflex Bookshelf Design.
To conclude, the Fluance Elite High Definition 2-Way Bookshelf Surround Sound Speakers are a great option if you're looking for top-quality speakers for your home theater setup.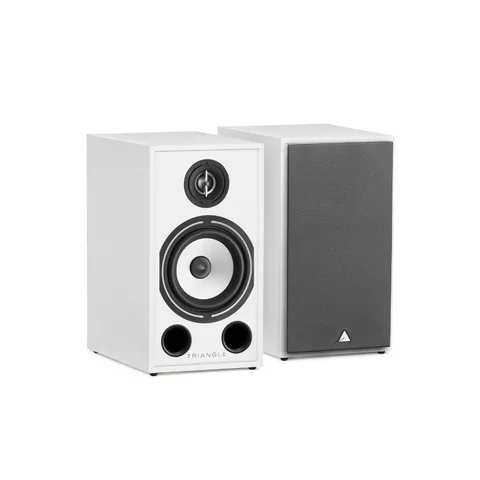 Compact design bookshelf speakers
View on Amazon Read Customer Reviews
The Triangle Borea BR03 Hi-Fi Bookshelf Speaker features a small footprint, making them great for small spaces and Comes in many different colors like white (Most demanded) and others are black ash, cherry mahogany, light oak, oak blue, oak green, and walnut.
The Triangle Borea BR03 is a compact 3-way speaker system that allows for true stereo sound, so you can place it on any dedicated stand (S02 or S04) and enjoy excellent quality sound. The Triangle Borea BR03 is equipped with a 25mm EFS silk dome tweeter to produce a linear frequency response and increase the quality you hear from your stereo, where it's a 16 cm midrange/bass driver for perfect low-frequency sounds.
The Triangle Borea BR03 has a sensitivity of 90 dB/W/m, a frequency range of 46 Hz – 22 kHz (+/- 3 dB), and excellent power handling of 100 W and delivery of deep notes. The Triangle Borea BR03 has a high-frequency roll-off of 3600 Hz and two levels of impedance, like a minimum impedance of 4,2 Ω and a nominal impedance of 8 Ω.
It's definitely worth considering the Triangle Borea BR03 bookshelf speakers if you want a great-sounding hi-fi system that can be purchased for under $400 and is easy to set up for small spaces. These speakers offer a phenomenal listening experience in addition to their modern look that complements any home decor.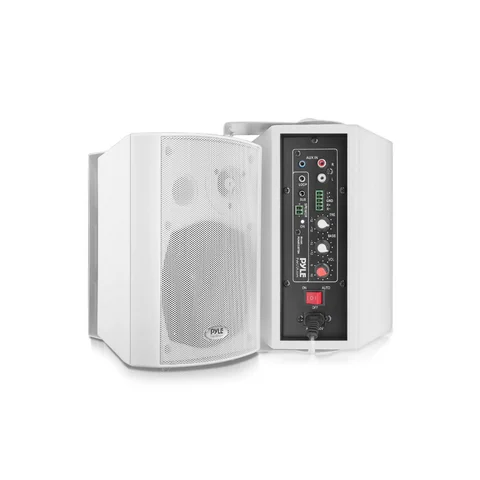 View on Amazon Read Customer Reviews
The Pyle PDWR51BTWT Wall Mount Bookshelf Speaker System is compact and easy to take with you when you move, making it perfect for use in any location due to its water-resistant construction of reinforced ABS housing.
The Pyle PDWR51BTWT Bookshelf Speaker System provides high-quality sound for your entertainment needs and looks too pretty when you put these white pairs of speakers into your white bookshelf setup.
The Pyle PDWR51BTWT system comes with a protective metal grill and has rugged construction of compact size, which makes them best for any porch, deck, patio, or veranda so you can install them easily these Pyle's wall mountable speakers and can enjoy versatile sound projection.
The Pyle PDWR51BTWT is easy to set up and comes with a built-in digital sound amplifier, which drives a PEI Dome tweeter, and Long-throw subwoofers which has composite cone butyl rubber surround for excellent protection. The white Pyle PDWR51BTWT speakers come with daisy chain speaker ability and impressive power output levels. On the back side rear panel of the Pyle PDWR51BTWT bookshelf speaker, you will find Aux (3.5mm) input and other inputs for connection of other devices.
Nevertheless, if you're looking for a good-looking white home entertainment system that can fill your home with sound, then you should consider the Pyle PDWR51BTWT bookshelf speakers, which cost under $200 and are more budget-friendly than the Triangle Borea BR03; however, the Pyle speaker suffers from low performance as compared to others and are best white bookshelf speaker.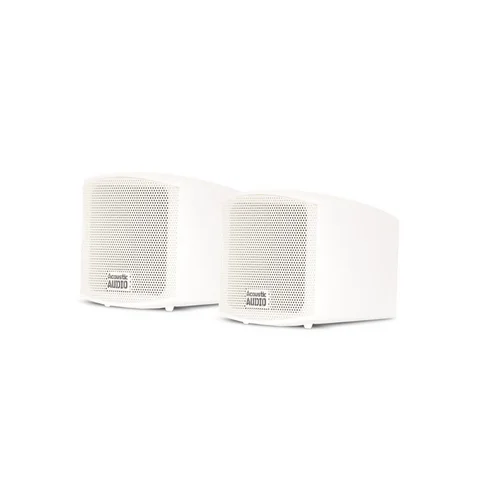 Cheapest White Bookshelf Speakers
View on Amazon Read Customer Reviews
The Acoustic Audio AA321W is a White Bookshelf Pair that delivers rich, full-range sound that will envelop you in the music. Still, as compared to Fluance Elite, Audioengine A2+, Pyle PDWR51BTWT, and Fluance Ai61, the Acoustic Audio AA321W speaker will not provide you as much quality sound as other speakers can but still if you need white speakers in a compact design and wanna use them as laptop speakers in a small place, then these are great.
As compared to other listed speakers, the Acoustic Audio AA321W speakers are too budget-friendly, and for only under $50, you can grab them online. So let's take a deep analysis about Acoustic Audio AA321W bookshelf speakers that are getting under $50 price.
The Acoustic Audio AA321W speakers have a great mini design in white color with Heavy duty ABS construction sealed cabinets which is a great thing. For proper wiring, the Acoustic Audio AA321W speakers have spring-loaded wire terminals, which you will find on the back of the speaker's rear panel.
The Acoustic Audio speakers have directional swivel wall, mount speakers, so mounting them is super easy; these speakers have a 3.5-inch height which makes them fit easily inside the shelf and able to be used for multi-purpose. So the Acoustic Audio AA321W is the best white bookshelf speaker.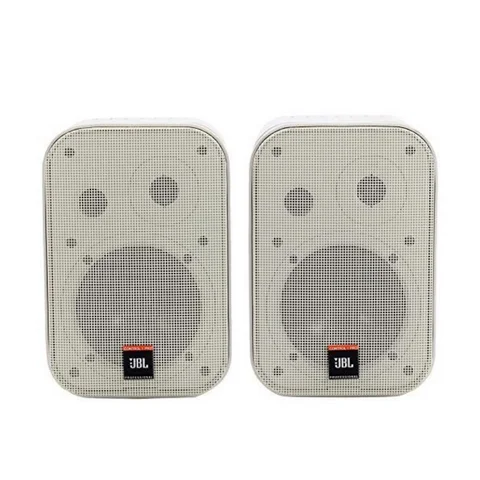 Best for white music studio
View on Amazon Read Customer Reviews
In addition to being very lightweight and compact, the JBL Professional C1PRO-WH offers a high level of performance in both black and white color schemes.
With its powerful bass, crisp highs, and extended frequency response of 80 Hz to 20kHz, this JBL C1PRO-WH loudspeaker is sure to deliver an extraordinary audio experience.
The JBL Professional C1PRO-WH is a high-performance loudspeaker designed for professional use. It features a 1" titanium diaphragm driver and comes with a built-in amplifier and 10-foot power cable. The C1PRO-WH has a frequency response of 50Hz to 20kHz and can produce a powerful sound with plenty of detail.
The JBL C1PRO-WH features a four-inch woofer and 1/2" titanium-laminate tweeter and continuous power handling of 150 Watt, and for pairing, you can use terminals on the back side of C1PRO-WH speakers, which helps in wired connection of speakers (Not Support Bluetooth)
The JBL Professional C1PRO-WH design includes the steeper crossover slopes, which help for outstanding performance, and has a rugged molded enclosure that includes the magnetically shielded transducers, and the SonicGuard will give overload protection.
As a result, the JBL C1PRO-WH offers excellent audio output and is a great option for anyone looking for an affordable, high-quality speaker system with titanium strength. So overall the JBL C1PRO-WH is the best white bookshelf speaker.
Whether you're a music lover, film or drama enthusiast, a gamer just someone in need of a good sound system, bookshelf speakers can be an excellent option. The white bookshelf speakers provide a clear, full-bodied sound without taking up too much space.
White bookshelf speakers are available in a wide variety, so it can be hard to decide which ones are right for you. We've put together this guide to help you decide which white bookshelf speakers to buy! To help you choose the best speaker for your needs, we'll cover all the essential things to consider when shopping for speakers. So read on to find out how!
Types of Bookshelf Speakers
White bookshelf speakers come in a variety of styles. Here are a few popular types:
 Active Bookshelf Speakers
Passive Bookshelf Speakers
Wireless Bookshelf Speakers
Multi-Room Bookshelf Speakers
Features to Consider When Buying White Bookshelf Speakers
Budget
It is important to find a balance between quality and price when buying white bookshelf speakers. The first thing to consider is the price. Ideally, you don't want to spend too much on a pair of bookshelf speakers that don't sound as good as floor standing speakers, but you also don't want to spend too little and end up with speakers that don't last.
Portability:
You will also need to ensure that the white bookshelf speakers will fit on your bookshelf or in the space where you plan to place them, particularly if you have a small space. Mini bookshelf speakers may be the answer if you have a small space.
Sound Quality
A white standard bookshelf speaker's sound quality is the most important factor to consider when purchasing it. You want to ensure that the speakers you select produce clear, crisp sound. Unfortunately, it is challenging to test sound quality before purchasing a pair of speakers. To determine whether a speaker sounds good, read reviews from other customers or listen to it live.
Wired vs. Wireless
It is usually wireless speakers that people choose because they are more powerful, have better sound quality, and can last longer since they have built-in hardware protection. It ultimately depends on what you are looking for in a bookshelf speaker. It is best to choose a wireless bookshelf speaker if portability is your main concern. But if you want the best sound quality, choose a wired bookshelf speaker that you can connect easily to your stereo amplifier.
Matching Your Speakers To An Amp
If you are going to buy passive bookshelf speakers/wired, you must have to match your bookshelf speaker with an amplifier but if you are purchasing a wireless one, skip this step.
Volume and Sensitivity
A white bookshelf speaker's volume and sensitivity can determine how loud it can be played without distortion. Sensitivity is an important factor when buying any white pair of bookshelf speakers, like their decibels (dB):
Under 86dB are low
87-95dB is the average volume
Over 95dB for serious volume
Placement and Stands
To ensure sound waves travel evenly throughout the unit, it is important to place white bookshelf speakers on level surfaces. In addition to choosing a bookshelf speaker with a stable stand, it is also important to choose one placed on an uneven surface to prevent distortion of the bass frequencies. An unstable or shaky stand can cause audio distortions.
How Team Wooster Audio Tested
A series of tests were conducted by our team to ensure that the white bookshelf speakers met our high standards. Wooster Audio set up a test room in which their speakers were placed on stands at ear level, and we played a wide variety of music through them to test their sound quality. Our test of these White Bookshelf Speakers included turning up the volume to maximum and leaving them on for an hour. The bass was full, and the highs were clear.
Also, we assessed their design and build quality, and the sound quality was excellent, with no distortion even at high volumes and solid construction. The build quality is also rated very highly, with solid craftsmanship and a sleek design.
As a next step, we hooked the bookshelf speakers up to various audio sources to see how they performed. These bookshelf speakers performed admirably in all our tests, and we're confident that it will also meet your expectations and we placed the speakers in various positions around the room to determine how they affected the soundscape.
Then, they used an SPL meter to take measurements at different frequencies to find out how much sound pressure the speakers could produce.
In A Nutshell - A Best White Bookshelf Speaker
Hopefully, this article has helped you find the best white bookshelf speaker for your needs. You will find a wide range of options, ranging from budget-friendly models to high-end luxury models. A white bookshelf speaker is sure to meet or exceed your expectations, no matter what type of sound system you have in mind! With these stylish white bookshelf speakers, you'll be able to listen to your favorite tunes and look good doing it, from Bluetooth speakers to multi-room systems and more. You're sure to find an option that meets both your aesthetic and audio needs, whether you're looking for something that blends in or stands out from your décor.
More Related For You
Frequently Asked Questions
What is the best brand of white bookshelf speaker?
As for brands, Audioengine, Klipsch, and Polk Audio are well known for their high-quality bookshelf speakers. Ultimately, your budget will determine which bookshelf speaker brand will meet your needs.
Do you need a subwoofer with bookshelf speakers?
Since not all bookshelf speakers are alike, the answer depends on your specific requirements. A subwoofer will definitely enhance the sound quality of any bookshelf speaker, but it is not also necessary for any bookshelf speaker. However, if sound quality isn't of concern to you, then you may not need one.
How do I connect to Audioengine A2+ wireless?
Here are the steps you'll need to follow to connect your Audioengine A2+ wireless speakers:
When you see that the button on the rear panel of the A2+ speaker is flashing, remember that it is a sign that the speaker is in pairing mode.
Turn On your Device Bluetooth
Go to Bluetooth preferences
Select Audioengine A2+ wireless
Connect and enjoy