If you're yearning for crisp, clear sound from your home theater setup or you recently decided to take the plunge and finally invest in quality floorstanding speakers then it is your suitable decision—they're like the superheroes of loud sound. With floor-standing speakers, your entertainment space can aid from loud sound quality while taking up a small amount of space.
Finding the best floor-standing speakers under $1000 from the crowded audio equipment market can be a challenging task especially when you are unfamiliar with the industry. You may encounter several pain points such as differentiating between reputable brands and lesser-known ones can be a real challenge. Another challenge is size and acoustics consideration of space, budget consideration, checking reviews and ratings, sound quality, build quality and technical specifications such as drivers, sensitivity or Impedance (etc).
Look no further—Today, Team Wooster Audio is gonna dive into the most popular tower speakers you can snag for under a grand. We have reviewed all those floor-standing models that are excellent build and have the loudest sound reproduction capabilities. At the end of the article, we have mentioned a quick buying guide that increases your knowledge about how to get a good build floor speaker model that is truly loud, clear and well-made.
Below every navigational button, we have made a link to Amazon Customer reviews where people mention their honest reviews about that floor speaker model. You can learn from their experience which gives you a bright picture of that floor speaker. Let's dive in.
Most Popular Recommendations
Best Floorstanding Speakers Under $1000 Reviews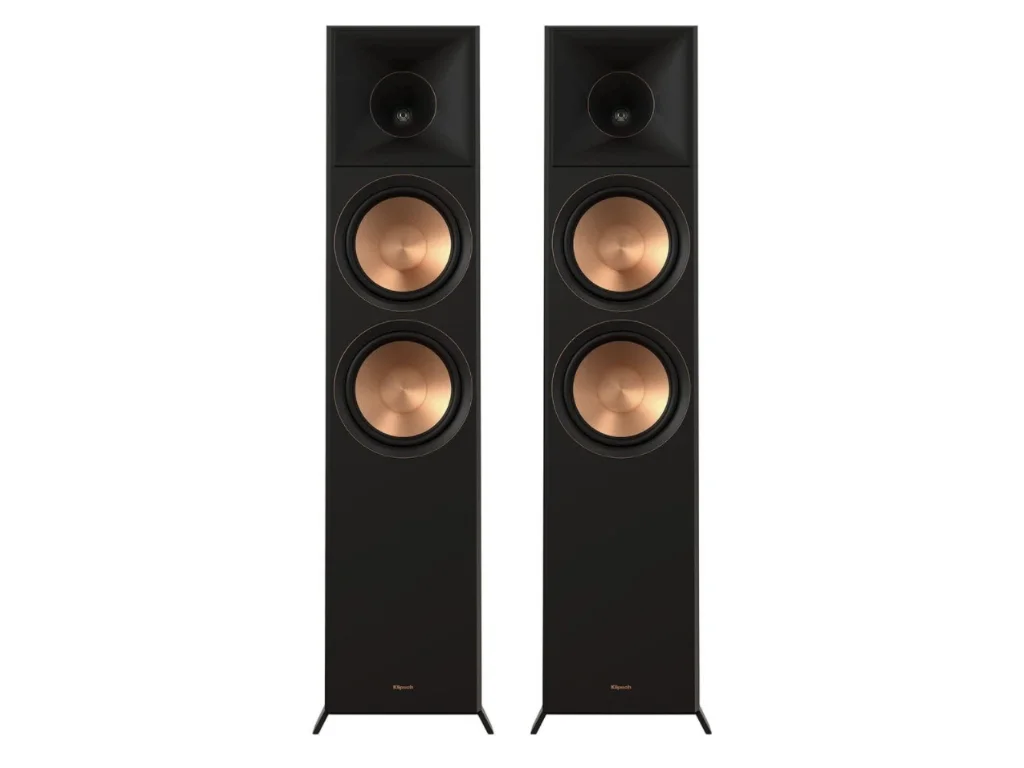 SPECIFICATIONS
Tweeter: 1" LTS Titanium diaphragm ~ Woofer: Dual 8 inch Cerametallic cone ~ Sensitivity: 98 dB ~ Sensitivity: 98 dB  ~ Frequency response: 32-25,000 Hz (±3dB) ~ Power Handling: Up to 150 watts RMS (Peak: 600 watts) ~ Impedance: 8 ohms ~ Dimensions: 10-15/16 Inch Width / 43-⅛ inch Height / 17-9/16 Inch Depth
Pros
+ A well- controlled dispersion
+ Wide dynamic range
+ Great clarity and punch
+ Good Build quality and gloss black look
Cons
- Bit Heavier
- Low quality connection terminals
We start with the Klipsch RP-8000F review, which boasts an elegant design accentuated by the presence of copper accents, enhancing its aesthetic appeal. The RP-8000F tower speakers make a bold visual statement due to their size compared to competitors.
One of RP-8000F design highlights includes a removable grille, which, when taken off, reveals the presence of copper cones and a Tractrix tweeter, making the speaker more visually pleasing and functional. The Klipsch RP-8000F speaker is durably constructed with heavy ¾" thick MDF paneling and bracing, ensuring both robustness and acoustic excellence. A standout feature of the RP-8000F design is the Hybrid Cross-Section Tractrix horn, contributing not only to its unique appearance but also to its outstanding audio quality. 
To complete the package, the RP-8000F maintains a stable stance with the inclusion of cast aluminum rails as feet, ensuring both stability and an elevated sense of style. Let's discuss Klipsch RP-8000F specs.Its crossover frequency is finely tuned at 1,750 Hz, employing a 4th-order electrical high-pass filter and a 2nd-order electrical low-pass filter, separating and clarifying sounds precisely.
The Klipsch RP-8000F speaker exhibits an impressive acoustic response, characterized by an approximate 6th-order acoustical response, delivering refined and detailed audio output. These Klipsch floorstanding speakers Incorporate a rectangular port with tractrix geometry; the port design of the RP-8000F optimizes airflow, contributing to improved bass response and overall sound quality. Remarkably, the RP-8000F excels in sensitivity, surpassing the average, and possesses a relatively focused directivity.
In the lab, I paired the Klipsch RP-8000F speakers with Samsung TVs and played the 'Hello Ghost' movie on smart TVs. The sound quality of RP-8000F was exact, balanced, and clear. I tested the Synergy Black Label F-300 two weeks ago, and I believe the RP-8000F provides better sound quality than the F-300. With the RP-8000F, you can enjoy movies with immersive sound production and high dynamic range. The Klipsch RP-8000F price falls under $1000, and this tower speaker model is totally worth it in this range.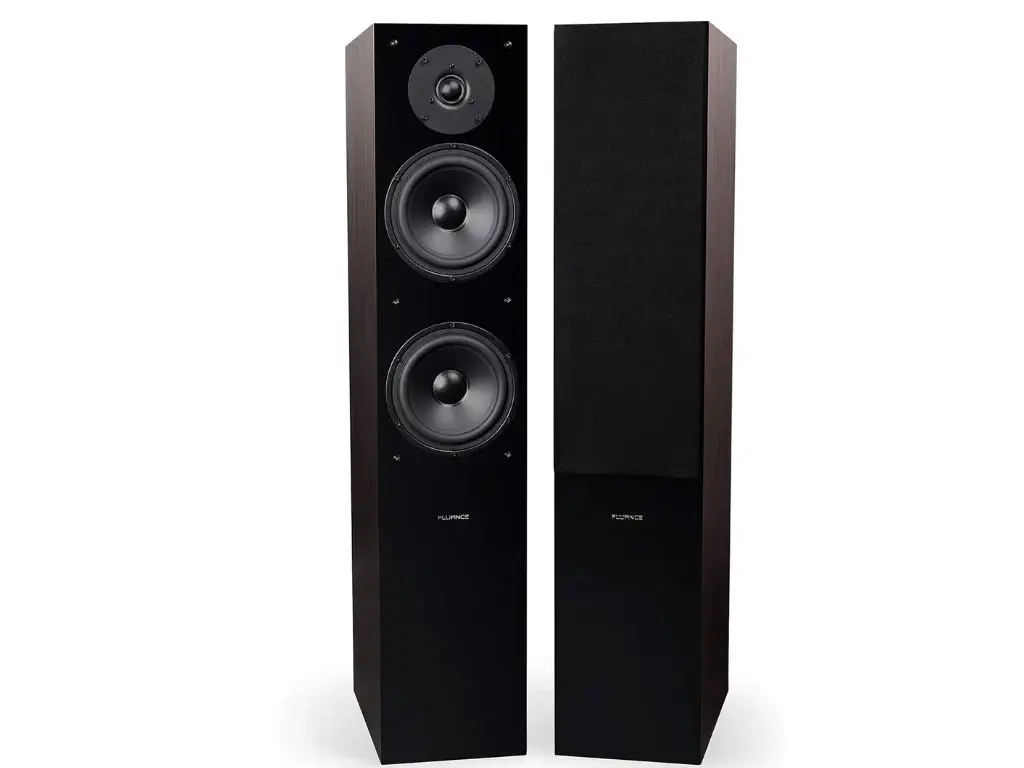 SPECIFICATIONS
Tweeter: 1 inch neodymium balanced silk dome ~ Woofer: dual 6.5 Inch ~ Midrange: 4 Inch poly-coated ~ Sensitivity: 89dB @ 2.83V / 1m  ~ Frequency response: 49 - 20 KHz ~ Power Handling: 50 - 160 Watts ~ Impedance: 8 ohms ~ Dimensions: 38.8 x 7.8 x 13.0 Inches
Pros
+ Decent Bass Capabilities
+ Premium build quality
+ Budget surround speakers
+ Features full-size center speaker
+ Adjustable Tower Speaker Bases
Cons
- No subwoofer included
- Not suitable for very small rooms (less 200 square feet)
- Not High-End Sound
Our second recommendation is Fluance SXHTBW, which is a classic model in the floorstanding speaker category. The Fluance SXHTBW is characterized by a meticulously crafted overall design with durability and aesthetics in mind. If we talk about the SXHTBW exterior, it features a resilient natural Beech vinyl wrap finish, chosen just for its visual appeal.
Underneath this stylish exterior, the Fluance SXHTBW boasts robust MDF wood construction cabinets, delivering structural integrity while ensuring stability and sound quality. You will find the grille attachment mechanism utilizes precision brass pins,  guaranteeing a secure and reliable assembly. For those who seek enduring quality and superior audio performance, the SXHTBW represents Fluance's commitment to both form and function.
The Fluance SXHTBW tower speakers, standing at 38.8 inches tall and weighing 33.4 pounds each, can be put below your Smart TV or on the side of the table on the floor (better). Meanwhile, the center channel speaker boasts two 4-inch poly-coated woofers and a 1-inch plastic tweeter, ensuring crisp and clear sound.
Are you short on space? Well, my recommendation is to use wall-mountable surround speakers that are only 8.8 inches high, making them a convenient option. The tower speakers, equipped with dual 6.5-inch poly-coated woofers and a 1-inch silk-dome tweeter, deliver a rich audio experience.  
For better connectivity, on Fluance SXHTBW, you will find gold-plated, five-way binding posts, which you can utilize for a reliable connection to your audio devices/equipment. By using double sets of posts (found on Fluance tower speakers), you are allowed for bi-amp and bi-wire capability, giving you confidence and more flexibility in setting up your audio system.
While testing Fluance SXHTBW in the lab, the sound quality was gutsy, the treble was bright, and the bass was rich. The DB-150 subwoofer was good enough, but while watching the movie, I heard that the center speaker was providing thin dialogue. Overall, the  Fluance SXHTBW is suitable for electronic music and rock music, too, but it cannot beat Klipsch RP-8000F in sound quality.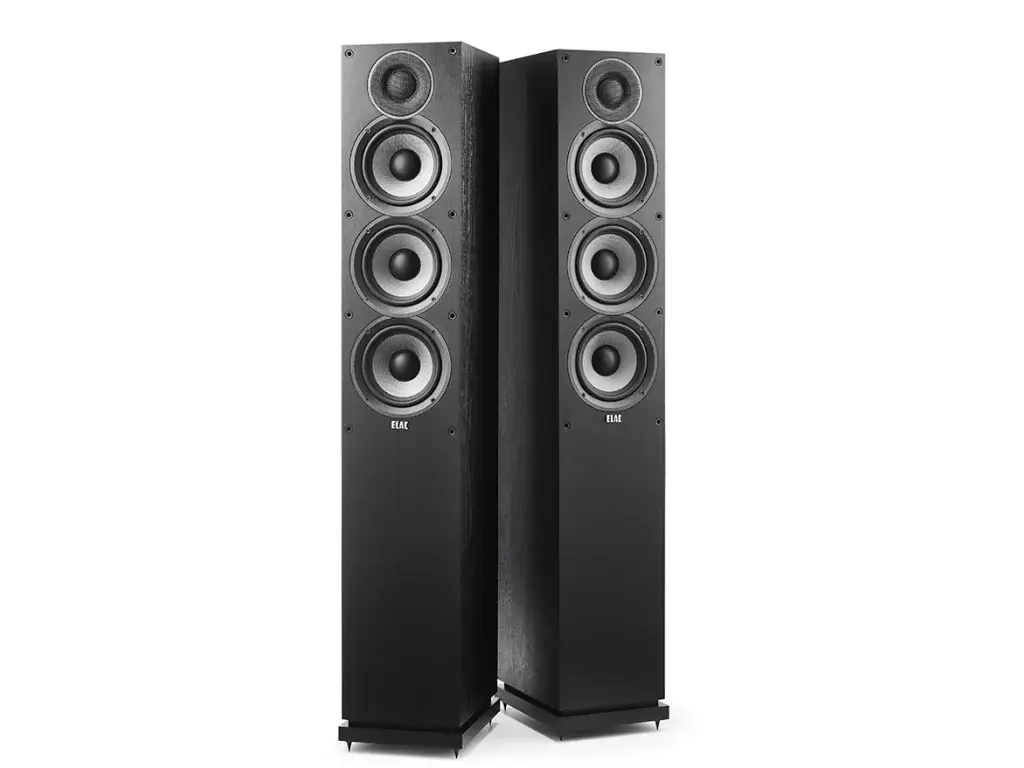 SPECIFICATIONS
Way: 3-way design ~ Tweeter: 1 inch silk dome ~ Woofer: dual 5-1/4" aramid-fiber ~ Midrange: 5-1/4" aramid-fiber ~ Sensitivity: 86 dB  ~ Frequency response: 42-35,000 Hz ~ Amp Power Requirement: 140 watts ~ Impedance: 6 ohms ~ Dimensions: 7-7/16 inch W x 41-1/16 inch H x 10-¼ inch D
Pros
+ Textural insight
+ Spacious soundstage
+ Provides precise bass
+ Good timing and dynamics
+ Mature and honest presentation
Cons
- Preference for close wall placement
- May lack some punch
After Fluance SXHTBW, here is Elac Debut 2.0 F5.2, which also stands well in sound performance. This Elac line-up floor speakers come with MDF cabinets that have a sleek black vinyl finish, and they're built to last with internal bracing for added durability. What's neat is that each speaker has three rear-firing bass reflex ports for performance boost. For stereo systems or for home cinema surround sound these Elac Debut 2.0 F5.2 work best when paced to the floor or mounted on the wall.
To provide exceptional sound quality, Elac Debut 2.0 F5.2 speakers are designed and come with main drivers made from Aramid fiber for excellent balance of stiffness and damping for outstanding audio performance. There is a brand new 25mm silk dome tweeter with improved dispersion so that soundstages can be widened and detailed.
You can extend treble response to 35kHz, which means you can expect stunning high-frequency performance. The Elac Debut 2.0 F5.2 has a frequency response ranging from 42Hz to 35kHz, a sensitivity of 86dB, and power management of 140W.
While testing Elac Debut 2.0 F5.2 in the lab room, I heard a mature and vibrant sound that impressed me. It was very transparent, detailed, and textural, and the bass was strong and clear. This one is much budget friendly than the Klipsch RP-8000F and Fluance SXHTBW but is near in sound performance as compared to both models.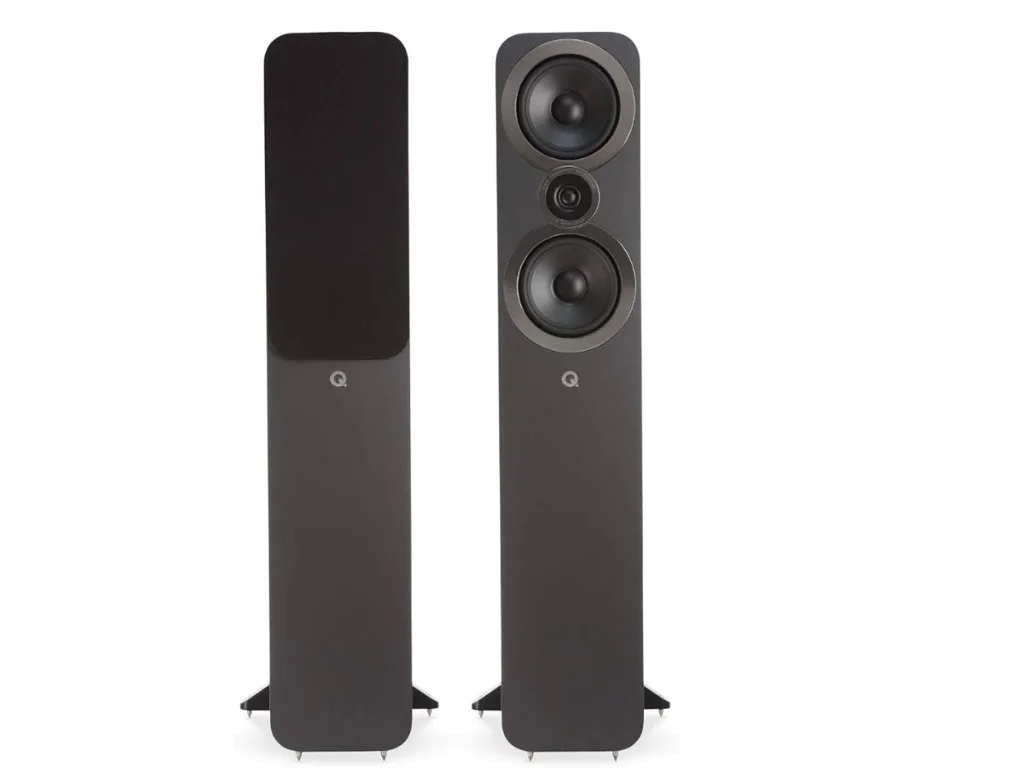 SPECIFICATIONS
Enclosure type: 2-way reflex ~ Tweeter: 2-in-1 concentric ring dome ~ Treble Unit: 25mm ~ Sensitivity: 92dB  ~ Frequency response: 44 Hz – 30 kHz ~ Impedance: 6 Ohm ~ Dimensions: 1020 H x 310 W x 320 D
Pros
+ Punchy and Subtle performance
+ Elegant finish
+ Flexible about positioning
Do you want a more in-expensive model than Elac Debut 2.0 F5.2? Here comes Q Acoustics 3050i which is a standout in the world of midrange floorstander speakers. The Q Acoustics 3050i offers a combination of impressive specifications, sleek design, and exceptional sound.
One of the first things that catch your eye is the four stunning color finish options: gray, walnut, white, or black. In addition to being a sonic delight, these Q Acoustics 3050i speakers can also add a touch of aesthetic appeal to your home. 
There is a chrome bezel around each driver that looks elegant, while the thicker baffle provides robust support for the tweeter and mid/bass driver. This is further complemented by the improved cabinet rigidity achieved through P2P cabinet bracing.
The Q Acoustics 3050i features a  20mm soft dome tweeter, decoupled from the baffle, that ensures that high frequencies are delivered with remarkable clarity. There are embedded sockets within the cabinet for terminals that are a practical touch.
What sets the Q Acoustics 3050i apart is its use of Helmholtz Pressure Equalizer (HPE) technology, which significantly reduces resonance. This results in a spacious, orderly soundstage and impressive low-end reach.
Whether you're enjoying your favorite tunes or a thrilling movie night, these speakers deliver clear, crisp audio that reaffirms Q Acoustics' position as a top contender in the midrange floor stander market. Its outstanding features and performance make the Q Acoustics 3050i an exceptional choice for audiophiles and designers alike. While testing Q Acoustics 3050i in the lab, I heard audio with low-end reach and crisp high frequencies.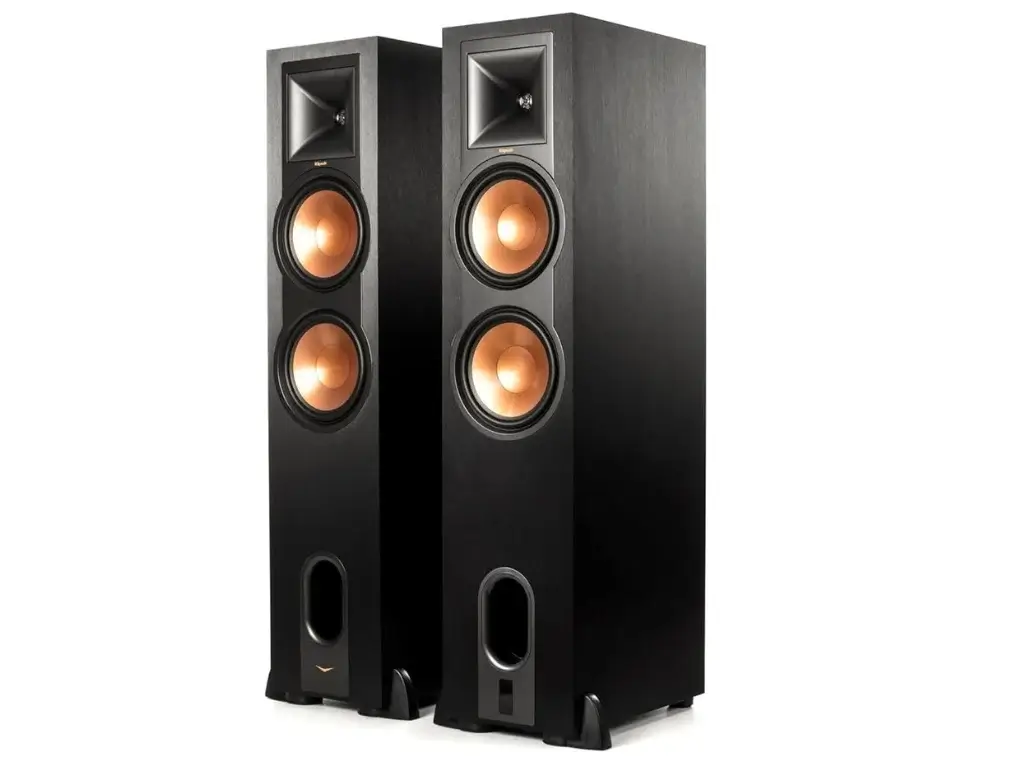 Best For Wireless Home Speaker Experience
SPECIFICATIONS
Tweeter: 1 Inch aluminum diaphragm compression ~ Woofer: 8 Inch Copper-Spun IMG ~ Frequency response: 33-20,000 Hz (±3dB) ~ Impedance: 6 Ohm ~ Power Handling: 130 watts ~ Dimensions: 9-½ Inch W x 42 Inch H x 15-¾ Inch D
Pros
+ Built-in Amplification system
+ Versatile Connectivity
+ Built-in phono stage
+ Clear and authoritative dialogue
Cons
- Bluetooth Limitations
- Large Size
- Sound Quality Variation (depending on source and method)
Check this Klipsch R-28PF, which comes in a black color design and is a self-contained audio system. It has been years since Klipsch brands have been trusted and you will find thousands of Klipsch products in the market, from floor standing to other speaker types.
The R-28PF features a decent and elegant look and does not take up more space because of its body design and internal powering system. Due to its 260W integrated amplification system Kit, you do not require an external amplifier and receiver and Plus space is also saved.
The R-28PF features a single 1-inch aluminum diaphragm compression driver that features a square horn for spreading sound at a 90-degree angle. Every Klipsch speaker with 90° x 90° square Tractrix Horn drivers is popular for their audio clarity. Each Speaker of R-28PF features Two 8-inch copper woofers with special shielding (magnetic copper spun IMG). 
From Klipsch R-28PF, you can expect Improved sound quality in different situations. Like the sound is amazing when connected directly to your Smart TV via optical cable. You will enjoy positive performance while watching TV content or movies, with detailed and clear sound effects and clear dialogue listening. The sound quality provided by R-28PF remains good while music streams from a laptop or computer and also from analog sources like vinyl records.
For easy connection, R-28PF features a 3.5mm Jack, RCA analog line, USB, and optical digital inputs. For external subwoofer contention, you will find sub-output on R-28PF, and for turntable connectivity, there is a Phono Preamp built-in available with a ground screw terminal. The R-28PF doesn't feature HDMI pass-through, so you may face trouble while using video players with it.
The other great features found on Klipsch R-28PF are Bluetooth wireless technology with aptX for your wireless music experience and remote functionally gives you easy setting control over volume control, source selection, and sub-level adjustment without compromising comfort.
Overall, under the $ 1,000 range, this Klipsch R-28PF floor standing speaker features medium and advanced features. From Smart TV and Computer to Turntable, you can use R-28PF for full-range sound.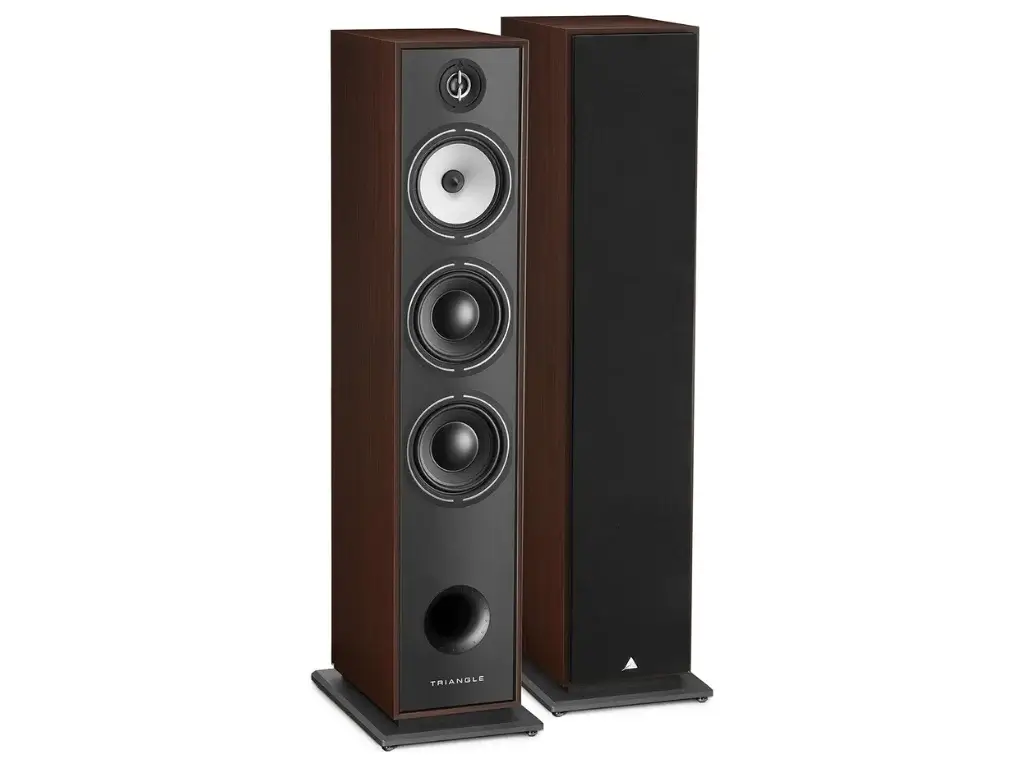 SPECIFICATIONS
Way: three-way ~ Tweeter: 25mm EFS silk dome ~ Woofer: Dual fiberglass 16cm ~ Midrange: 16cm ~ Frequency response: 40Hz – 22kHz ~ Impedance: 6 Ohm ~ Sensitivity: 92 dB/W/m ~ Power Handling: 150W ~ Dimensions: 102 x 20.6 x 31.4cm
Pros
+ Dynamic and punchy
+ Driven by impressive rhythms
+ Excellent punching and agility
+ Efficient Flow System Tweeter
+ Good compatibility with various audio systems
Cons
- Sines in larger room
- Cabinet design lacks visual appeal
- Require careful placement
A BR08 floorstanding speaker by Triangle Borea recently caught my attention. Starting with the design, the BR08 has tall 102 cm-tall cabinets and flat parallel sides that give it a sleek, stunning look and modern appearance. You can select BR08 in light oak, black ash, white, and walnut color options to match with your decor.
With internal bracing of the enclosure, BR08 floor speakers become more rigid, more attractive, and produce better sound. Inside BR08, the drivers are mounted with high-density EVA foam that is for lesser vibrations and increased stability, so as a result, you will enjoy crisp and clear sound.
The Triangle Borea BR08 has a sensitivity of 92 dB/W/m and 40Hz to 22kHz of frequency response and can handle 150W of power and maintain 8 ohms impedance to make it compatible with a range of audio systems.
The BR08 features a 25mm silk dome tweeter, complete with a front-firing reflex port to ensure crisp and clear high frequencies. With its exceptional dynamics and punch, the BR08 truly stands out. You can enjoy listening to your favorite classical symphonies and music albums.
 I was particularly impressed with BR08's ability to adapt to various music genres. With the BR08, you'll be able to experience a cohesive, musical listening experience that's nothing short of addictive, whether you're into jazz, hip-hop, or electronic beats. Even when cranked up to high volumes, the BR08 maintains its composure and continues to perform admirably. Overall, the Triangle Borea BR08 is a good option and features a similar price tag as the Klipsch R-28PF offers.
Quick Buying Tips
For super purchase and getting the best floor-standing speakers under $1000 can be possible by carefully considering the factors I am mentioning below.
Set Your Budget
You've already established a $1000 budget, which is a good beginning point. Be disciplined and don't go overboard.
Room Size
Before finalizing any floor speakers, remember that your room size matters a lot. Your speakers' performance and sound can be impacted by it. For example, if your room is too small, you might end up with a boomy and overpowering bass. So, you should therefore choose a speaker that is appropriate for the size of your room.
Sound Quality
Prioritize sound quality. You have to look for a floor speaker with an excellent soundstage that provides you with the perceived width, depth, and height of the sound field. If possible, then audition the speakers and check if it deliver clear and balanced audio across the entire frequency spectrum, from deep bass to crisp highs or not.
Speaker Sensitivity (measured in decibels (dB)
The sensitivities of speakers have to do with how well they convert power into sound. The same volume is achieved with less power if the speaker has a higher sensitivity. For example, a Floor speaker with a sensitivity rating of 90 dB is good enough, whereas a sensitivity rating of 95 dB or higher is super excellent.
Active or Passive Floor Standing Speakers?
Active: Active or Powered floor standing speakers come with many advantages, but they are on the expensive side. They are set-up easily (not requiring matching amplifiers), and due to their specifically designed built-in amplification system, they produce higher sound levels than passive ones.
Passive: You can choose passive speakers from a variety of options, but they require more care in choosing amplifiers that power them. In sound quality production, passive floor speaker options are good but are not higher than active speaker models.
Driver Configuration & Build Quality
It is important to choose floor speakers that have solid cabinets and high-quality materials so that resonances and distortions are reduced. Basically, common floor standing speakers usually contain 3 to 4 feet height (Tall) but if you got with more taller one than this could be beneficial. Due to their taller size, you will enjoy the sound with the tweeters at ear level when you're seated in your usual listening position for optimal sound distribution (Taller model features Separate the drivers more).
For optimal sound quality, you need to choose drivers that are compatible with each other. Also, when choosing drivers, you need to take the size of the speaker cabinet into consideration and the genre of music you listen to.
Most Common Type: Two-way & Three-way loudspeakers
Single OR Pair
It is not recommended to replace a whole sound system with a single speaker sold in the market, as these are intended to replace old or damaged speakers. However, if you still need to get a full system, you must purchase a pair of floor-standing speakers to build a proper audio setup. Do not buy just one, as it will not meet your audio needs.
Brand Reputation & Reviews and Recommendations
A good rule of thumb is to stick with well-known audio brands if you are looking for floor speakers. In general, popular brands like Klipsch, Elac Debut, Q Acoustics etc produce louder and better-sounding speakers. Also review the real-life experiences of other people about those speakers, as well as reviews from experts. This way, you'll get the scoop on how they perform and if there are any quirks you should know about before buying.
Warranty and Customer Support
Remember and always ensure that the manufacturer of floor speakers provides adequate warranty and customer support or not. If yes! Then that is money protection as when there are defects or issues, an adequate warranty can provide peace of mind.
Future Expansion
Team Wooster Audio will recommend you to prepare your audio system for the long term. Are there any other components you'd like to add to your system, such as speakers or a subwoofer down the road? Ensure your chosen floor speakers can accommodate future upgrades.
Accessories
There is also the importance of Accessories as well, so take into account the cost of speaker cables, speaker stands, and other accessories you want.
Floor Standing Vs. Bookshelf Speakers
The Speakers for floors and bookshelves cater to different audio requirements. It is interesting to compare Floor Standings with Bookshelf Speakers, as they have many points in common as well as many points in differences. 
Size: Floor-standing options are larger (three-feet taller) and more conspicuous and excel in spacious rooms and can easily stand on the floor where you want without the need for a stand, shelf, or any mount. In contrast, Bookshelf speakers' options are compact and versatile and suitable for smaller spaces (one foot taller). Around your ear height, you can easily place them but may require a mount, shelf, or any stand. Here are some bookshelf speakers you can use in your small room.
Drivers: In most bookshelf speakers, there are two drivers, with the woofer installed at the bottom and the tweeter installed at the top. Because they are smaller, you'll have fewer opportunities for drivers than floor standing ones. As opposed to bookshelf speakers, floor-standing speakers have more drivers due to their larger size and may have additional woofers, midrange drivers, or tweeters.
Sound Quality & Budget: From bookshelf speakers, you can expect clear sound quality but less sound distribution in the room. If you have a small or normal-sized room, the affordable bookshelf speakers will fill the room with sound. However, larger rooms may not benefit from this kind of speaker. A floor standing speaker, on the other hand, can get louder due to its bigger cabinet; although the sound quality may not be better (as Bookshelf ones), your bigger room will be more easily filled with audio. Price-wise, bookshelf speakers cost less than floor speakers.
Similarity: As I move forward, I'll discuss the similarities between floor standing and bookshelf speakers. The first thing is stereo sound; both can play it easily (as comes in Pair), and each speaker can handle their left or right channel. Not only that, both can be easily integrated into big home theater systems ( From 5.1, 7.1 to greater) simply if powered by a supported AV receiver. Interestingly, both are available in active and passive options, so you have a choice.
What is the optimal placement for floor speakers?
Floor Speakers must be placed in the right position for a good soundstage. So I will recommend you Start by placing them 6-8 feet apart, which will give you a wide stereo soundstage. Your Floor speakers should be positioned so that they form an equilateral triangle with your audio listening position.
As a result, the listening position should be the same distance from each speaker. A Toe-in Floor speaker should always be placed a minimum of 2-3 feet away from the wall, which will minimize bass reflections and ensure clear sound.
Once the speakers are in a general position, you can experiment with different angles and distances to get the best-sounding position. Alternatively, you can try speaker stands if your floor speaker has a low height. They will help raise the speakers to the level of your ears.
Ensure they're at ear level when seated, forming an equilateral triangle with the listening position. You can also consider acoustic treatment to mitigate room reflections for the best sound quality.
Final Remarks
I hope you can now get a modest floor stand speaker for your personal preference. Our reviewed all models are from top brands and better perform than other floor speakers found in market. So, select a model after considering you needs like sound quality, room size,budget range etc. Also you can mail us if you need specific floor speaker model review from us.
Frequently Asked Questions
How to avoid technical problems with floor standing speakers?
To prevent technical problems with any floor speakers, there are several things you can do. FIRST, I will recommend you to choose your speaker with a high sensitivity rating and wide frequency response that ensures that the speaker can reproduce a wide range of frequencies in result, the sound will more louder.
Avoid placing speakers too close to your wall because it can affect the soundstage, which will result in being narrow and cramped. If you consistently experience technical problems with your floor standing speakers, then I will recommend you consult with a qualified audio expert near your location or via audio call.
What Are the Best Ways to Secure and Stabilize Any Tower Speakers?
To keep tower speakers secure and sounding their best, you can start with proper stands designed for your speakers' size. Also, ensure the floor is level and stable, and use floor levelers if needed. For added stability, you can consider securing floor speakers to the wall, especially in earthquake-prone areas.
You have to do proper cable management, which is essential to prevent tripping hazards and maintain a tidy setup. The last point to keep in mind is to always place and stabilize your audio according to the recommendations of the manufacturer.