It is well known that vinyl records are an analog format (sound is stored as physical waves on records). As a result, when you play a record, the physical waves are transformed into electrical signals on a turntable, which is amplified and sent to bookshelf speakers that reproduce this analog signal accurately, so you will hear a natural sound that is more accurate and natural than compressed digital audio.
You can get a well-balanced sound If you use a bookshelf speaker to play and enjoy vinyl record music; as a vinyl record's frequency range is wide (High/low bass notes to treble notes), so a bookshelf speaker can handle a more comprehensive frequency range. It is not necessary to worry about bookshelf speakers getting damaged at low volumes since bookshelf speakers perform well and sound good even at low volumes.
If you want to take your turntable music listening experience to a new level, consider investing in some best bookshelf speakers for vinyl record players. These compact speakers can easily fit on your bookshelf, and with the right set of specs, they'll be able to reproduce your music with stunning accuracy. Here are inexpensive bookshelf speakers option which you can checkout.
Note: If you have poor-quality speakers connected to a good vinyl player, you'll find your sound will be poor. Therefore, you should always consult an expert before purchasing bookshelf speakers.
Popular Recommendations
Best Bookshelf Speakers For Vinyl Record Players Reviews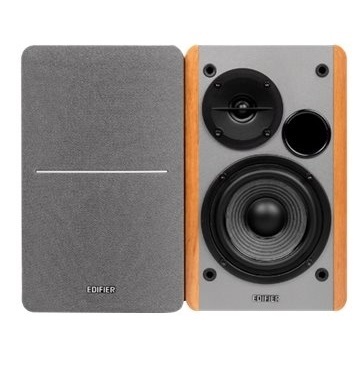 SPECIFICATIONS
42W RMS Power handling | Total Power Output: R/L: 21W+21W RMS | SIGNAL-TO-NOISE RATIO:  ≥85dB(A) | Frequency Response: 52Hz-20KHz | Front bass reflex port: Yes
Pros
+ Latest audio technology
+ Has beautiful retro wood case look
+ Deliver outstanding sound experiences
Cons
- Not very loud
- No wireless connectivity
- No subwoofer output
It's impossible to deny that a home audio system with sound monitor speakers is essential for turntable music listening. After all, your ears are the final arbiters of whether or not you're getting a good listening experience.
That's where the Edifier R1280Ts comes in; it's an affordable option that delivers excellent sound quality. If we talk about the Edifier R1280T design, then you will find premium-grade wood used for the cabinet, is designed to blend seamlessly with any decor, and have various finishes and sizes to choose from and drivers, ensuring that the speakers sound excellent and last a long time. The color availability of Edifier R1280T are:
Wood (Bit Cheaper)
Wood Grain ($10-$15 more expensive than Edifier R1280T Wood)
At the side of Edifier R1280Ts, you will find helpful knobs for controlling Bass, volume, and terrible, and on the find, R1280Ts speakers company has featured a great removable Mesh Grill which not only looks beautiful but also works as a great security guard for R1280Ts drivers protection.
Also, the Edifier R1280Ts speakers have an advanced amplifier design that gives them plenty of power to produce high-quality sound. You will be amazed at how clear and crisp the sound is, perfect for vinyl listening, and while sitting on the sofa or relaxing at bed, you can control Edifier R1280Ts by using the remote control (like volume adjustments, etc)
The Edifier R1280T speakers feature a Soundfield Spacializer to adjust the sound to your specific needs and auxiliary input (Dual RCA inputs) and Sub-out Interface for connecting other audio devices, and they can be easily powered by an AC adapter or directly connected to your stereo system (turntable) via the included 3.5mm audio cable to get wide-field sound.
The Edifier R1280Ts features two 4-inch subwoofers and ½ inch silk dome tweeter for clear sound, and these speakers also have an auxiliary input to hook them up to your MP3 player or other audio devices.
It is worth mentioning that after a thorough search, You will find the Edifier R1280T to be a great value in terms of price, sound quality, and build quality when compared to the Edifier R1280DB, Audioengine A2+, PreSonus Eris E3.5, and Kanto YU2.
So if you're in the market for the best bookshelf speakers for vinyl record players, the Edifier R1280Ts will be perfect; who wants a high-quality, small bookshelf speakers system, easy to set up and use, discreet speaker to supplement your audio experience or an all-in-one solution for your home theater.
Explore More: How to arrange Bookshelf Speakers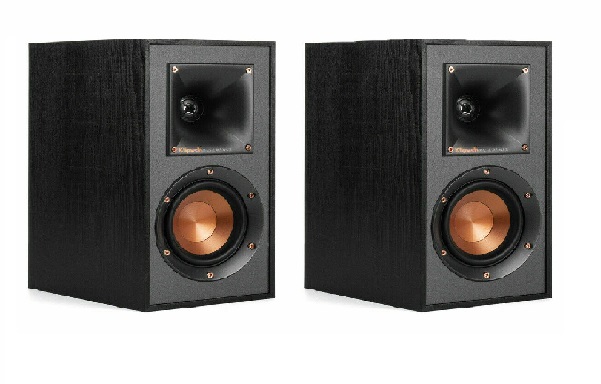 SPECIFICATIONS
68 hertz - 21 kilohertz +/- 3dB |  Impedance: 8 Ohm |  Crossover frequency – 1,730 hertz |  Sensitivity 90dB |  Power Handling: 200 watts | Brand: Klipsch | Model Name: R-41M
Pros
+ Exclusive Linear Travel Suspension
+ 90x90º Tractrix horn technology
+ Textured wood grain vinyl design
+ Injection Molded Graphite (IMG) woofer
Cons
- Lacks wireless connectivity
A Klipsch product is inherently high-quality, and their detailed bookshelf home speaker is no different. Klipsch's R-41M speaker provides high-quality audio without any interference or distortion so that you can enjoy your music without interruptions.
This Klipsch R-41M speaker is equipped with 4" Spun-Copper IMG Woofers to deliver deep bass, and the 1" Aluminum LTS tweeters mated to 90x90 Square Tractrix Horns for wide frequency response, and there is also a dedicated amplifier to deliver strong sound.
The Klipsch R-41M has a built-in digital equalizer and an auxiliary input port for adding external audio devices, and with its sleek design and top-notch features, the R-41M is the perfect choice for anyone looking for an exceptional home entertainment experience.
The design of Klipsch R-41M is very elegant, and you will feel a tremendous textured Wood Grain Vinyl finish which looks pretty awesome when placed beside your turntable and build quality lasts longer due to being made of Reinforced MDF Cabinet material.
The R-41M is a 2-Way Speaker Design bookshelf speaker that features a powerful 200-watt amplifier that drives three front-firing drivers (has neodymium magnets), so as a result, you will enjoy deep bass and crisp highs while playing vinyl music at the top level.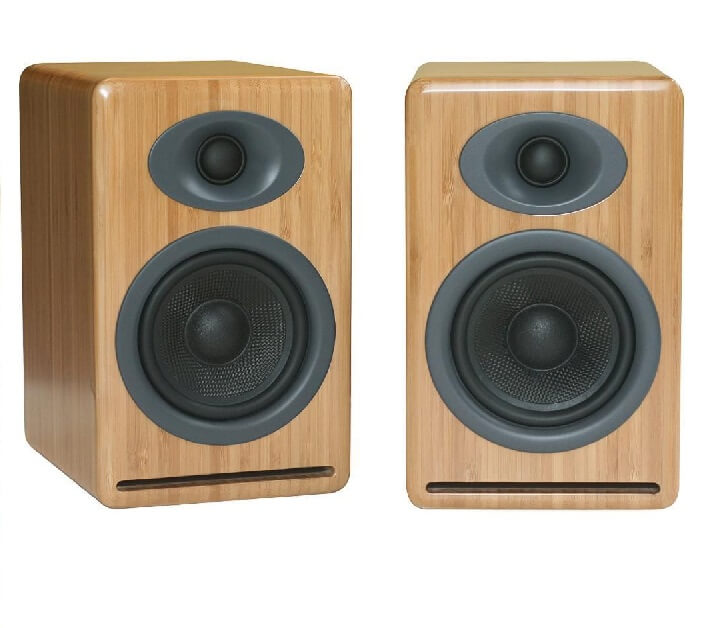 Best Passive Bookshelf Speakers
SPECIFICATIONS
Speaker Type: Bookshelf, Surround Sound | Brand: Audioengine | Mounting Type: Table Top, Wall Mount | Color: Bamboo | Connectivity Technology: Wired | Power: 10-125W per channel
Pros
+ Full-sounding bookshelf speakers
+ Great integrated amplifier
Cons
- Expensive bookshelf speakers
After Klipsch R-41M, I will review Audioengine's P4, which are also the best bookshelf speakers for vinyl record players and made from quality materials, making it perfect for use in smaller spaces or as a standalone turntable speaker system as they are less than 23cm highed (Bookshelf Placeable)
The Audioengine P4 comes with the front-ported two-way speakers design and featuring a great 100mm Kevlar driver and  20mm silk-dome tweeter (aramid fiber woofers), so this driver, tweeter, and woofer combination will result you in better turntable music experience which you will relay enjoy.
The Audioengine P4 speakers also feature an auxiliary input for connecting other devices, so you can easily augment your audio experience without buying additional equipment, and has a sleek design that will complement any decor. The Audioengine P4 has a built-in amplifier and features a powerful 10-125W per channel RMS and 20 watts peak output. Audioengine P4 cabinets are Hand-built cabinets and come in three color options: Bamboo (Expensive) and satin black and white so that you can purchase what looks best or matches your existing turntable system. Here Are White Looking Bookshelf Speakers Which You Can Checkout.
Ultimately, for vinyl music lovers, the Audioengine P4 speaker will add a punch to your home theater or office thanks to its superior sound reproduction, but as Audioengine P4 are not budget-friendly so, if you are out of your budget then Please consider Klipsch R-41M or Edifier R1280Ts which are budget options.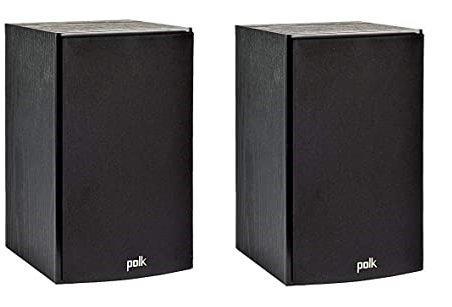 Best Affordable Sounding Speakers
SPECIFICATIONS
Speaker Type: Bookshelf | Brand: Polk Audio | Model Name: T15 | Recommended:  Surround Sound Systems | Overall Frequency: 60Hz-24kHz |Peak Power Handling: 100 Watts | Nominal Impedance 8 ohms | 20-100 Watts/Channel
Pros
+ Gives concert-quality music
+ Dynamic balance technology
+ Amazing Quality and Look
After Audioengine P4, which was not a budget-friendly option, here is Polk Audio T15, which are great low-cost vinyl audio speakers. As you know, From bookshelf speakers to floor-standing speakers, Polk has something for everyone. Polk Audio company has released a new bookshelf speaker line. For smaller spaces or apartments, the Polk T15 offers great sound quality and portability.
The Polk Audio T15 speaker is designed to be placed on or near a wall, and not only that; this one is a wall-mountable bookshelf speaker, so by using a keyhole present on the back side of the Polk Audio T15, you can wall-mount it as you want.
The Polk Audio T15 is packed with a composite-made woofer, 0.75" tweeter and 5.25" Dynamic Balance Driver, and as compared to other bookshelf speakers, the T15 also has a front-firing bass port so that you will enjoy Vinyl record sound at its best.
Personally, after hearing the sound from Polk Audio T15, I can say it is similar to Edifier R1280Ts, Micca PB42X, Kanto YU2, and Audioengine A2. So overall, if you need the best bookshelf speakers for a vinyl record player, then Polk Audio T15 is a great option and provides clear sound with little distortion that can be used for various applications, including home theater, gaming, turntable music listening, etc. Here is All-In-One-Stereo-System With Turntable And Speakers So Checkout.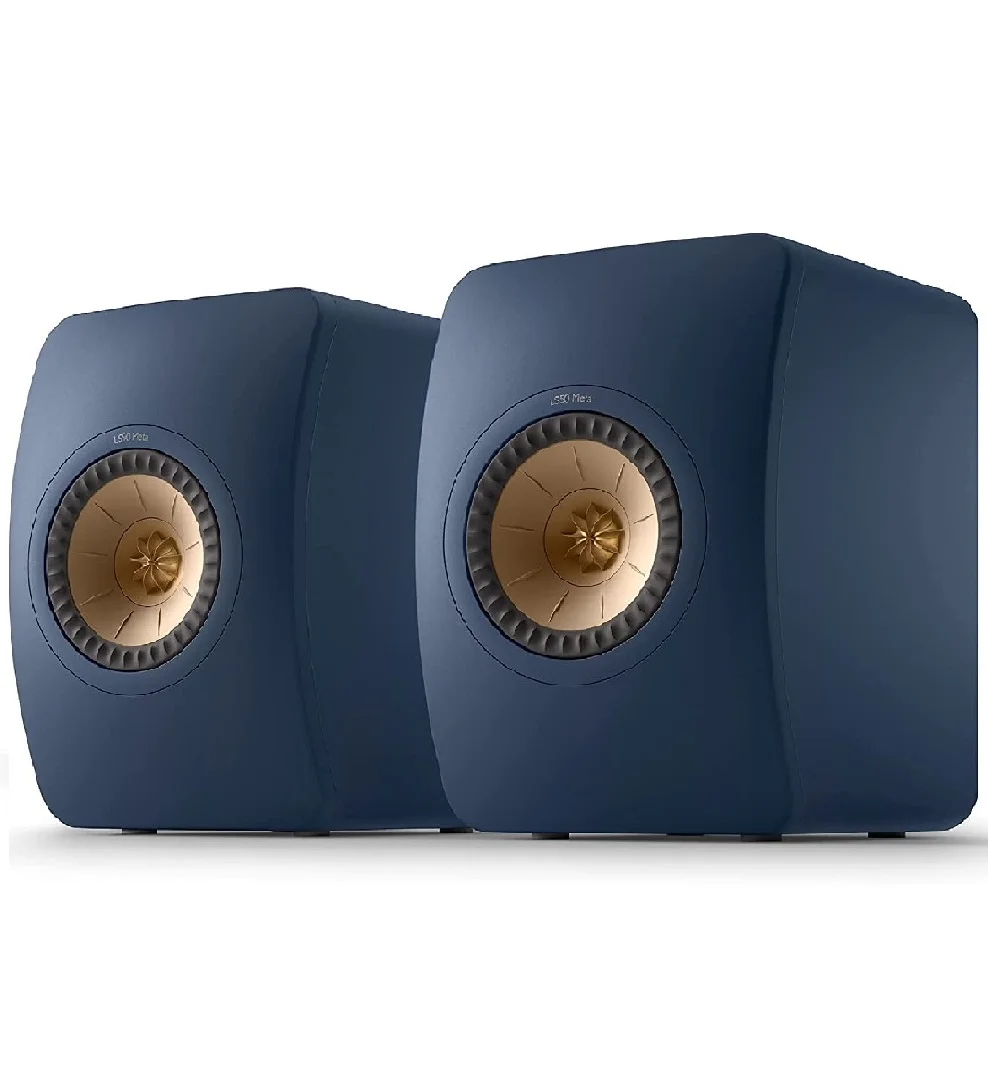 SPECIFICATIONS
Design: Two-way bass reflex | Crossover frequency: 2.1 kHz | Nominal impedance: 8 Ω (min. 3,5 Ω) | Sensitivity (2.83V/1m): 85 dB
Pros
+ Exceptional sonic transparency
+ Another winner from KEF
+ Exceptional sound in an attractive enclosure!
+ Uni-Q with MAT
+ Flexible port design
Cons
- Nothing at this price
Looking to add bookshelf speakers to your vinyl record player? The KEF LS50 Meta delivers a wide and deep soundstage, increased detail, and nuance unmatched in the vinyl record player market. They are now even better with a removable cast aluminum grille and a powerful BASH port, making them the world's best bookshelf speakers for vinyl record player.
The KEF LS50 speakers are made of high-quality materials, have a perfect cabinet shape and size, and it's clear that a lot of attention has been paid to the details. A detachable grille on the KEF LS50 allows you to display or hide the elegant drivers and the curved front panel made of dough moulding compound. KEF LS50 speakers feature an MDF cabinet (heavily braced) and are available in four colors. 
Mineral White
Carbon Black
Titanium Gray 
Royal Blue Special Edition
The KEF LS50 Meta features a Uni-Q driver array with a pre-installed 25mm aluminum dome tweeter made of high-quality materials and 30 tubes that absorb different frequencies (600Hz upwards) for cleaner, less distorted sound.
The KEF LS50 speaker provides superior sound quality with its crossover frequency (between 2.2kHz and 2.1kHz). This compact and easy-to-use KEF LS50 comes with all the necessary hardware instructions. It can be used with any stereo or home theater system to play Beethoven's Fifth Symphony.
The KEF LS50 speakers feature Metamaterial technology for cleaner, more sophisticated sound with a little tonality and use a unique driver technology that provides accurate sound, and when the Wooster audio team plays Neneh Cherry's Blank Project, the bookshelf speakers create a clear midrange. Moreover, the KEF LS50 speakers can reproduce low and high frequencies equally well, with a frequency response of (-6dB) - 47 Hz - 45 kHz.
In small rooms or apartments, KEF LS50 produce loud, clear sound without consuming a lot of power, making them ideal for use with vinyl records.
All you need to do is follow the instructions to set up the KEF LS50 Meta speakers, and they come with all the necessary hardware and instructions so that you can get started within minutes.
My favorite speaker for the last few months has been the KEF LS50. With these speakers, you'll get a warm tone, plenty of detail, and a solid bass response. KEF LS50 speakers are one of KEF's top-of-the-line speakers, so I expected a lot from them.
KEF LS50 Speakers: Reasons to Buy
With a Kevlar cone that provides clear and accurate sound, the KEF LS50 speaker is reinforced with a metal ring to increase its durability and strength.
KEF LS50 bookshelf speakers have a unique mounting system that allows them to be mounted on bookshelves or flat surfaces. This makes them easy to set up and use.
The KEF LS50 has a built-in amplifier that powers the speaker, eliminating the need to attach an external amplifier.
A two-way bass reflex design, Computational Fluid Dynamics ports, and injection-molded Dough Moulding Compound (DMC) are all features of the KEF LS50 Meta speakers. The cabinet cross bracing and Constrained Layer Damping (CLD) are used to deaden internal vibrations.
Are KEF LS50 Speakers Compatible With Audio Technica Turntables?
The KEF LS50s are a pair of two-way speakers that offer great sound for any type of audio listener. With the Audio Technica AT-LP120 and Technics SL-1200 as both having standard RCA output so with both turntables you can keep enjoying albums like the Velvet Underground and Nico, Nirvana, "Nevermind," etc.
Can The KEF LS50 Bookshelf Speaker Be Used At Home Or At Work?
As much as the KEF LS50 sounds good in a home setting, it isn't something that should be used for a professional setting since this speaker isn't meant to play at such loud volumes. You can turn up the volume by placing them on top of your desk, but the bass will be distorted, and the sound quality will be compromised. KEF LS50 is typically found around the living room or on your home television.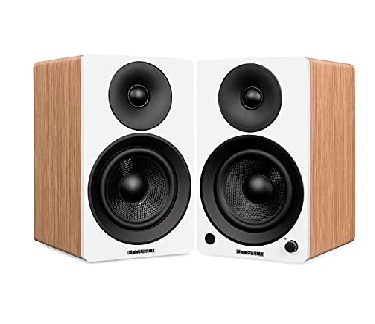 Great Stereo Bookshelf Speakers
SPECIFICATIONS
Frequency response 32Hz-20kHz (DSP Enhanced) | Power Input: 100-240V AC (50/60Hz)
Pros
+ Handsome design
+ Performance-driven audio lovers
+ Rich, detailed audio performance
+ Affordable option
Cons
- Lacks serious sub-bass
- No companion app
After KEF LS50, here is Fluance Ai61 2.0, a great stereo bookshelf speaker that is perfect for anyone looking for a high-quality home stereo system or wants to enjoy vinyl music relax because they offer impressive performance and features that are sure to impress.
The Fluance Ai61 speakers are also very stylish and are perfect for anyone who wants high-quality stereo sound and comes in four available colors of Black Ash, Walnut, White Walnut, and Lucky Bamboo, and as its enclosure has a Rear port bass reflex design, so you will enjoy even low frequencies and well-produced sound.
The Fluance Ai61 features a built-in Class D 120W amplifier and dual 2.0 channels to deliver crystal-clear sound with plenty of basses. As compared to KEF LS50, Polk Audio T15, and Audioengine P4 (etc.), the  Fluance Ai61 is featuring Bluetooth 5 wireless connectivity, so If you have a wireless turntable, then both can be paired wirelessly and also you are allowed for wireless streaming via smartphone, etc.
For better connectivity, the Fluance Ai61 speaker features a great input option, including Digital Optical TOSLINK, RCA L/R, and USB Type-C, and there is also a Subwoofer Out input option available. If we talk about driver's specifications, then Fluance Ai61 2 Way speaker features 1-inch silk soft Dome Neodymium Ferrofluid Cooled and 6.5-inch Woven Glass Fiber Composite Woofter Driver, which has Butyl Rubber Surrounds.
The Fluance Ai61 has a compact design that will only take up a little space on your shelf, and they come with a three-year warranty, so you can rest assured that you're getting top-quality audio at a great price. So overall, if you buy Fluance Ai61 without a stand (Round / Square Stand), then it will cost you less as being purchased with the stand option, so it's your choice and If I talk about the sound performance of vinyl, then I finally say that Fluance Ai61 is the best bookshelf speakers for vinyl record player.
Tips & Tricks: Harmon Kardon Speaker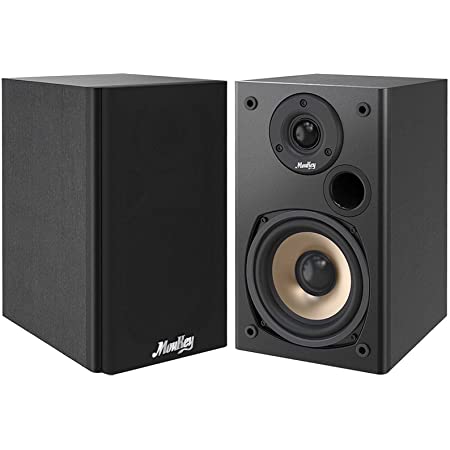 SPECIFICATIONS
Speaker Type: Bookshelf | Brand: Pyle | Special Feature: Radio | Color: Black | 150 watt RMS | Sensitivity: 88dB | 50Hz-20kHz frequency response
Pros
+ Full range sound reproduction
+ Great Bluetooth connectivity
+ Digital audio amplifier (Build-in)
Cons
- Normal Performance
In the footsteps of the Fluance Ai61 speakers, Pyle HiFi Bookshelf speakers offer excellent sound quality without having to buy a separate speaker system. The Pyle PBKSP22 features a 5.25-inch monitor speaker driver, 1-inch aluminum dome tweeter, and has a 4-8 Ohm impedance; if we talk about connections, then you will find a bunch of options, including RCA (L/R), USB flash drive reader and Aux audio input. The Pyle PBKSP22 is a great way to add a little sound quality to your desk, and they can be used with any media player or music service, producing rich, full sounds that will take your listening experience to the next level.
The Pyle speakers have built-in subwoofers and a built-in 2-Channel amplifier, so you can enjoy your music the way it was meant to be heard, and these are a great way to add sound quality to your desktop without spending much money. 
The Pyle has what you need to get the most out of your music, from bookshelf speakers to in-wall speakers! So, If you're looking for a bookshelf speaker for a quality stereo system or a vinyl record setup that won't break the bank, these are the perfect speakers under the $100 range. Here are Bookshelf Speakers Under $1000 Range which you can check.
Quick Buying Tips
Size And Shape
Having the right size and shape for bookshelf speakers is essential, as they significantly impact the sound they produce. The speakers should be large enough to reproduce high frequencies but not so big that they take up too much room and are hard to maneuver.
Budget
It's not necessary to break the bank to enjoy your vinyl records. There are some affordable speakers for you to choose from.
Material
Choosing a bookshelf speaker that has a strong body design and premium components will result in longer-lasting sound quality.
Additional Features
Whenever you purchase a bookshelf speaker for your vinyl records setup, then you must count additional features like wireless Bluetooth connectivity, Integrated amplifier, subwoofer connect option, Speaker Grill for driver protection, etc.
Read: Best 1000 Watt Amplifier
In A Nutshell
Is your vinyl record player's sound quality in need of upgrading? Getting a good pair of Bookshelf speakers that will adequately reproduce low-end frequencies and bass lines from vinyl records can be challenging. Our tested, then-listed Bookshelf Speakers by Wooster Audio Team will provide you with excellent sound quality, as well as being able to be placed anywhere in your home without taking up a lot of room. 
So if you are on your budget, then Pyle PBKSP22 is a budget option, and under the $100 range, your pocket can easily afford it. If you increase the budget a little, then more performance you will get more from Edifier R1280Ts, Klipsch R-41M, and Polk Audio T15, which you can easily purchase under the $160 range.
Do you love more performance? Then here are Audioengine P4 and Fluance Ai61, and these bookshelf speakers will get easily under the $270 range; where on our list of best bookshelf speakers for vinyl record players, the most expensive option you will find is KEF LS50 Meta, but no doubt the performance I heard was awesome.
More Related For You
Frequently Asked Questions
Can you use computer speakers to listen to vinyl record player music?
Listening to Vinyl records using computer speakers is possible, but the audio quality may need to improve. Computer speakers are designed for near-field listening. They may not have the frequency response or power handling necessary to reproduce Vinyl records' warm and rich analog sound. For the best listening experience, it is recommended to use dedicated Bookshelf speakers or an audio setup designed explicitly for Vinyl.
What are the best tips for Bookshelf speakers setup with Vinyl?
When you are setting up your Bookshelf speakers, then always keep a distance from 3 feet apart (at least) and 18 inches from the back wall and Toe-in the speakers. You have to place your Bookshelf Speakers on different placements, which as a result, you will get the best placement where your speaker sounds excellent. The last tip is if you are using your turntable with a built-in phono preamp, then use "line-level" outputs to connect speakers, where's if you use a turntable without built-in phono preamp, then you have to pair Bookshelf speakers with "phono" inputs on amp and receiver.
What is the benefit of pairing bookshelf speakers with a record player?
A Bookshelf speaker can be an excellent addition to your Vinyl record player for several reasons. Bookshelf speakers can be compact and fit into small spaces. Second, they can accurately and detail reproduce Vinyl records' analog warmth and richness. So, In addition to being stylish, bookshelf speakers are ideal for vinyl lovers.
Can I connect the vinyl player to the speakers?
Yes, speakers can be connected to your vinyl record player. Most Vinyl record players come with a preamplifier or line-level output that can be directly connected to powered speakers or to an external amplifier that can then be connected to passive speakers. You can use a phono-preamp if your Vinyl recorder does not have a preamp. It is essential to use the right cables and setup for optimal performance.