Adding an aftermarket universal sound system to your vehicle's sound system can improve your driving experience in various ways. Increases in clarity and depth and additional features like Bluetooth connectivity and auxiliary inputs can improve the audio experience. Adding aftermarket sound systems can also increase its resale value.
The Polaris Ranger sound system is relatively easy to come across. There are numerous aftermarket choices offered that can provide high-quality sound while also fitting the specific needs of a Polaris Ranger. It would be best to compare manufacturers and models to ensure integration and audio performance.
We believe in giving the reader quality information on sound systems. This is why we test the sound system for its sound quality, durability, range, frequency, design, and bio-friendly. We test the sound at the lowest and highest volume, its effect on humans, how the sound will travel, and the system's design.
Our Recommendations For Best Sound System For Polaris Ranger
Best Sound System For Polaris Ranger Reviews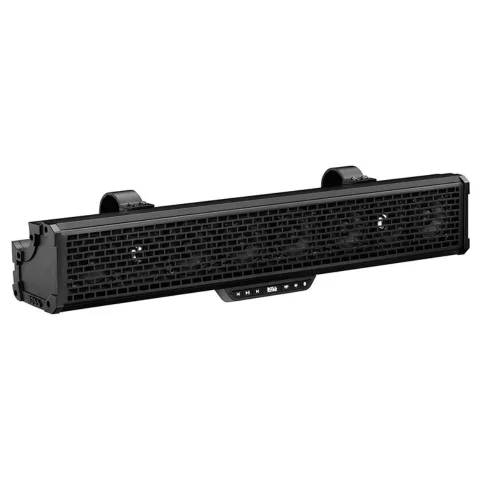 SPECIFICATIONS
Power: 500 W - Bluetooth: Yes - Type: Soundbar - Amp Class: D - Battery: 2000 mAH battery
Pros
+ Has Improved audio quality
+ Space-saving design
+ Great for Polaris Ranger
Cons
- Lack of customization
- Small speakers are not pairable with soundbar
I will start with Boss BRT27A Sound Bar for RZR/ATV/UTV/Cart+2, which is a perfect addition to any off-road vehicle and provides convenient wireless control and high-quality sound in a durable and weather-resistant package. With the Boss BRT27A and Bluetooth Controller, you can customize your sound to cater to a variety of off-road vehicles, including golf carts, UTVs, and ATVs.
The Boss BRT27A has six 3" great power speakers, two 1-inch tweeters (Titanium Horn Loaded), and 500 watts of powerful and clear sound that can be heard even over the engine's noise. The Boss BRT27A standout features allow users to control their music and adjust the volume without any wire and having to reach for their device or phone, and Boss features a controller which is weather resistant to being exposed to the elements.
The sound quality of the Boss BRT27A Soundbar is impressive, delivering clear and powerful sound across a wide range of frequencies and also has a built-in Class-D amplifier which will allow you to add a subwoofer and additional speakers for immersive sound effects. Installation is very simple. Although the Boss BRT27A is more expensive than other choices, anyone eager to improve their off-road audio experience might want to look into it because of its efficiency and quality.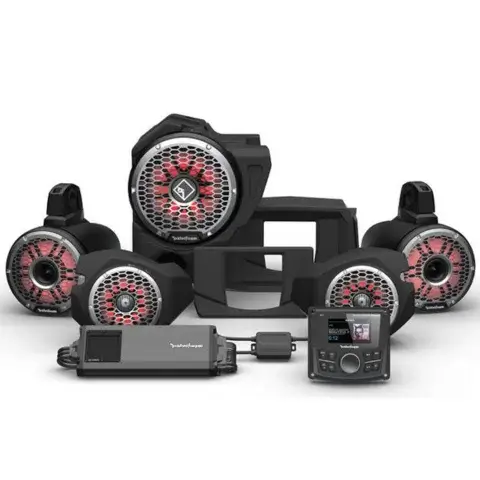 SPECIFICATIONS
Bluetooth: Yes - Display: 2.7" TFT color display - Power: 400 Watt RMS - Amp: 5-channel amp (100 Watt Per Channel)
Pros
+ Thermal Shock Tested
+ Has IPX5 and IPX6 Ratings
+ Corrosion protected sound system
Cons
- Too much expensive
Rockford Fosgate RZR14-STG6 is an excellent all-in-one sound system that delivers convenient Bluetooth connectivity, a weather-resistant design, and impressive sound quality. The Rockford Fosgate RZR14-STG6 is designed specifically for the Polaris RZR and has a powerful amplifier, a subwoofer, and six full-range speakers that deliver exceptional sound quality that can be heard over the noise of off-road terrain and the engine.
The Bluetooth connectivity of the Rockford Fosgate RZR14-STG6 sound system is one of its notable features because it enables customers to stream music wirelessly from their smartphone or another device. The RZR14-STG6 also contains an integrated AM/FM tuner so consumers can tune in to their preferred radio stations. 
The Rockford Fosgate RZR14-STG6 is designed to fit perfectly in the Polaris RZR Installation is straightforward, with all the necessary hardware included. The Fosgate RZR14-STG6 sound system can also withstand the weather, and the sound quality is outstanding, which delivers clear and powerful sound.
The Fosgate RZR14-STG6 has a subwoofer that adds deep bass to the mix, perfect for off-road adventures but it is expensive, but its quality justifies the price for anyone wanting to upgrade their Polaris RZR's audio experience. Overall Fosgate RZR14-STG6 is the best sound system for Polaris Ranger.
With what Polaris Ranger Model the Rockford Fosgate RZR14-STG6 Are Useable:
Below there are some models list Of Polaris Ranger with which you can use your Rockford Fosgate RZR14-STG6 sound  system:
RZR 900 (2014-2021), RZR 900 XC¹ (2015-2021), RZR 2 900 EPS¹ (2014-2018), RZR 4 900 EPS¹ (2014-2021),RZR S 900 (2014-2021), RZR S 1000¹ (2017-2021), RZR S4 1000 (2019-2021),RZR XP 1000¹ (2014-2021), RZR XP Turbo¹ (2016-2021) RZR XP Turbo S² (2019-2021),RZR XP Turbo Dynamix Edition (2018-2021), RZR XP 4 1000¹ (2014-2021) RZR XP 4 Turbo¹ (2016-2021).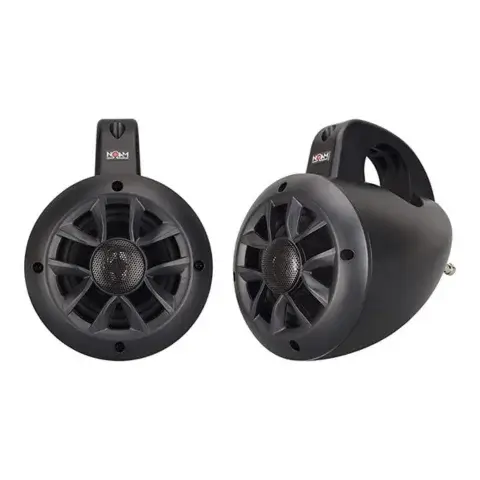 SPECIFICATIONS
Amp: 4 Channel Amp - Bluetooth: Yes - Water Resistivity: Yes
Pros
+ Budget Friendly Option
+ Has great amp
+ Remote has background light
+ Marine standard speaker construction
Cons
- Using more rubber padding did not fully fill the gap if you are installing on 2018 Rzr 4 1000.
The NOAM NUTV4 QUAD is a great sound system, and if we compare it with RZR14-STG6 and Boss BRT27A, then it also offers high-quality audio even when the engine is roaring, Bluetooth connectivity, and waterproof construction as other common.
The NOAM NUTV4 QUAD is a powerful and versatile sound system for off-road vehicles such as UTVs and motocross bikes. The NUTV4 sound system has an AUX input and a built-in FM radio that allows users to stream music wirelessly from their smartphone or other devices. 
The NOAM NUTV4 QUAD delivers a powerful and clear sound at various frequencies and is waterproof so that it can be exposed to the elements, and we found that installation is simple, as all necessary hardware is included so you can be mounted to the roll cage on most UTVs or ATVs easily.
The NOAM NUTV4 QUAD speakers can be aimed in any direction, enhancing audio quality, and also can connect up to two Bluetooth devices at once, which allows multiple users to control music playback and with its built-in equalizer, you are allowed to adjust the sound to suit their tastes. If we compare the NOAM NUTV4 QUAD  with the Rockford Fosgate RZR14-STG6, then the huge price difference you will find and NUTV4 will be more budget-friendly than other options, but the features make upgrading the offroad audio experience worth it.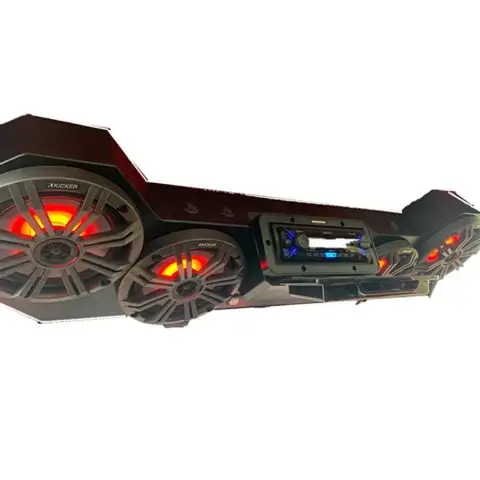 SPECIFICATIONS
BT capable: Yes - Type: Soundbar - Sub: 6.5 Inch - FM: Yes
Pros
+ Loud sound system
+ Easy and quick install
+ Has beautiful dash lights
+ Pre-installed kicker speakers
+ Great sound system for 2021 pro xp 4
Cons
- Bit expensive option
Galena RZR Pro XP Tower Speakers provide a high-quality sound system designed for the Polaris RZR PRO XP, and it has four waterproof speakers and a built-in amplifier and delivers a powerful and clear sound even above the noise from the engine or off-road terrain. One of the key advantages of the Galena RZR PRO Sound Bar is its versatility and weather-resistant design (notable feature)
The Galena PRO XP delivers a frequency-varying, powerful sound and can also be aimed in any direction, which makes audio more enjoyable. The Galena RZR PRO XP features four 6.5-inch KICKER speakers, and you get under $800; so as compared to NOAM NUTV4 QUAD, this one is a bit expensive, but as the features and quality make it worth the money for anyone who wants to upgrade the audio system on their Polaris RZR Pro XP.
Overall, the Galena RZR PRO features great specs like AUX, built-in radio, beautiful lights inside the speaker grill, a wireless option, robot looking control panel with blue lights, and as Kicker Speakers are installed so you are gonna enjoy top-notch sound while riding with your girlfriend. So Galena RZR PRO XP is the best sound system for Polaris Ranger, and just simply you have to do the Installation with the hardware included.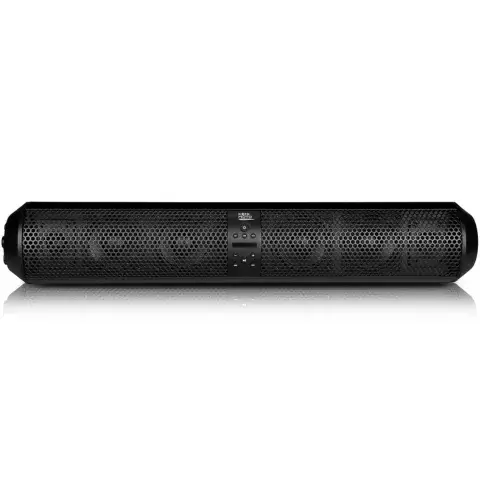 SPECIFICATIONS
Wireless:  Yes - Weather Resistant: Yes - Power: 500 Watt
Pros
+ Great connectivity options
+ Great sub + speaker system
+ Also wirelessly useable
+ Easily SxS mount
+ Not much expensive
Cons
- Poorly machined mounts
Kemimoto UTV Soundbar is a great addition to any outdoor excursion. This Kemimoto UTV sound bar features 6 speaker system, four powerful subwoofers, and two tweeters, so there is no doubt about sound quality, and even in noisy environments, you get a powerful, clear sound so you'll be entertained wherever you are: trails, camping, or just driving around town with this Kemimoto soundbar. The Universal SXS speakers feature by Kemimoto will not only give you a cool sound experience but also provide you with easy connectivity with ios and Android.
If we talk about the connectivities of the Kemimoto soundbar, then we found that a 3.5mm aux input and Bluetooth option for this purpose which helps you connect your smartphone to it while there is also you will get USB charging port available, and there is also Button control board and remote control option available.
With Kemimoto UTV Sound Bar's easy-to-mount design, you can mount it to roll bars from 1.56 inches to 2.25 inches, and I will recommend that before you are going to install it, you have to remove the roof or windshields. The Kemimoto sound system has the capability to handle 500 watts of power to blast your tunes so you can listen to your favorite audio or podcasts while moving.
So overall, the Kemimoto manufactures the best soundbar for Polaris Ranger, which is made of high-quality materials that withstand harsh outdoor conditions and will enhance your off-roading experience with its powerful speakers, flexible connectivity options, and durable construction.
What Are Polaris Rangers?
Polaris Rangers are off-road utility terrain vehicles (UTVs), multi-purpose vehicles designed for work and outdoor activities. The Ranger is a good choice for trail riding, agricultural work, and hunting due to its strong engines, robust suspension, and four-wheel drive. The Ranger line involves several models with varying characteristics and abilities.
Factors to Consider Before Purchasing Sound System for Polaris Ranger
The most important factors to consider when selecting a sound system for your Polaris Ranger are discussed below.  
Compatibility
Compatibility is an essential factor to consider while selecting a sound system. Before purchasing the sound system, check its compatibility with the model and year of your Polaris Ranger. When selecting a sound system, ensure it is optimized to work with your vehicle's requirements and won't trigger any technical problems. 
Power
The next factor to consider for your vehicle's sound system is power. Check the sound system's power output and correspond it to your preferred quality and level of sound. A sufficient quantity of power will guarantee that your music is clear and loud enough to be heard above the engine and wind noise.
Size
The size of the sound system will determine its range, location, and how the listener will feel the sound. Determine the space in your Polaris Ranger for the sound system and select the appropriate size according to the room. An oversized system will disperse the sound, whereas, a small sound system can affect the sound quality and installation.
Weather resistance
Resistance from water, dust, and hailing is important when purchasing a sound system for your vehicle and outdoor usage of the sound system. Check if the sound system supports the music you want to listen to from various sources, like Bluetooth or USB. Weather conditions can damage unprotected audio devices, requiring expensive replacements or fixes.
Source compatibility
The other sound devices you connect to the sound system are sources. Before purchasing a sound system, think about the various sound sources you'll connect to the new sound system. The most outstanding audio quality will come from a compatible source. Considering the source compatibility of your vehicle's sound system, such as Bluetooth, WiFi, or auxiliary inputs, is essential.
Installation and speaker placement
You must carefully examine how to configure your audio system and where to place your speakers for the finest sound. The sound quality and listening experience will be significantly enhanced with the appropriate speaker's location. You can experiment with different locations of speakers along with the room size.
Final Verdict
So overall, In terms of value for money, the Boss BRT27A offers an excellent deal for under $500. Under $4500, the Rockford Fosgate RZR14-STG6 is considerably more expensive, while the NOAM NUTV4 QUAD is more affordable under $300, wheres under $800, the Galena RZR PRO XP falls in the middle and with only $250, you can get the Kemimoto UTV Soundbar as well. So these are all the best sound systems for Polaris Ranger, which you get only in one click.
Frequently Asked Questions
How many speakers does the sound system have, and what is the wattage of each speaker?
A sound system for Polaris Ranger can have as many speakers as you want but it always depends on the car size and requirement. For home purposes, 4 less watt speakers are enough. The total number of speakers and their wattage must be considered to fit the audio system to the vehicle's capability. More watts will give better sound output.
Why should I select a sound system weather-resistant for Polaris Ranger, and what level of protection does it offer against moisture and dust?
Because choosing such a sound system for your Polaris Ranger to guarantee ideal outdoor performance. A good sound system will protect against humidity and dirt, avoiding destruction and preserving sound quality. Look for systems with IPX ratings(water-proof ratings) of at least five or six for maximum protection.
Can the sound system be integrated with other accessories or electronics in the Polaris Ranger, such as a GPS or dashboard display?
Yes, A GPS or a dashboard display can be combined with the stereo system in a Polaris Ranger, among other features and technology. Using the proper wire harnesses and adapters, the sound system may integrate smoothly with other components, creating a more user-friendly and efficient user interface.