We look at many features, technology, and usability of communication on the market. This article will share those picks and explain the best motorcycle Bluetooth helmet speakers for music. If you are entirely new to the communication system world and don't know how to buy the traditional communication unit, then no problem. When we say traditional units, we refer to a communication system that connects via Bluetooth versus some of the newer mesh units on the market. By definition, the Cardo, Outdoor Tech, Sena, and GDM are our Top Picks. All variations you are going to see in our list. We will discuss the following: making phone calls, streaming music, build-in FM-radio, Bluetooth technology for smartphone connection, battery timing, and price tag.
Our Recommendations For Best Motorcycle Bluetooth Helmet Speakers For Music
Top Motorcycle Bluetooth Helmet Speakers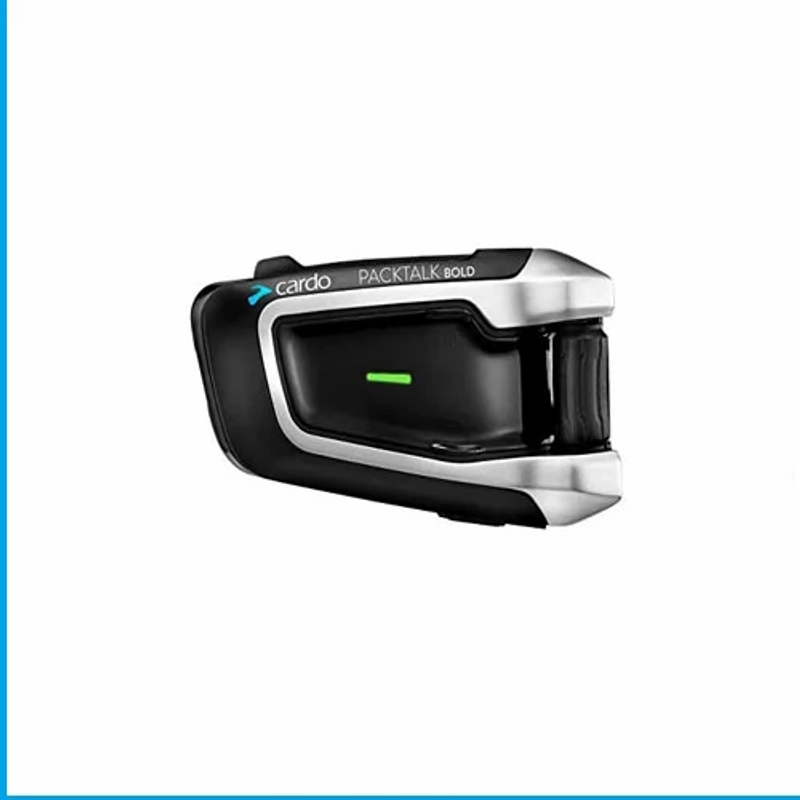 Best Motorcycle Communication Headset Under $300
SPECIFICATIONS
Brand: Cardo | Color: Black | Connectivity Technology: Wireless, Bluetooth | Model: Packtalk | Form Factor: Over-Ear | Bike to bike range: up to 1. 6 km | FM Radio: Yes-Build-in | DMC Communication: Yes | Waterproof and Dustproof: Yes | Bluetooth 4. 1
Pros
+ Long battery life
+ 13 hours talk time
+ Easily survive in non-stop rain (waterproof)
+ Impressive radio wave range
+ Excellent Sound Quality
+ Easy to connect (Packtalk bold)
+ Dynamic Mesh Communication
+ Self-adjusting volume
+ Natural Voice
Cons
- Software isn't good
- Packtalk Slim takes longer to connect
Let's start with the Cardo Packtalk headset, a great Entertainment System that lets you enjoy music and communication during the bike rides. Its 40mm speakers have a great mixture of functionality that allows you to hear clearly with excellent sound quality. The Cardo headset color is black, and two options are available: Packtalk Bold and Packtalk Slim. This unit features A2dp and Avrcp and has a mixture of other technologies.
The PacktalkBoldcan easily mount on the side of the helmet, and the also integrated low-profile control unit sits on the left side. PacktalkBold and slim are connecting difference, and Packtalk slim takes a little bit longer than the Packtalk bold, which takes an average connecting time and just a standard clip mount and put your Speakers-in and ready.
The Cardo Packtalk headset has great general features, and Bluetooth 4.1 is one of the best features, making it perfect for wireless usage. Its battery timing allows you to continuously spend 13 hours of talk time, which is a pretty good thing. You can communicate between 1. 6 km bike to bike range perfectly. The volume is easily adjustable, and the Cardo Packtalk has excellent Interchangeable boom and corded microphone options for quality voice communication.
Now let's talk about the Natural Voice feature and, in other words, which we can also call a natural voice operation feature that allows you to control all features throughout your voice example, for turn-on music, tell Cardo Music-On. With (Dynamic Mesh Communication) communication, you can always connect with your riding group. So for music lovers, the Cardo Packtalk is the best motorcycle Bluetooth helmet speaker for music.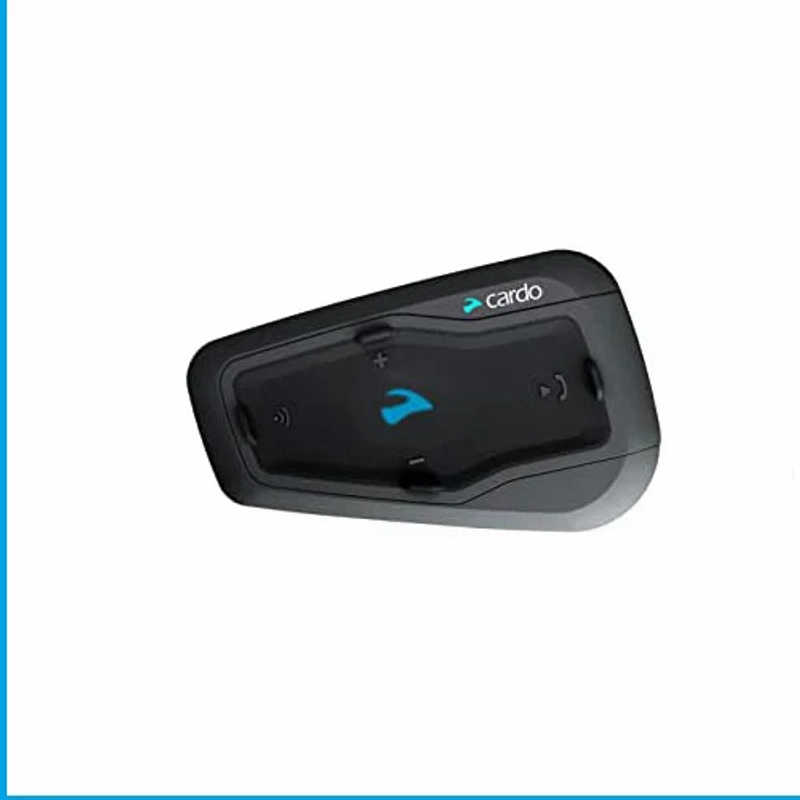 Best Bike Bluetooth Speaker Under $150
SPECIFICATIONS
Brand: Cardo | Color: Black | Connectivity Technology: Wireless, Bluetooth | Model: Freecom 2 Plus Single | Form Factor: Over-Ear | Speakers: 40mm | Body design: Slim ergonomic | Waterproof and Dustproof: Yes | Bluetooth: 4.1 | FM radio: Build-in | Bike-To-Bike Conference Range: 500m/0. 3mi | Talk Time: 13 hours
Pros
+ Impressive sound
+ Phone and Gps connectivity
+ 2-way rider to rider communication
+ Charge while you ride
+ Build-in FM-Radio with RDS
+ Compatible with other headsets
+ Music sharing
+ Automatic volume
+ Slim body design
+ Good Price Tag
+ Dust and waterproof
+ Answers call by voice command
+ Noise filtering
+ Google map instruction
Cons
- Added weight
- Weak Velcro adhesive
- Speakers are a tight fit
- Quality control issues
The next one is Cardo Unisex-Adult FREECOM 2 Plus on our list, and as compare to Cardo Packtalk bold, it is much cheaper, and under a $200 budget, you can easily get it. It allows you 2-way rider-to-rider Bluetooth intercommunication within the 500m/0. 3mi range between any two riders. The 40mm HD Speakers are installed in Cardo 2 Plus, which are powerful speakers and are also called 40mm-wide high definition speakers, which deliver excellent quality sound experience.
The headset design is much ergonomic, which is a good sign, and every biker loves to buy a slim wireless headset, and it is only 16mm top to bottom. No problem, whether you are riding in high rain, dust, or mud, it will never affect your wireless cardo headset because it is both dust and waterproof. So under the $200 price tag, it is the best motorcycle Bluetooth helmet speaker for music.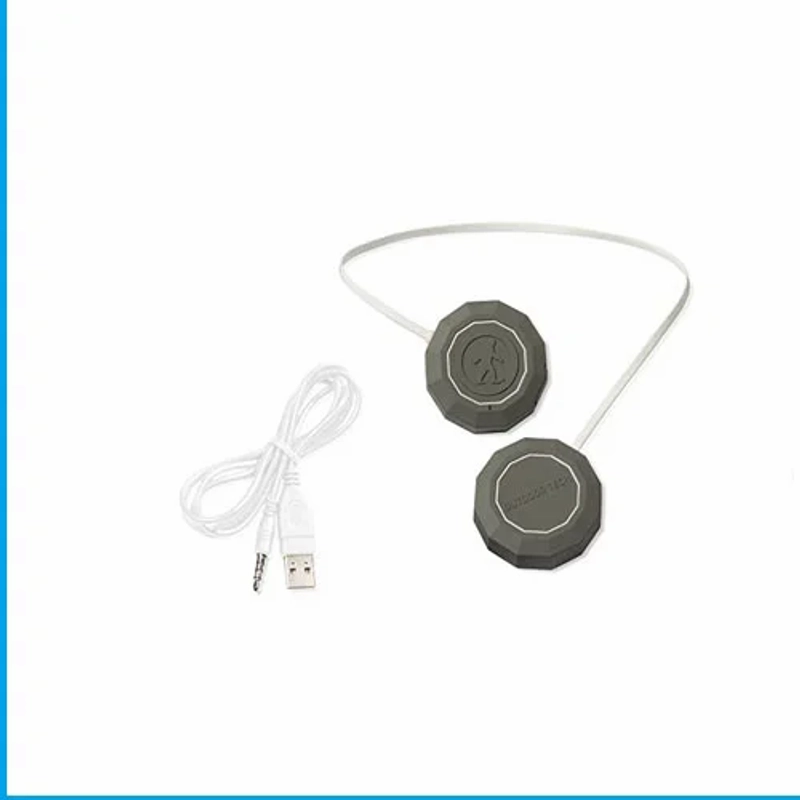 Best Helmet Speaker Under $100
SPECIFICATIONS
Brand: Outdoor Tech | Color: Black | Connectivity: Technology Wireless | Model Name: OT0052 | Form Factor: On-Ear | Headphones Jack: 3.5 mm | Voice Control: Yes | Bluetooth Version: 4.0
Pros
+ Clean Sound, Clear Highs, Big Bass
+ Built-in Call Functionality
+ Fully Wireless, And Universal
+ Glove-friendly controls
+ 10 hours of playtime
+ Sweat-resistant
+ Easily survive under extreme cold weather (-20°C/-4°F)
+ The microphone quality was good
Cons
- Unreliable Play/Pause functionality
The next one is Outdoor Tech helmet speakers, which are perfect for budget-minded people, and with-in a $200 price tag, you can easily buy Chips 2.0 Bluetooth in-helmet speakers. You can easily mount these speakers inside your helmet, and then you can listen to music perfectly. For clean and clear audio, these speaker features 40mm drivers and are useable wirelessly because of Bluetooth technology installed in these speakers.
Some helmet speakers are not glove-friendly, and during bike riding, it isn't easy to control that type of speaker wearing gloves, so Chips 2.0 are glove-friendly helmet speakers, and you can easily control and adjust the speakers' volume while wearing gloves. The wireless connectivity of Chips 2.0 helmet speakers is excellent. It allows your smartphone to wirelessly connect to helmet speakers, stay connected with your fellows throughout phone calls, and enjoy music.
The company has introduced the Built-in Call feature for excellent functionality; with a single button interface, your calls can easily be managed without removing the helmet. The Bern, Giro, Smith, K2, Anon, Pro-Tec, and Bolle are helmet brands with which Chips 2.0 Bluetooth Helmet Speaker is compatible, so make sure you have a helmet of the above-listed brand before buying these in-helmet speakers. So, overall these are the best motorcycle Bluetooth helmet speakers for music.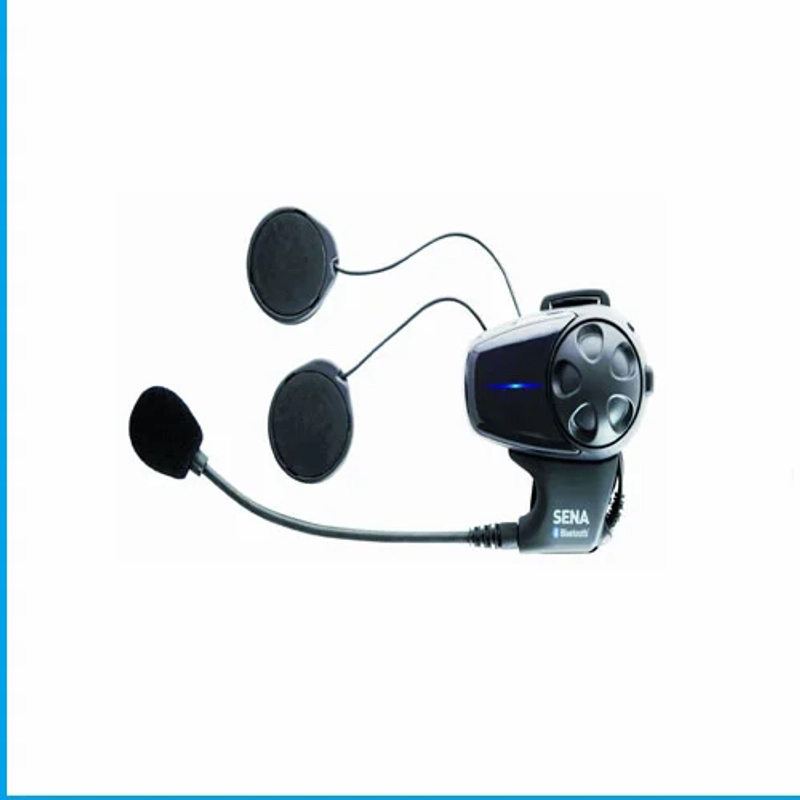 Best Motorcycle Intercom Bluetooth Under $150
SPECIFICATIONS
Brand: Sena | Color: Black | Connectivity Technology: Bluetooth | Model Name: Sena Technologies | Headphones Jack: 3.5 mm | Control Type: Noise Control | Bluetooth: 3.0 connectivity | Intercom Range: 900M / 980YDS | Talk Time: 12 Hours | Supports: Up To 4
Pros
+ Easy Installation for Most Helmets
+ Long-range Bluetooth Intercom
+ Individual Adjustable Volume Profiles
+ Bluetooth v3.0 Wireless
+ Good quality audio
+ Glovee friendly
Cons
- It doesn't have a headphone jack
The next motorcycle headset on our list is Sena SMH10-10, a good option under the $150 budget. If you want to intercommunicate with your motorcyclist's fellows for a long time, SMH10-10 is perfect for it, and up to 900 meters range, you can make an intercom and share music in long range. The Sena headphone allows you to participate in four-way intercom conversation via Bluetooth 3.0 connectivity wirelessly. The good thing is Advanced Noise Control technology, which is an excellent solution for distortion of background noise, and it cuts down all background noise for outgoing and incoming audio.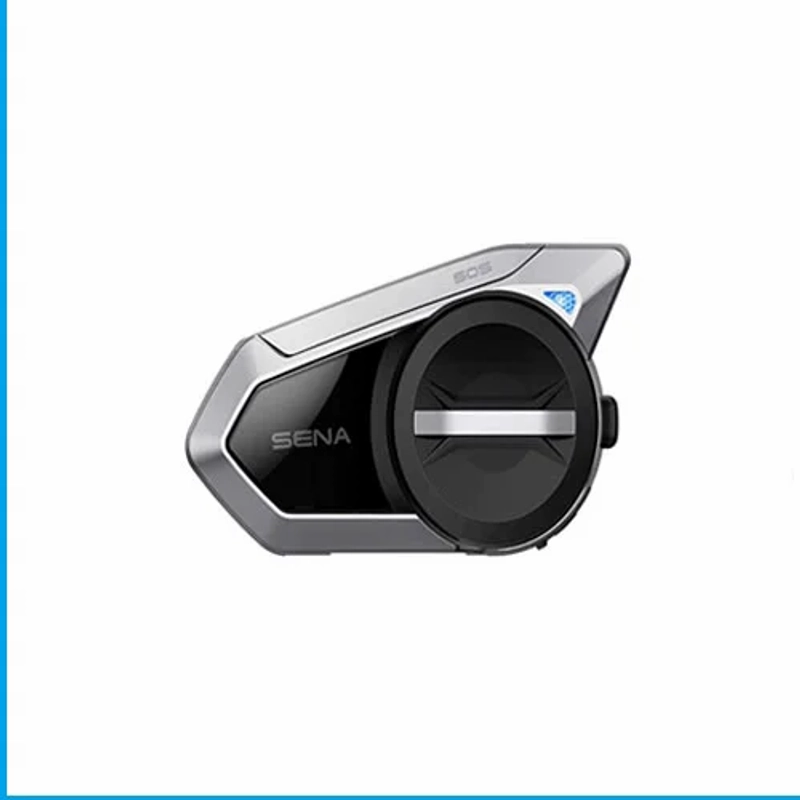 Best Wireless Motorcycle Communication System Under $300
SPECIFICATIONS
Brand: Sena | Color: 50S | Connectivity Technology: Bluetooth | Model Name: 50S-01 | Form Factor: On-Ear | Bluetooth: 5.0 connectivity | Talk Time: 9 hours-Mesh, 14 hours Bluetooth | Mesh: 2.0
Pros
+ The glove-friendly jog dial design
+ MESH INTERCOM 2.0 for perfect communication
+ Bluetooth 5 connectivity
+ Voice-activated digital assistant
+ Upgraded HD Speakers
+ Excellent audio quality
Cons
- Some pricey
- Bit low talk time
The next one is a Sena 50S-01 motorcycle communication headset with a premium finish look, and it lets you communicate within 5 miles / 8 km range with your rider companions. If we compare Sena 50S-01 with Sena SMH10-10, then 50S-01 provides much excellent performance and premium body design.
But the main point is the price tag which makes it a little expensive, and under the $300 price range, you can get 50S-01 easily from the market. Sena SMH10-10 is also an excellent opportunity for budget-minded riders, and if your budget is less than $300, you can buy SMH10-10 to enjoy music during bike rides.
So, under $300, you will get Mesh 2.0 for excellent communication range and Multi-Channel Open Mesh and group Mesh support. In Open Mesh support, you can easily communicate with a limitless number of riders, and up to 9 channels Open Mesh support lets you switch. The Group Mesh support of 50S-01 allows you to keep connected with 24 participants under a private group. No issue will occur about pairing this bike headset with any smartphone because 50S-01 supports the latest Bluetooth 5 technology for smooth smartphone connectivity with a headset for access to GPS navigation, phone calls, music, etc. Now let's talk about 50S-01 audio quality,
which is pretty awesome, and it has Upgraded HD Speakers which fully optimized for excellent quality audio. The other features of the 50S-01 are a Voice-activated digital assistant for great smartphone control without hands-only voice commands like ("Hey Siri" / "Hey Google"), and next to other features is Wifi Cable for 50S-01 device charging. Via wifi, it will download firmware updates automatically. So, it is the best motorcycle Bluetooth helmet speaker for music.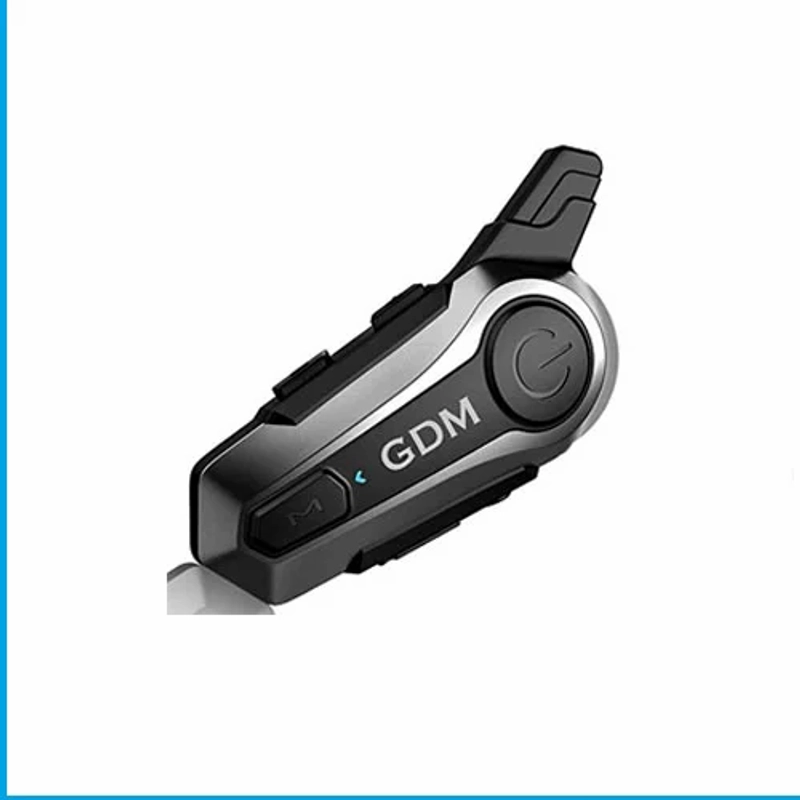 Best Helmet Bluetooth Headset
SPECIFICATIONS
Brand: GDM | Color: Black | Connectivity Technology: Bluetooth | Mirror Adjustment: Noise Control | Bluetooth: Yes- Bluetooth 5.0 Technology | Speakers: Premium HiFi stereo speakers | Music / Talk time: Up to 12 hours | USB Charging Port: Yes | Microphone Jack: Yes | Mod Button: Yes | Rider Connect: 2
Pros
+ Loud and clear
+ Also, work great at higher speeds
+ Easy to install
+ Premium HiFi stereo speakers
+ Advanced Noise cancellation technology
+ Waterproof
Cons
- 2 riders can connect
- Normal sound
In our list, GDM HyperSonic is a less pricey bike Bluetooth headphone which you can easily get options under the $80 range. Compared with the 50S-01, you will get similar features in the hypersonic motorcycle headset: Bluetooth 5.0 connectivity for perfect intercommunication, hands-free functions, premium speakers, etc. But, at the low price, it wouldn't give you all features like 50S-01, and the GDM headset only allows two riders for the intercom to enjoy conversion within the 100 meters range.
For music enjoyment, Premium HiFi stereo speakers are installed in it for clear audio and phone calls. For noise reduction, the GDM motorcycle headset features Noise cancellation technology, which helps clear as much background noise as possible. No matter if you are bike riding in sunny or rainy weather, the weather cannot affect the headset, and in all weather conditions, you will be able to use it.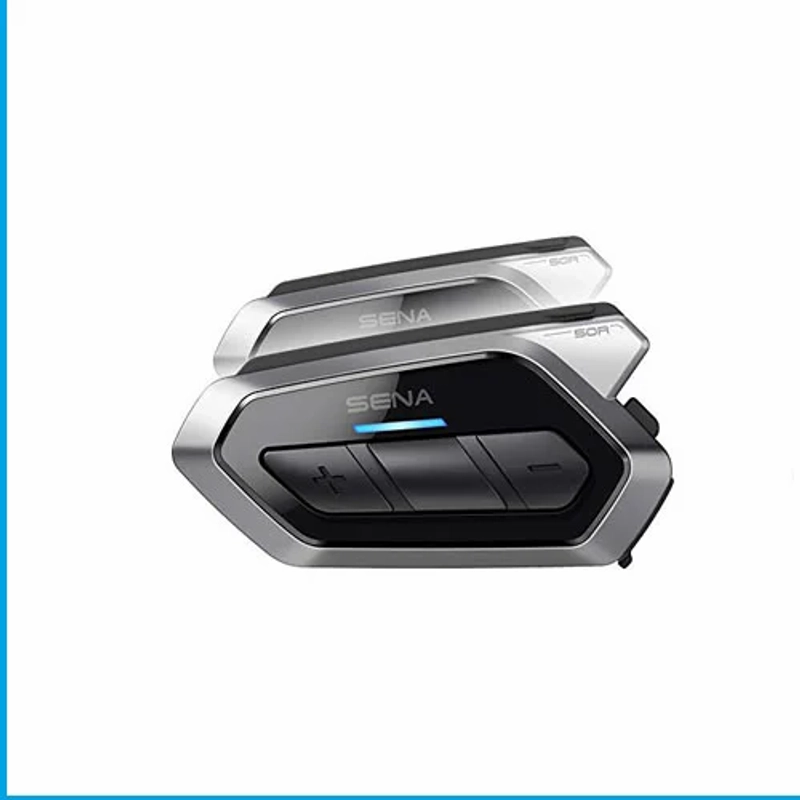 Top Sena Motorcycle Communication System
SPECIFICATIONS
Brand: Sena | Color: 50R | Connectivity Technology: Bluetooth | Model Name: 50R-01D | Form Factor: On-Ear | Phone Pairing: Uses Bluetooth 5.0 | Talk Time: 8 Hours | Fast-charging battery: SUPPORTS
Pros
+ Advanced Technology in a 50R-01
+ Sleek Design
+ Easy-to-use three button layout
+ SENA 50 UTILITY APP support
+ Amazing quality sound
+ Water-resistant motorcycle headset
+ Comes with a boom mic
+ The top model of Sena Brand
Cons
- Most expensive bike headset
The second last best motorcycle Bluetooth helmet speaker for music on our list is Sena 50R-01D and the most expensive one. For comparison, the only headset to compare is the 50S-01. Both are similar concerning key features; the difference is the low-profile, sleek design. With a sleek body design, superior technology is installed, offering power features like Mesh Intercom, Mesh 2.0, Bluetooth 5.0 connectivity, multi-language voice command, three-button control layout, etc.
For Mesh session and multiple channel protocol, both open Mesh and Group Mesh features are available, and they can converse with your buddy riders perfectly. After seeing the 50R-01D sleek body design, people may be denied to buy it because of expensiveness, or a question will arise in their mind. Why is 50R-01D much more expensive? Or What unique features will you get in the 50R-01D under the $500 range? So, the simple answer is its low-profile, sleek design and some extra features like SENA 50 UTILITY APP, Virtual Mesh network, and multi-language voice command type features make the 50R-01D motorcycle headset expensive. It is only for people who have extra money to buy Motorcycle Bluetooth Headsets and people with a low budget; we never recommend Sena50R-01D.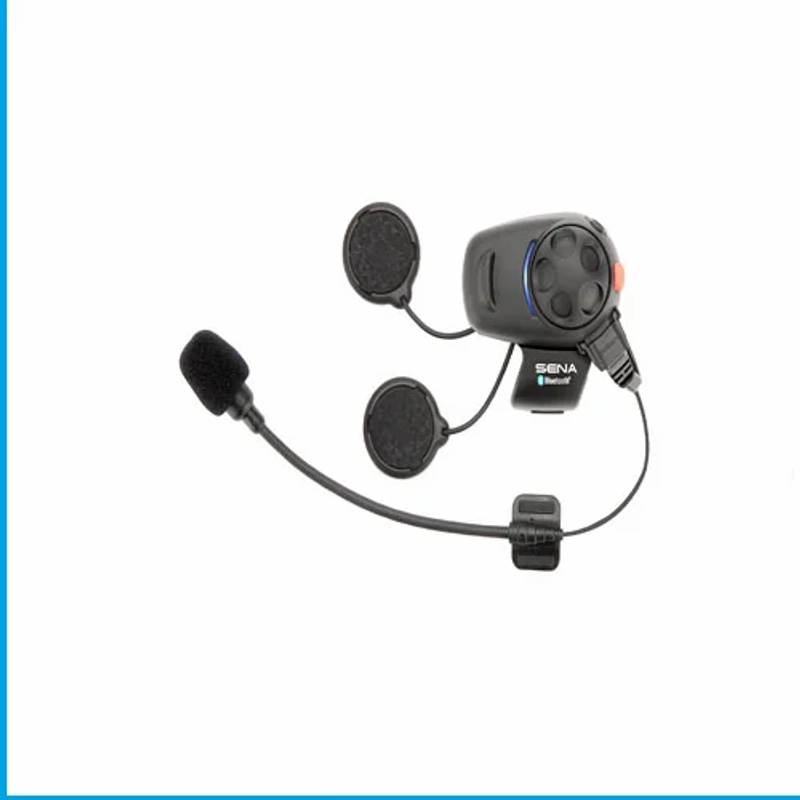 Best Low-Profile Motorcycle and Scooter Bluetooth Headset
SPECIFICATIONS
Brand: Sena | Color: Multi | Connectivity Technology: Bluetooth 3.0 | Model: Smh5 Basic Kit Single Pack | Mirror Adjustment: Noise Control | Material: Were | Range: 400 meters (430 yards)
Pros
+ Low-Profile Motorcycle Bluetooth Headset
+ Two-way intercom functionality
+ Clear audio and bass
+ Easy Installation
+ Budget-friendly
The last Bluetooth helmet speaker on our list is Smh5 Basic Kit. The price and quality are normal and under budget; you can get this Scooter Bluetooth Headset from the market. Compared to the latest Sena headsets, its functions are not pretty good and have Bluetooth 3.0 technology for mobile pairing. Like other helmet headsets, you will also get two-way intercom functionality for the perfect rider-to-rider conversion and phone call conversions. Also, you can enjoy music with crystal-clear sound. For budget-minded people, it is the best motorcycle Bluetooth helmet speaker for music.
Frequently Asked Questions
Can you listen to music with a Bluetooth helmet?
With a Bluetooth helmet, you can listen to music in a few different ways. Utilizing the Bluetooth headset that was included with the helmet is one option. Another option is to pair your device with the Bluetooth helmet speaker and listen to music.
Can we put speakers in our helmet?
Most of the time, installing speakers in a helmet is a bad idea. There is already enough noise pollution in the air without adding more. Additionally, if the speakers come loose from the helmet or are struck by something, they may sustain damage.
What device bikers use to talk to each other?
Bikers use hands-free wireless technology to communicate with one another while riding their bikes. This is a well-liked method for keeping yourself safe while biking and avoiding legal trouble. Bikers can use a variety of different hands-free wireless communication tools. The Bluetooth headset is a common form of hands-free wireless communication equipment.
How to use motorcycle helmet to Bluetooth?
The best way to use a Bluetooth speaker on a motorcycle is to pair it with your phone. Once connected, you can answer calls and texts using the built-in microphone on the speaker. The speaker's music playback and volume can be managed from your phone. The motorcycle Bluetooth speaker can be connected to your car's audio system so you can listen to music without bringing your phone. You can listen to music in this manner without taking your bike's speaker out.