Due to the swift progress of technology, new opportunities are emerging. Smart TVs have made giant leaps in picture quality, making TV-watching a whole new experience, and they're still improving. As Smart TVs get slimmer, they're packing in even slimmer built-in TV audio drivers, which just can't beat a dedicated soundbar. But more than built-in speakers of Sharp Aquos or any other smart TV brand, including LG series, Samsung, or Hitachi, are needed for music and movies in sound quality.
To get from an Aquos TV, you need a decent surround sound system. Soundbars, those sleek audio systems, really amp up the sound on your Sharp Aquos TV, making your TV viewing time more enjoyable.
Thousands of soundbars are available in the market, so it can be challenging for you to select one that meets your audio requirements and compatibility with a sharp TV. The only soundbar can qualify whose input matches the audio output of your Sharp TV. For example, if your sharp TV supports ARC, then obviously, you need to get a soundbar that you can easily connect to your TV via an HDMI connection.
In order to cater to the needs of those who need basic or advanced features on their soundbar, we provide them with them. We've curated a list of the best soundbars for Sharp Smart TVs to guide you in finding the perfect match that works well with it. Our choices feature cutting-edge attributes like connectivities, the latest audio support like Dolby Atmos surround sound, and more. These selected soundbars not only elevate the audio experience on Sharp Aquos TV but also seamlessly enhance the sound on various TV models such as Samsung OR more. 
Check them below:
Popular Recommendations
Best Soundbars for Sharp Aquos TV Reviews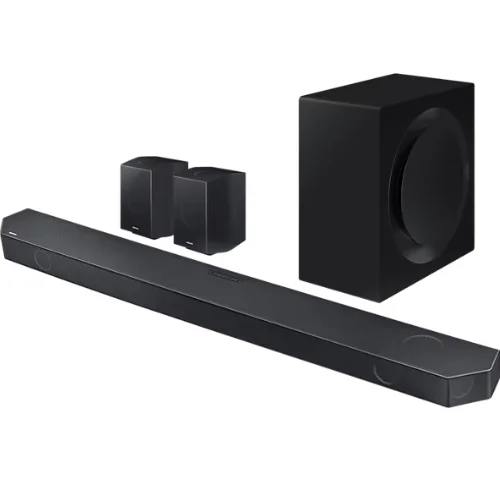 SPECIFICATIONS
Channels of speakers: 11.1.4 | DTS:X & Dolby Atmos: Both | Subwoofer: Yes | Wireless Rear Speakers: No - (available with cable option)
Connectivity Option: 
2x HDMI inputs
Single HDMI output with eARC
Digital optical audio input
Bluetooth & Wifi
Pros
+ Super sound with sixteen audio channels.
+ Looks Elegant with Black Metal finish.
+ For true cinematic experience.
Cons
- Bit pricey.
- Lack of 4K 120Hz HDMI passthrough.
Samsung, which started back on March 1, 1938, thanks to its founder Lee Byung-chul. Samsung has established itself as a significant contender in the electronics sector. They have really lovely soundbars; some popular series are Q-series, C-series and T-series. I will show you the Samsung HW-Q990C from the Q-series, which has garnered substantial popularity due to its unique features, such as sixteen audio channels and power range. The HW-Q990C soundbar's sleek black metal finish and angled design add to its appeal when you place it on a TV table.
You can snag the Samsung HW-Q990C for less than $1500, an excellent price for what you get. In this bit-expensive range, you'll find 11 front-facing speakers and an 11.1.4 channel setup, along with a punchy subwoofer for added bass. Where it would be a great deal if included Non-Wireless Rear Speakers were wireless. Because people connect rear speakers with a cable to a wireless box, which can be restrictive in terms of where you can place them.
This HW-Q990C sound system has covered you with four up-firing channels for that fantastic Dolby Atmos experience. There is nothing better than a crisp, clear sound, making movie dialogues super easy to hear. I think it's an excellent choice for movie nights and music, and those Atmos speakers really take your movie-watching experience up a notch! Its powerful bass makes the subwoofer stand out, no doubt about that. But here's the catch: quite a few folks have raised concerns about its App Compatibility. Many users have mentioned that it works with only certain apps and doesn't play nice with all the smart TV apps out there.
Bass and sound quality are both solid, but here's the thing: if you've got super high ceilings in your room, the bass might not be as booming as it would be in a regular, lower-ceilinged room. The instructions that come with the Samsung HW-Q990C make setting up a breeze. However, for some folks, you might need to switch your Smart TV to PCM Mode to ensure that the soundbar works like a charm. It's a small tweak, but it has the capability to make a big difference in your TV audio experience.
The HW-Q990C is excellent for above 55-inch Sharp Aquos smart TVs to make a home cinema setup. If you own Samsung QLED TVs, then the HW-Q990C Q-Symphony feature can be easily used. But when you place this HW-Q990C soundbar at knee height, you might not get the full atmospheric effect of Atmos speakers, which work by bouncing sound off the ceiling.
In a nutshell, this HW-Q990C soundbar will seriously amp up your movie nights with outstanding Dolby Atmos and DTS:X, especially when paired with a Sharp Aquos TV. However, if you're a gaming enthusiast looking for all the latest HDMI features, there might be better choices than this, as it lacks 4K 120Hz HDMI support. If you have below 55-inch Aquos TVs like 32 or 42-inch, then choose a budget option like Vizio M Series M512a-H6, which I am going to review below.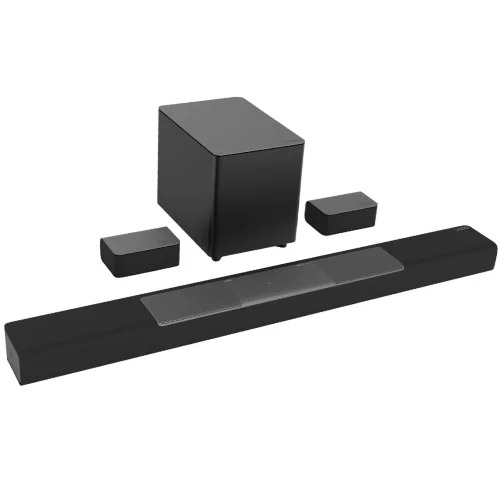 SPECIFICATIONS
Channels of speakers: 5.1.2 | DTS:X & Dolby Atmos: Yes/Yes | Subwoofer: Yes-Wireless | Satellite Type: Wired Satellite Surrounds
Connectivity Option
HDMI eARC
Optical & USB
Voice Assistant Input
Bluetooth & Wifi
 Analog: 3.5mm stereo mini jack
Bluetooth: Yes - 5.0
Pros
+ Pocket friendly option.
+ Has 3d Surround sound capability.
+ Has Wireless 6-Inch Subwoofer.
+ Strong Build quality.
+ Has Low-profile surround speakers.
Cons
- Lacks Voice mode.
- Limited EQ Control.
- No Chromecast and AirPlay support.
- Bluetooth Connection Delay.
- Some Audio Sync Issues.
We can thank to William Wang that Vizio got started back in 2002. They're based out of Irvine, California, and they're into making all sorts of stuff, like Smart TVs and soundbars. Music and movie lovers have their M-Series and V-Series hotshot soundbar collections. From the M-Series, I have a tremendous budget-friendly soundbar for your Sharp Aquos TV, that is, the M512a-H6 soundbar–it's a part of the Vizio family.
If you have a small setup with a Sharp Aquos TV of 32 to 42 Inches, then this M512a-H6 offers you an affordable Dolby Atmos three-dimensional surround sound experience without splurging with its two upward-firing speakers installed. The M512a-H6 can't quite match up to the incredible Dolby Atmos experience that the HW-Q990C offers. That's because the HW-Q990C is a full-blown Dolby Atmos system complete with ceiling speakers, whereas the M512a-H6 falls short in that department. 
The left and right speakers on the M512a-H6 have long cables, which lets you put them where you like, and you can make a wireless connection to the subwoofer as well. You can expect fine audio quality from the Vizio M512a-H6 soundbar upward-firing speakers and enjoy mid-range audio with well-defined bass. Some popular audio issues we can expect such as Audio Sync Issues. It's like a delay of 5-10 seconds in audio playback to start when you start watching content.
One more thing, it provides Limited EQ Control so that some viewers may be disappointed. For dialogue clarity, M512a-H6 also does not feature a dedicated voice mode, which is mainly used for enhancing TV dialogue clarity. However, with this Vizio soundbar, you'll definitely get a better movie dialogue experience on your Sharp Aquos TV compared to those basic TV speakers you have installed.
You will see the Latest HDMI eARC on the connectivity panel of  Vizio M Series M512a-H6 features, which you can utilize for high audio/video connection. Getting the M512a-H6 up and running is a piece of cake, thanks to its user-friendly setup. What's even better is that it won't block your TV screen, and it fits perfectly.
The Vizio M Series M512a-H6 is really well-built, and with a total of eleven speakers, including tweeters and woofers, they team up to give you some seriously clear and powerful sound. You can tweak each channel to your preference, and there's a nifty voice prompting feature that increases its usability. On its remote control, there is a small digital display screen on, which helps select inputs. 
So, people with less cash can use the M512a-H6 soundbar with their Sharp Aquos TVs. In this lesser range, the Vizio soundbar will not disappoint you and provide you with 70% of the features the company found in expensive soundbar models.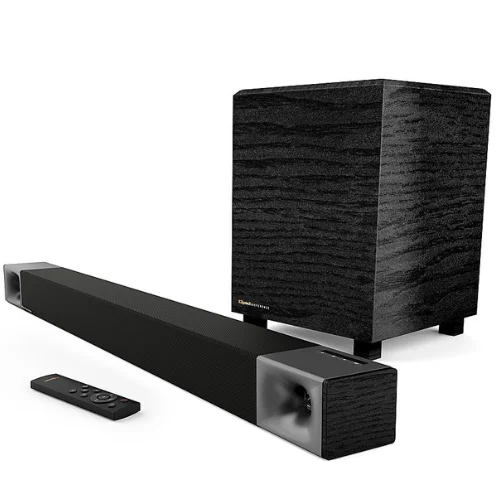 SPECIFICATIONS
Channels of speakers: 2.1 | Subwoofer: Wireless | Power: 400W Peak Power
Connectivity Option: 
HDMI-ARC
Optical & USB
Bluetooth & Wifi
Analog
Pros
+ Using DSP technology for surround sound.
+ Audio quality described as good.
+ Features Wireless Subwoofer in this price.
+ Provide Value for Money.
Cons
- Poor quality remote (muting and unmuting issues)
- No turn-off feature.
- No soundbar LED dimmer level settings.
Klipsch Audio Technologies, founded by Paul W. Klipsch way back in 1946, is kinda famous for making killer loudspeakers. And guess what? People really dig their soundbars, too. Its most popular series is the Klipsch Cinema series with horn-loaded soundbars, and today I have one from it, 'Klipsch Cinema 400' _ This is the most budget-friendly option on today's list.
As Klipsch Cinema 400 has a 2.1 soundbar, we can expect two main speakers for left and right stereo audio and an 8-inch Wireless Subwoofer for low-frequency bass sounds. Klipsch consistently leads the way by incorporating the advanced technology of "90° X 90° Tractrix horns" in their soundbars to provide high efficiencies.
The Klipsch Cinema 400 bar comes equipped with a linear travel suspension tweeter for those crisp, high-pitched sounds and fiber composite cone woofers that handle the deepest bass notes. It's all about focusing on providing a well-rounded audio experience.
When it comes to the Klipsch Cinema 400, it's all about that incredible surround sound simulation. They use some nifty DSP (Digital Signal Processing) magic to make your audio feel like it's coming from a much larger space, giving you a more immersive experience. With its fantastic Voice Enhancement feature, you will get enhanced voice dialog in movies and shows.
The Cinema 400 also supports HDMI-ARC, so It really helps you to use your Sharp TV remote to control Klipsch soundbar audio. From Klipsch Cinema 400, you can expect good sound quality with clean, high, and booming bass. Seriously, under $300, it can be considered better than LG or Vizio soundbars in this price range.
Overall, the sound quality is good, but from Klipsch Cinema 400, we can expect some problems as well. The soundbar LED indicator lights cannot be dimmed as there are no dimmer level settings for that purpose. There is no turn-off feature as well, which you don't like, and the soundbar is off after a period of inactivity.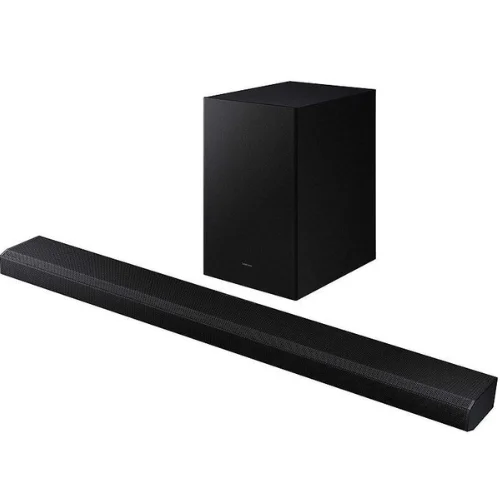 SPECIFICATIONS
Channel: 3.1.2ch | Dolby: Yes | DTS:X: Yes | Wireless Rear Seaker: Yes |
Connectivity:
Bluetooth: Yes
Wifi: Yes
HDMI eArc: Yes
HDMI CEC: Yes
Pros
+ Have SpaceFit Sound feature.
+ Good for Adaptive Sound.
+ The Game Pro Mode also available
Cons
- Short Rear Speaker Cables.
- Limited content with Dolby Atmos (testing)
Samsung has been making soundbars for quite some time, and here is another Samsung Soundbar from Q-Series, which is HW-Q700B packs with a 3.1.2 high channel configuration and other features like Q Symphony, SpaceFit Sound, and Game Pro Mode. It is worth checking out in case you need a stylish Dolby Atmos soundbar that provides room-filling audio performance when watching movies or playing games.
As HW-Q700B is a 3.1.2 bar, you can expect Dolby Atmos and DTS: X to be on board. The HW-Q700B is relatively easy to set to various devices in your home theater setup thanks to its wide range of connectivities such as Bluetooth, wifi, HDMI, and fiber optics.
As compared to other soundbars, the HW-Q700B looks a lot taller, so It is recommended to have at least a 55-inch Sharp TV as it measures 1200 CM edge to edge. Due to its low profile design, it does not block any on-screen action when you place it on the TV-bench. The HW-Q700B soundbar's whole front is made of aluminium, and this solid metal construction gives better overall protection; also, you can clean its top easily.
The subwoofer is made of wood and has a fabric front with the Samsung Logo and one interesting one, but it is completely wireless, so when it gets powered on, It automatically gets connected with it. Also gives you flexibility to place it anywhere in the room. A small tiny button on the back of the subwoofer can be used in case when you face an issue in connection. So, by pressing it, it will automatically make a connection with the soundbar.
It's a sleek and ergonomic remote control well made of plastic as usual, and powered by two AAA batteries. Also, in case of a lost remote, you have the option to connect the HW-Q700B soundbar with wifi and control it with your mobile device by downloading the Samsung Smartthings App.
To hook it up with Sharp TV, you have a few different options, such as HDMI and Digital Optical, or for other devices, you can also connect it via Bluetooth option to go entirely wirelessly. The best connectivity option is an HDMI connection to get the highest possible sound quality. The Dolby Atmos only works with this port as well. For a sharp TV connection, you only use one end of the HDMI cable connected to the TV and the other end to the HW-Q700B soundbar port.
The really cool feature is the ER port on HW-Q700B that supports 4k and HDR 10 plus. Gamers also remember that this HW-Q700B soundbar does not pass through 120 Hz signals. So if you have a PS5 or other 120 Hz mobile device, then you need to connect your input device, TV Sharp TV, and reroute audio through the ER port.
With HW-Q700B, if you want rear speakers, then you need to spend more and can purchase SWA-9500S wireless rear speakers that are expensive at the $200 range. So overall, the Samsung HW-Q700B is a super mid-range quality soundbar that offers clear and well-balanced tones, is easy to use, and has a sleek design that will increase the overall look of your home theatre setup. For those of you seeking immersive sound, Dolby Atmos and DTS:X will definitely blow your mind.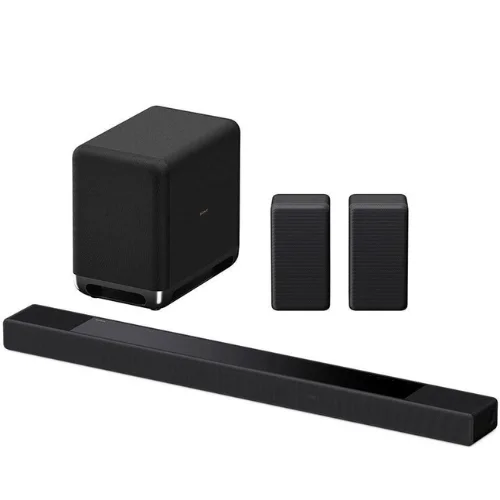 SPECIFICATIONS
Power: 500W | Channel: 7.1.2ch | DTS:X & Dolby: Yes | HDMI In/Out(ARC): 2 in/1 out | Smart Integration: Yes
Other Features
Bluetooth
Wi-Fi
Chromecast built-in
Google Assistant
Amazon Alexa
Pros
+ Setup Easily with less work arround.
+ Both Optional sub and rear speakers greatly fill your room with surround sound.
+ Great for music and gaming
Cons
- Some compatibility issues.
- Amazon Music through Chrome Cast (Limited)
Do you want a complete surround sound setup with your Sharp Aquos TV? Here is the Sony HT-A7000 soundbar with multiple drivers, 7.1.2 channels, wireless rear speakers, and wireless subwoofer. The soundbar is really massive and has 500 watts and 11 speakers built in and supports Dolby Atmos / DTS: X and 360 reality and more.
The HT-A7000 soundbar looks elegant with its Piano finish and Sony logo, which feels premium. It features top-firing speakers on each side, and there are capacitive buttons on top. On the front of it, you will find seven speakers that are two on each side and, three used for the center channel, and two speakers on the opposite side. On the front, you will also find a bass port for booming bass.
For making connections, you can utilize Power cord input, fiber optic, and analog input for hooking up older TV sources. To connect HT-A7000 to Sharp Aquos TV, you can use an HDMI connection. Its remote control is pretty decent and can be used for auto sound immersive AI, home button, and volume, but it is missing the center channel volume control button. The HT-A7000 bar also features obvious functionality and compatibility with Apple AirPlay, Spotify, and a built-in Chromecast that can be efficiently utilized for most favorite content streaming.
The SRS5 Rear Speakers use upward-firing drivers and built-in batteries for an extended surround sound experience (up to 10 hours). You can strategically place SRS5 speakers anywhere in your room for that authentic stereo rear sound. The SASW5 Subwoofer is a beast with 300 watts of power. This speaker rocks with its omni-directional sound and clever bottom ports that make the audio sound awesome. You can easily set up the HT-A7000 soundbar with your Sharp TV. With features like auto sound calibration, the sound profile automatically optimizes your room.
From HT-A7000, you can expect surround sound that genuinely envelops you, with clear vocals, expansive soundstage, and impressive bass response. To give you a cinematic experience while watching movies on sharp TV, HT-A7000 utilize 360 spatial surround mapping.
What Are Sharp Aquos Smart Tvs Actually?
The Sharp Aquos brand, launched in 2001, rose to fame as a prominent brand in LCD TVs and the smart TV market. They excel in manufacturing LCD televisions and component screens. The Sharp Aquos Smart TVs have the capability to transform images on screen into lifelike 8K UHD reality. Some sharp latest tv models offer stunning color accuracy through Deep Chroma QD technology. By using a remote control, you can launch dramas, movies, and shows quickly and easily. The TV firmware updates automatically for continuous access to the latest features.
Quick Buying Tips
Here, I am mentioning some must-know tips that will make finding the perfect Soundbar for your Sharp TV a breeze. Check 'em out!
Compatibility
This tip is very important. You have to ensure that the Soundbar you go for is a good match for your Sharp Aquos TV. This can be done by taking a close look at how the sharp TV and Soundbar can easily link up. You'll often see connection options like HDMI ARC, optical audio, and Bluetooth; also, please double-check that the Soundbar has all the ports you need to connect it to your TV.
Sound Quality
Sound quality is another critical aspect after compatibility. The excellent quality soundbar has great support for Dolby Atmos, DTS:X, and other advanced audio technologies for a more superior cinematic experience. Do consider and evaluate channel numbers like (2.1, 5.1, etc.) and Soundbar's power output, which is important.
Size and Design
Just go for a soundbar that looks great with your TV and fits nicely in your living area because a long soundbar would not fit on a small TV wooden bench or small space that you have selected for. Double-check and ensure it's not too large to obstruct your TV screen. You can also select a soundbar with a wireless subwoofer so that it can be sneakily tucked away in your room.
Connectivity
It directly relates to compatibility, as I have mentioned. The connectivity option must be compatible with the sharp tv available connection option. If both support HDMI ARC, then it's excellent as it is the most popular and versatile option for audio transmitting and signal controls. Whereas if in case your Sharp TV never supports HDMI ARC, then you need to check alternative options such as an optical audio connection_ a good alternative. Do not forget to consider Bluetooth and Wireless or Wi-Fi options for super audio streaming,
Audio Modes and Equalization
It is good to check the Soundbar with audio modes and settings, giving you the power to fine-tune the sound to match whatever you're watching and wherever you're kicking back. These pre-set sound profiles (e.g., movies, music, sports) help you in sound tuning.
Don't Forget
Brand Reputation: Check Soundbars, by well-regulated and popular brands like Sony, Samsung, Klipsch, and Vizio, are trusted by many and known for their audio quality.
Read Reviews: If you read reviews before spending any cash on a Soundbar, then there are more chances to get a beast option. You can find reviews related to that Soundbar by searching on Google or the Amazon Review section. So, pros and cons come out, which people have already experienced. A good man said, Learn from other experiences.
In A Nutshell
All things considered, we hope you've found a great soundbar for your Sharp Aquos TV. For those looking to spend under $300, the Klipsch Cinema 400 offers excellent value and performance. For something more premium with a few more features, the Samsung HW-Q990C is an excellent mid-range option. But if you want to go all out, then the Sony HT-A7000 is definitely worth considering.
More Related For You!
Frequently Asked Questions
Are there any benefits to investing in a higher-priced soundbar for a Sharp Aquos TV?
If you're wondering whether investing in a higher-priced soundbar for your Sharp Aquos TV is worth it, the short answer is yes. A soundbar is an essential accessory to elevate your TV viewing experience, especially if you're a fan of movies, TV shows, and video games. While a budget soundbar may seem like a convenient option, it may not produce the same quality of sound that a higher-priced soundbar can.
A higher-priced soundbar can offer superior clarity, deeper bass, a wider soundstage, and more audio channels, giving you a more immersive experience that comes closer to matching the audio of a cinema. Additionally, a Soundbar with advanced features like Dolby Atmos, Voice assistants, Wi-Fi, and Bluetooth support can give you more flexibility and convenience while using. Investing in a higher-priced Soundbar is a smart investment that can quickly turn your ordinary Shart TV-watching experience into an extraordinary one.
How can I change the Sound Settings on my Sharp Smart TV?
To change the sound style on your Sharp TV, simply you have to move to settings and follow the steps below:
Go to Device Preferences > Press OK.
Now, Scroll Down and Select > Sound.
Select Sound Style and Press OK.
Sound Style You Find: Standard, Vivid, Sport, Movie, Music or News.
Choose and Select the Settings you want.
Does the type of audio connection matter when selecting a sound bar for a Sharp TV?
Yes, before selecting a sound bar for your Sharp Aquos, you might be wondering if the type of audio connection really matters. Well, the answer is yes and no. While it ultimately depends on your individual needs and preferences, certain audio connections like HDMI ARC or Optical can provide better sound quality and minimize delay between the video and audio.
Additionally, some Sharp Aquos models may have limited audio output options, so it's essential to check your TV's specifications and compatibility with different sound bars. Ultimately, taking the time to research and compare audio connection options can help you find the top contender sound bar.