In the new year of 2023, home theater equipment is a great place to start considering your needs. Here comes In-wall speakers that let you transform your walls into a stage, and let the surround sound audio fill up your home. What makes them a better option than traditional freestanding speakers are more flexible placement, discreet appearance, less distortion, durability, and good surround sound capability.
You can pretty much put in-wall speakers wherever you want in a room without stressing over space issues or tripping over cords. They're like the superheroes of speakers, perfect for rooms with tight corners or funky layouts. After installing in-wall speakers to your home theater property, these will be virtually invisible. It's like having a secret weapon for your home theater, giving it that sleek and sophisticated vibe you've always wanted. As soon as speakers are installed on your wall, they are protected from accidental damage or spills.
It is generally recommended that in-wall speakers are used for clutter-free home theater experiences. In sound quality, with our listed speakers for your wall, you will enjoy Superior sound as they are mounted directly into the wall, so in a physical situation the lesser vibrations and resonances are produced. For a better realistic surround sound experience, you can also place the in-wall speakers at ear level or Wall-high. If you love a wider soundstage and want to create a sense of envelopment, you can install it closer to the corners of your room. Note: As for in-wall speakers being firmly in place, they don't get rattled by vibrations like standalone ones, which causes them to sound fuzzy and distorted.
Due to the variety of choices available, finding in-wall speakers for your home theater can be quite challenging. But fear not because Team Wooster Audio has done the hard work for you. After some serious research and thinking about technical specs, the quality of the drivers, how they sound, where to put them on your wall, and of course, your budget, a list of in-wall speakers has been compiled below.
Popular Recommendations
Best In-wall Speaker For Home Theater Reviews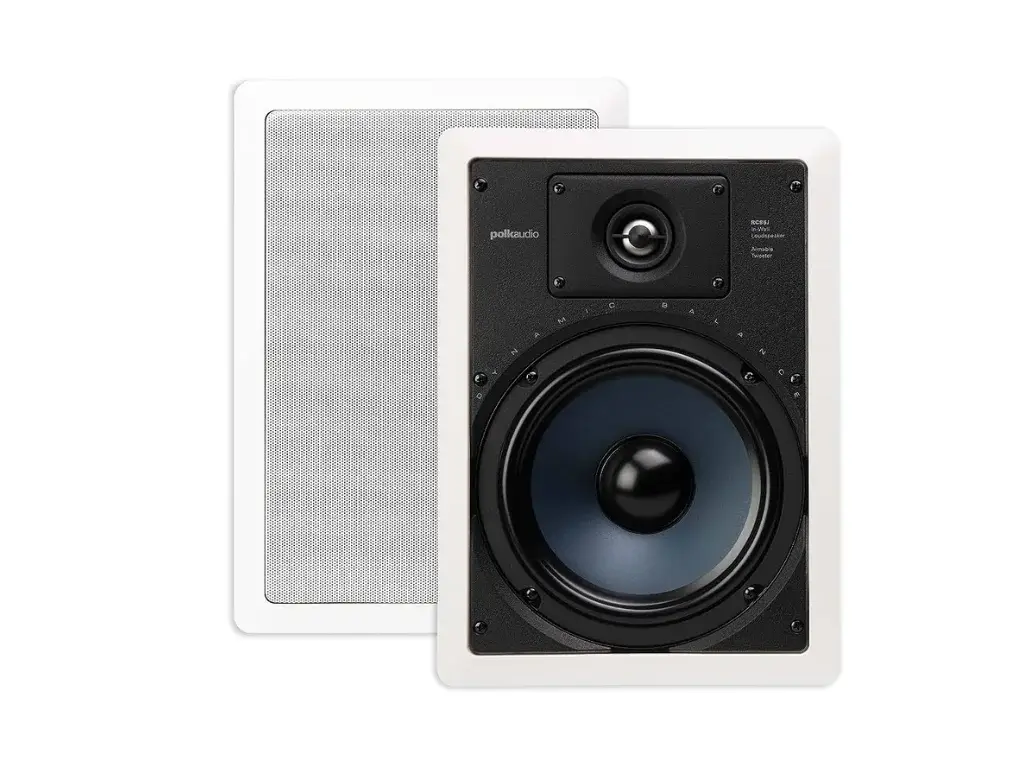 SPECIFICATIONS
Frequency Response: 50-20,000 Hz (-3 dB) ~ Impedance: 8 ohms ~ Sensitivity: 90 dB ~ Power Requires: Up To 100 Watt  ~ Shape: Rectangle ~ Mounting Depth: 3.5
Pros
+ Infinite baffle tuning
+ Timbre-matched speaker
+ Great Sound Quality
+ Has streamlined design
+ Easy To Install
Cons
- Sound quality complaints
- Lack Rich Bass
Our List starts with Polk Audio RC85i, which are 2 Way in-wall speakers good for your custom-installed home theater. The RC85i has a much more premium design and is available in white color, and they employ infinite baffle tuning. For front speaker driver protection, Polk Company has features a powder-coated aluminum grill that hides a rubber-sealed ¾ inch amiable soft dome tweeter and 6 ½ inch woofer drivers with Rubber surround. While testing in the lab, both the woofer and tweeter showed excellent performance with detailed, clean, and clear depth.
The RC85i is designed for audio enthusiasts and home theater enthusiasts seeking excellent sound quality without requiring much space. A Polk Audio RC85i system is capable of delivering high-quality sound in both the left and right front channels or in a home theater surround system as well. On Amazon, RC85i is available in three different styles, so the choice is yours although you need a single speaker set that costs you under $300, or you need RC85i with 6.5 inch round speakers or a subwoofer that costs you more. 
The question is 'How To Install RC85i on the wall'. The RC85i in-wall speakers are much more straightforward to install since they come with flush mount brackets. You have to select the ideal location for your RC85i speakers on the wall for optimal sound quality. For proper marking cut-out measurements on the wall, you need to use Perfect Fit templates and must ensure placement aligns with your audio needs. Then, you have to carefully Cut the Speaker Hole, and after that, you need to attach the Precision Flange. You can use pre-construction brackets to secure RC85i speakers on the wall properly for easier installation. The RC85i usually takes up to 100 wattage power supply, so you need to power them via any receiver or amplifier or Omni A1 Wireless Amplifier.
To maximize your listening experience, consider mounting the Polk Audio RC85i behind your TV. However, if you have a large entertainment center or plenty of furniture around your TV, wall mounting near the TV is a suitable alternative. This ensures accessibility and saves floor space. Additionally, assess the volume level you plan to use, as your chosen location should accommodate your preferred sound intensity. If you plan to watch movies or listen to music at high volumes, be sure that your chosen location can handle them. Don't worry about installing RC85i in a highly moisturizing place like a bathroom because it uses Rustproof stainless steel hardware and butyl rubber surrounds to increase its durability and usage.
We can expect clean and clear sound quality from Polk Audio RC85i, but if you are a bass lover, then it may disappoint you. There are also some complaints about the quality of plastic clips, so I recommend you carefully install and not push extraordinary pressure. So overall, under the $300 range, the RC85i by Polk Audio is an ideal in-wall speaker for use in bedrooms, living rooms, and offices and provides stereo music with an added layer of sound.
Inside The Box
Two White speakers
Two White Grills
Cardboard Mounting Template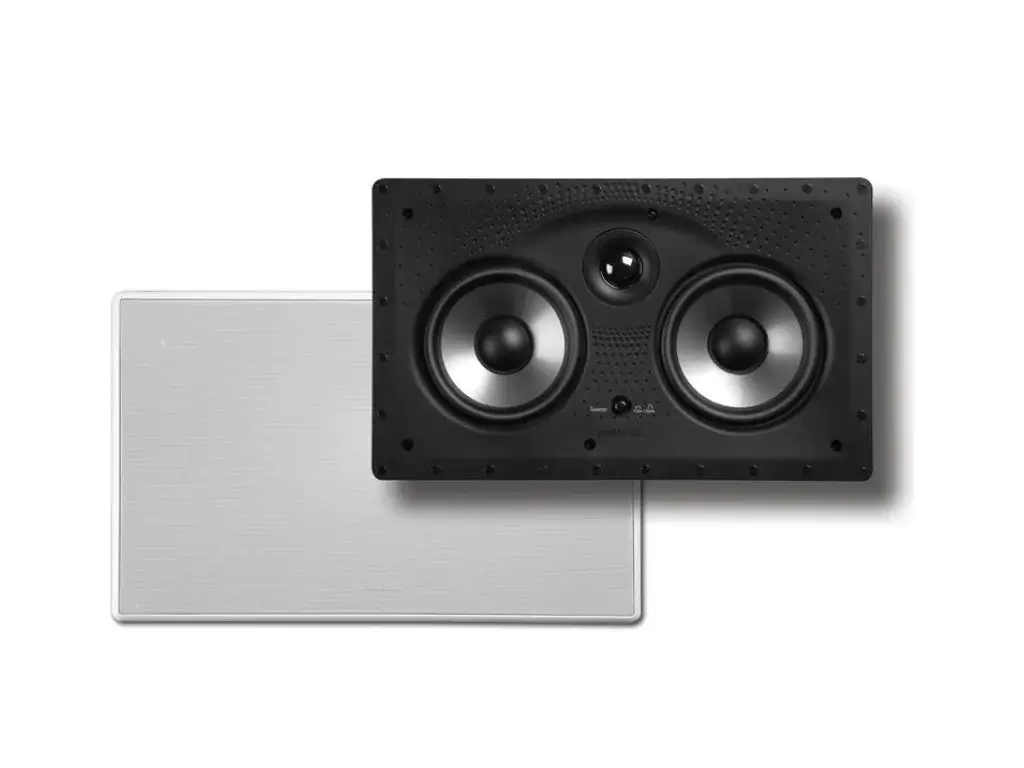 SPECIFICATIONS
Frequency Response: 50-25,000 Hz (-3dB) ~ Amp Power Required:  up to 150 watts ~ Sensitivity: 90 dB  ~ Impedance: 8-ohm ~ Shape: Rectangular ~ Mounting depth: 3-⅜ Inch ~ Cutout: 13-⅛ inch - W x 7-⅝ inch H
Pros
+ Wafer-thin sheer grille (paintable)
+ Reflective room compensation
+ Easily fits in wall
+ Low Profile Design
+ Budget Friendly
After RC85i, there is another speaker variant by Polk Audio which is 255C-RT. It doesn't matter whether you have a living room, bedroom, or kitchen; Polk Audio 255C-RT in-wall speakers sound great and are cheaper than RC85i. Yes! You can get the under-range of 255C-RT only. Under this price tag, the 255C-RT features an aluminum frame body, and Sheer Grille is included. For this White metal grille, there are instructions available about how to paint it (for stealth installation). Behind the grill, 255C-RT offers dual 5-¼ inch Dynamic Balance woofers and a 1-inch polymer dome tweeter that are set in 360-degree swivel housing to give you excellent placement flexibility. On the front, you will also find a lower tweeter levels switch, which you can use for reflective room compensation.
I can say this 255C-RT has similar dimensions as compared to RC85i. Many audio enthusiasts love its patented design, which looks fantastic. This RC85i high-performance in-wall speaker can even fill a 600-square-foot finished basement with sound and can provide Vibration free efficiency with a rotative cam system. You can easily install 255C-RT via one-cut drop-in installation. Any amplifier or receiver can easily drive 255C-RT providing up to 150 wattage of power. With Polk Audio 255C-RT, you are no longer required to use heavy center channel speakers to enjoy clear audio. These speakers can be mounted on the wall and take up much less space than traditional center channel speakers. For powering 255C-RT, you can use Pioneer Elite VSX-LX105, a 7.2-channel AV Receiver that can handle 100 watts per channel.
So the question is, under $200, what sound we can expect from the 255C-RT? Well, it features PowerPort bass technology for excellent punchy lows, and you will hear Films and Movies Dialogues with CLEAR waves. So, under $200, this 255C-RT is a much budget-friendly in-wall speaker system that provides durability, a classic finish and crisp and clear sound.
Inside The Box
Polk Audio 255C-RT In-wall center-channel loudspeaker
Mounting template
Grill Painting instructions
White metal grille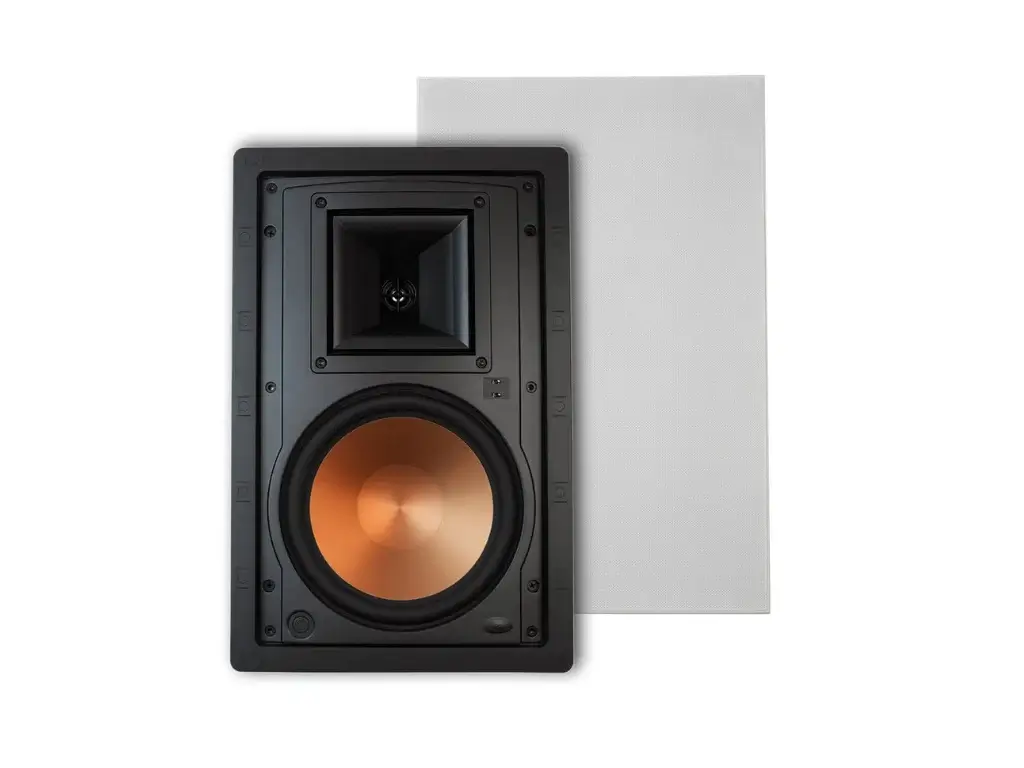 SPECIFICATIONS
Sensitivity: 94 dB  ~ Frequency Response: 40-23,000 Hz (±3dB) ~ Impedance: 8-ohm ~ Power Requires: Up to 50 watts RMS (Peak: 200 watts) ~ Shape: Rectangular
Pros
+ Slim Design (flush with wall)
+ Efficient Sound Quality
+ Excellent speaker posts
Cons
- Low quality connectors
After Polk Audio 255C-RT, here is another recommendation, Klipsch R-5800-W, which is another good budget-friendly option. Klipsch is regarded as a top-class audio brand from Floor To Bookshelf and in-wall to in-ceiling speakers. Audio enthusiasts undoubtedly love the Klipsch audio gadgets.
The Klipsch R-5800-W features a 1-inch titanium tweeter and an 8-inch woofer having a cerametallic cone and rigid anodized aluminum structure. The R-5800-W can handle between 50 Watts to 200 Watts Peak. You can power R-5800-W via any amp that can afford these significant power ratings. You can easily use R-5800-W for your Dolby Atmos theater as they sound good in all three orientations (left, center and right).
The R-5800-W features a Slimtrim magnetic grille that you can paint to match your room's color, and a wall-hidden design that works with any home décor. Construction-wise, the R-5800-W feels solid. You can use R-5800-W for good stereo music and enjoying movies and music, and you can install them in your family room, home, office, or bedroom.
According to experts, the R-5800-W provides good highs and mid-bass. As R-5800-W utilizes Horn technology, you can expect sound quality with reduced reflections and added power and dynamics. For a personal room's acoustics, you can use R-5800-W featured treble and mid-bass level switches and manage music as you like. Compared to the Klipsch R-3800-W, this R-5800-W features a better magnetic grill and sound quality. You can use R-5800-W instead of Klipsch bookshelf speakers for a clutter-free home theater experience.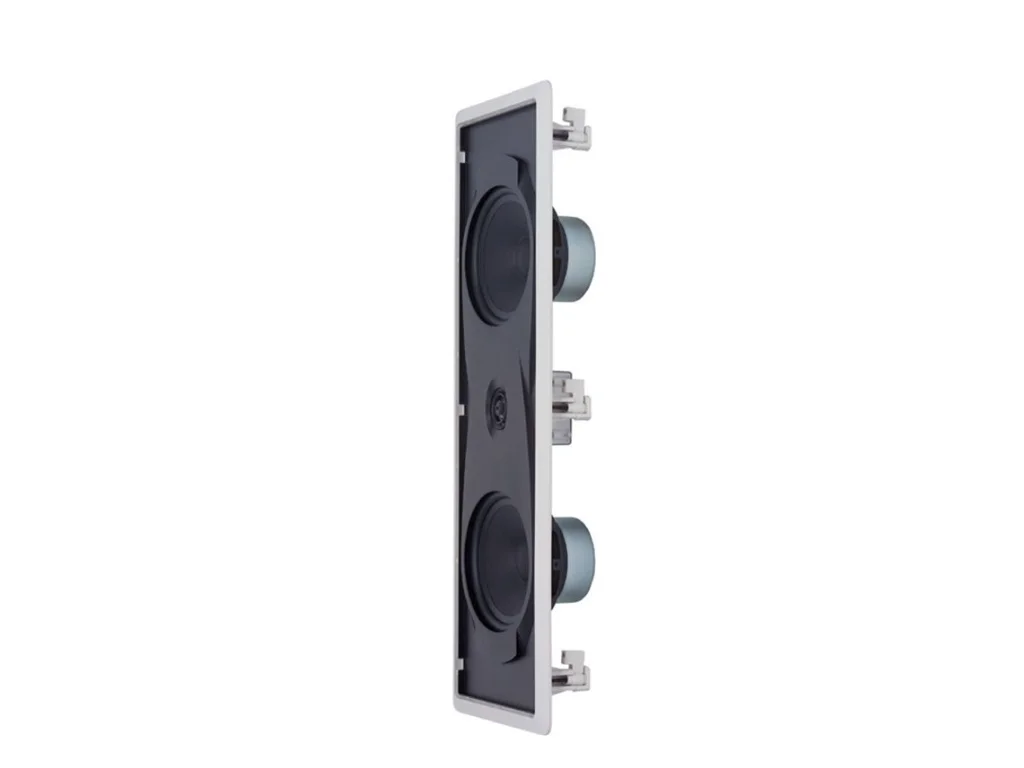 SPECIFICATIONS
Frequency Response: 50Hz to 24000 Hz ~ Sensitivity: 88Db ~ Power: 40 - 130 Watts (Peak 260W) Mount: Flush Mount  ~ Shape: Rectangular
Pros
+ Small footprint
+ Pocket Friendly Option
Cons
- NS-IW760 is less Powerful compared to expensive option
- Bit difficult to set up
- Less expensive plastic nuts used
After Klipsch R-5800-W, here is the Yamaha NS-IW760 Intelligent in-wall speaker for good dynamic performance. Let's discuss the NS-IW760 design; it features a 6-1/2 Inch Dual Woofer and a significant Swivel-mounted 1-inch Soft Dome Tweeter, which you can easily direct to your listening position to get increased surround sound. Commonly, NS-IW760 also features a solid frame and grilles, and you are allowed to show your art by painting them as well. In small footprints, Yamaha NS-IW760 provides clear and accurate sound from high treble to low bass results due to the good frequency range. You can use NS-IW760 for right, left, or center channels. 
The installation of the Yamaha NS-IW760 is a breeze due to its flush mount design, which you can easily install directly to your wall, and it looks clean and minimalist. With NS-IW760, the Yamaha company provides a mounting template that you can utilize for marking the mounting hole location on your wall. Then, by using a four-point system (two mounting holes on each side of NS-IW760), you can attach the speaker to the selected wall location.
The recommended amplifier power for Yamaha NS-IW760 is 40 to 130 watts RMS, which means you need an amplifier to provide at least 40 watts RMS power to each speaker but never cross the power limit above 130 watts. I will recommend the Yamaha R-S202BL, which is a good quality stereo receiver that can be used for powering NS-IW760 to make a stereo setup. The R-S202BL can manage a 130-watt output at 6 ohms, which is enough for NS-IW760. People who want to create a surround sound system can add a Yamaha NS-SW100BL subwoofer additionally and attach it via subwoofer-out to the receiver. 
So overall, the Yamaha NS-IW760 is a good quality speaker for walls under the $200 range. You can use NS-IW760 for various sound applications, including front, center, or surround speakers for home theater, Stereo music,whole-house audio systems, or even commercial applications, including retail stores, bars, or restaurants. Under the budget range, NS-IW760 provides good sound, but its build quality is normal.
Inside the Box
Yamaha NS-IW760 speakers
Speaker grilles
Cutout template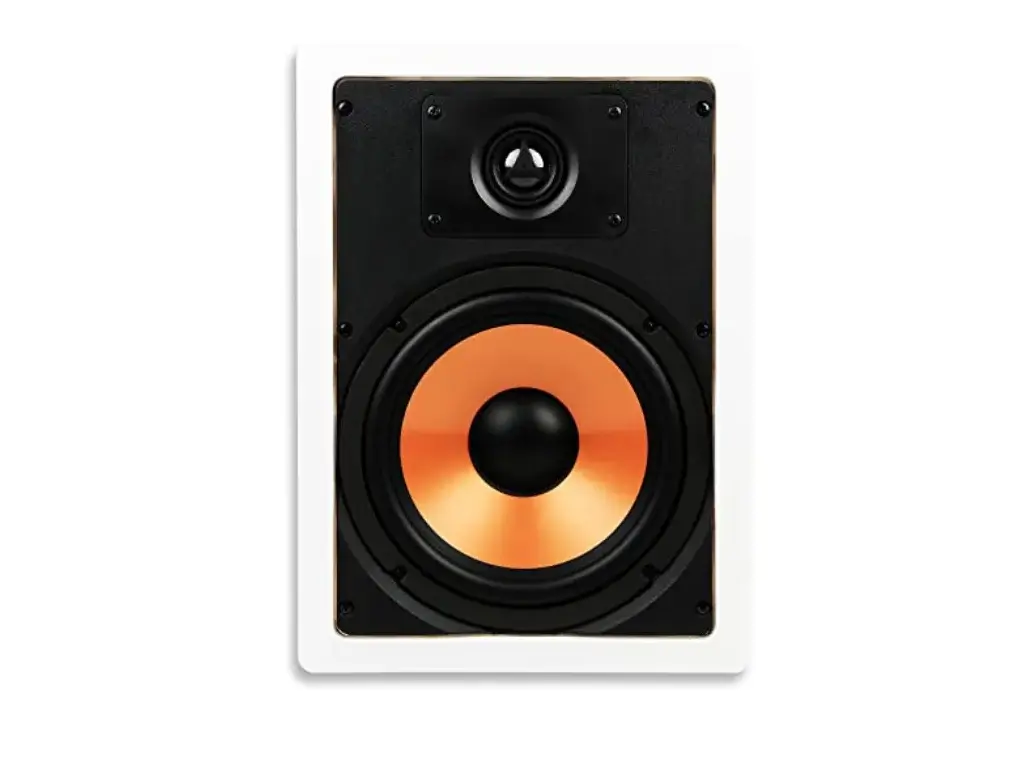 SPECIFICATIONS
Spec: Frequency response: 40Hz-20kHz ~ Power handling:  100 watts (each) ~ Sensitivity 90dB 1W/1M ~ Mounting depth: 3.4 inch  ~ Shape: Rectangular
Pros
+ Provide relaxed background music
+ For different types of audio tastes
+ For various home entertainment applications
Cons
- Cheap build quality
After Yamaha NS-IW760, here is the Micca M-8S 8 speaker for you. Audiophiles also trust Micca Brand, which has several popular speaker categories, including in-ceiling/in-wall and bookshelf speakers. The NS-IW760 features an 8-inch poly woofer and a pivoting design 1-inch soft dome tweeter driver. With the help of a 12dB 2-way crossover network, both tweeter and subwoofer fantastically work with each other to give you detailed and clarity. Primarily similar to NS-IW760, you can also position frequencies to your listening environment. The design of Micca M-8S 8 is very rigorous, and it provides robust bass output, so for various applications, you can use Micca M-8S 8 without needing a subwoofer. This M-8S is the bigger brother of Micca M-6S and generates more accurate sound than that.
The Micca M-8S is also an inexpensive option, and under the $150 range, you can get this baby off the Micca brand for obvious audio quality. You can mount Micca M-8S 8 in any orientation; most commonly, they are mounted vertically with tweeters at the top for best sound dispersion and imaging. The installation is much easier on the Micca M-8S; like other in-wall options, simply select a location and mount there with essential hand tools.
There is a 90 dB sensitivity on the Micca M-8S speakers, which makes them relatively efficient. Easily, any low-powered amplifier that can power up to 100 Watts to each in-wall speaker can be used. You can use the Micca M-8S for front, center, or surround speakers, and it is also a good choice for height channels in DTS:X and Dolby Atmos setups for in-wall surround sound.
Inside the Box
Micca M-8S Speakers
Installation Template
User Manual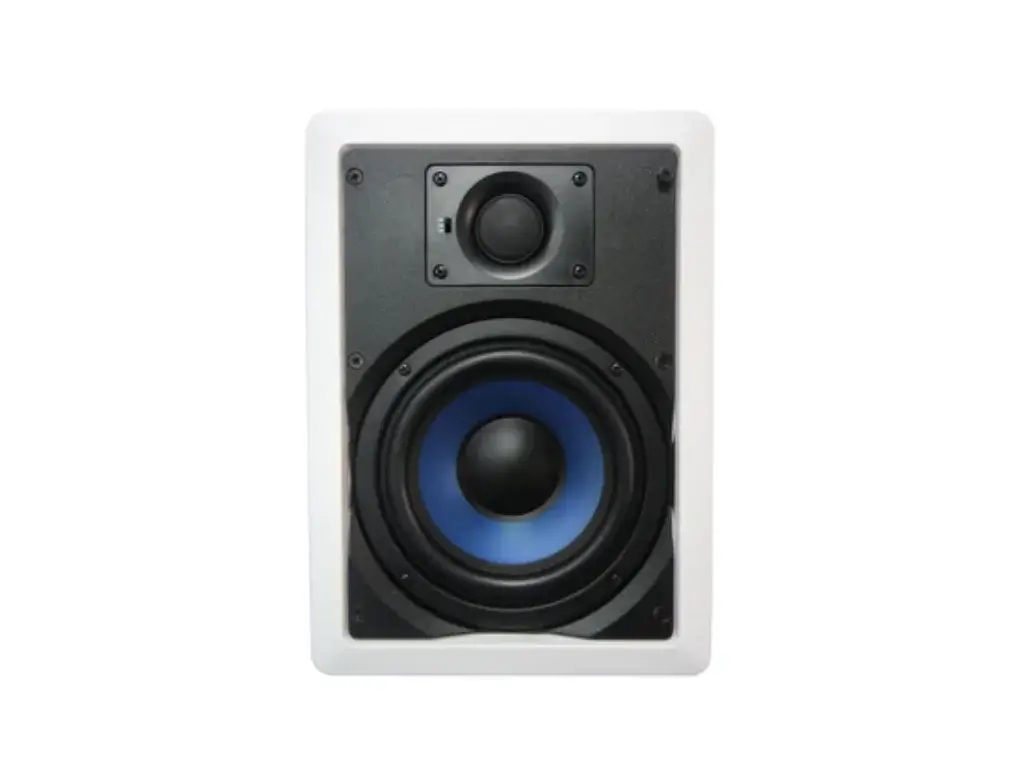 SPECIFICATIONS
Frequency Response: 63 Hz - 20,000 Hz ~ Sensitivity: 86+/-2 dB ~ Impedance: 8 ohms ~ Crossover: 12dB per octave ~ Power Handling:  40-Watts to 80-Watts Peak ~ Shape: Rectangular
Pros
+ Cheap but not in-expensive
+ Decent sound with mid-high heavy
+ Balanced mid-bass frequencies
+ Easy Installation
Cons
- Power-hungry speakers
Nowadays in the market, the 5252W Silver Ticket Speaker is also very popular among audio consumers. This Silver Ticket manufactures lots of in-wall, in-ceiling and flush mount speakers on all budget ranges and we found them top-rated in Electronic Market. The 5252W by Silver Ticket features two 5.25-inch polypropylene cone woofers, and each one features a 10oz magnet and is protected with a rubber edge. The Silk Dome Tweeter is 20mm and has a 15-degree pivot, which you can adjust for better sound placement.
Similar to Polk Audio RC85i, this 5252W Silver ticket can also be used in areas where moisture is high, like washroom area due to moisture-resistivity. The sound quality provided by 5252W is distortion-free and silky-smooth sound and its build quality is not bad at a cheap price. For strong sound output, you must require 75-100 watts of power amplification because they consume much more power than recommended. You can use the Denon AVR-S760H 7.2-channel AV receiver, which has the ability to provide 75 watts per channel enough to drive them and also supports audio formats like Dolby Atmos and DTS: X.
The installation process of  5252W Silver ticket is super easy and it takes only a few hours to install them on your wall. Experts recommend that if you don't even give good speaker cabinets to 5252W while installing, still these speakers sound surprisingly good. Over a $100 budget 5252W are top-rated speakers that can be installed on your wall, and its Tweeter and woofer exceptionally work together to produce accurate and less distorted sound.
Inside The Box
5252W Silver ticket 
Speaker Grill
Templates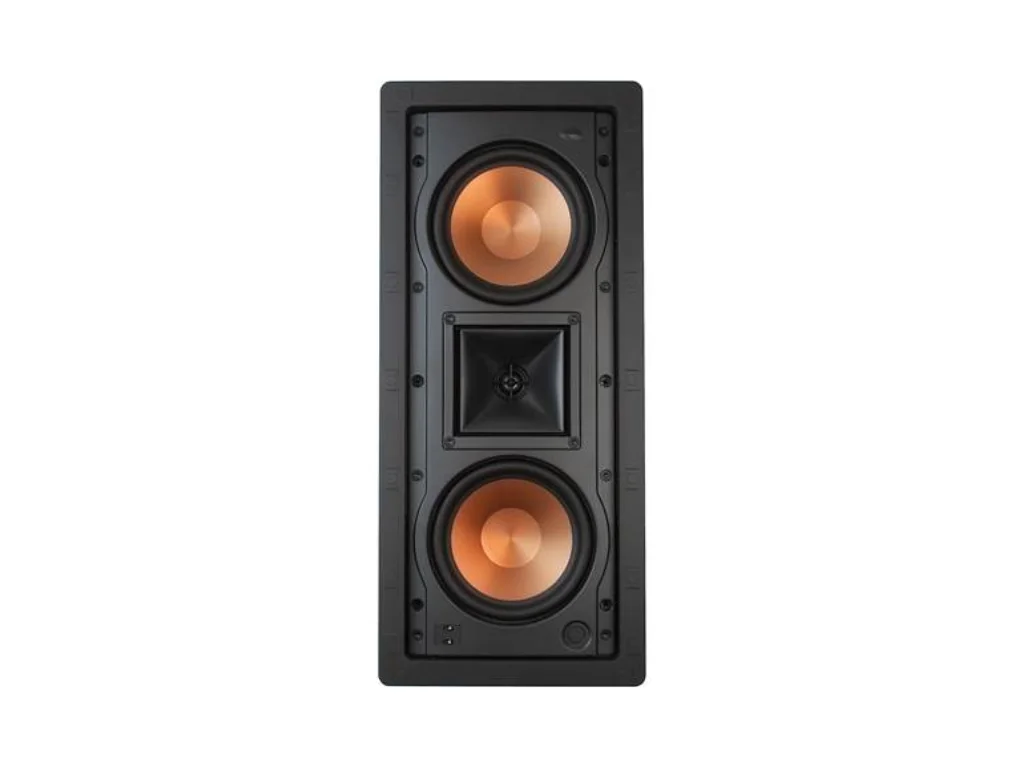 SPECIFICATIONS
Frequency response: 46-20,000 Hz (±3dB) ~ Impedance: 8-ohm ~ Sensitivity:  92 dB ~ Power handling: up to 75 watts ~ Shape: Rectangular
Pros
+ Perfect as a center channel speaker
+ High quality Klipsch sound
+ Feature Wide Dispersion Surround Technology
Cons
- Some Shipping issues Faced By People
Here is a sibling of Klipsch R-5800-W, which is Klipsch R-5502-W and shows many similarities in price, budget, Impedance, and sound quality. The R-5502-W features Dual 5.25 inch cerametallic cone woofers that look much hi-tech and utilize solid Aluminum diaphragms and new quality dust caps to increase Cone strength. The installed woofer R-5502-W provides perfect damping and added stiffness wheres for voice coils ventilation the pre-installed Dust Caps really help for that. The R-5502-W features 1 inch Titanium diaphragm Tweeter with a great combination with Tractrix Horn and the diaphragm is metallic and lightweight for quick vibration and high-frequency sound.
Installing Klipsch R-5800-W is much easier, you can mount it horizontally or vertically for long-term reliability. You can also use R-5800-W for your left, center, or right channel usage. For R-5800-W, you must have to use a 12 gauge speaker wire to get sound quality without popping noises at high volumes. For powering Klipsch R-5800-W, you can use the Onkyo TX-RZ820 7.2 channel AV receiver, which is 130W per channel, which is enough for driving it. Similar to the R-5800-W, this R-5502-W also features Horn-loaded technology that greatly helps to improve sound dispersion and directivity. Both are budget high-quality speakers for walls from Klipsch with similar features. The difference is that the R-5800-W II features a larger woofer and higher power handling rating than the R-5502-W II.
So overall, under $200, Klipsch R-5502-W is a much better hideaway in-wall design and provides rich, room-filling sound. You can install R-5502-W in your family room and bedroom in both horizontal and vertical positions. For stereo systems, home theater systems, and surround sound systems, the use of R-5502-W is a good decision. You can paint the included SlimTrim grille of R-5502-W, which has an 80% reduced design and attaches securely.
Inside the Box
Klipsch R-5502-W speaker
Instruction Manual
White Grill
Quick Buying Tips
 If you are looking to create a phenomenal sound in your home theater without messing with cables, choose speakers that fit easily on the wall. There may be 100 suitable options, but you may be unable to pick one. The right guide for selecting the right in-wall speaker option can help you increase your sense of choice. Team Wooster mentions all points of consideration below:
Driver And Sound Quality
A good percentage of sound quality depends on the driver's quality and the design of the speakers (the most important component). You have to look for an in-wall speaker that contains high-quality drivers that are well-matched with each other. Some features, such as back chambers and damping materials, should also be incorporated into the speaker design for in-wall installation so that the bass response is improved. A flat frequency response is crucial for in-wall speakers, which ensures there are no peaks or dips in the sound. You can consider speakers with dedicated tweeters for high-frequency reproduction and woofers for low-frequency performance. You also need to pay attention to the sensitivity rating (measured in decibels or dB), as the higher the in-wall speaker sensitivity means it requires less power to produce the same volume.
Speaker Size And Type
The market is filled with in-wall speakers with two-way and three-way designs. So, I will recommend you consider your room size and layout before selecting speaker size. You may benefit from more giant speakers if you own a larger room. People living in a small house or apartment with a small room may not benefit from Three-way speakers because they offer better sound separation and clarity but might be overkill for smaller spaces.
Installation And Placement
Make sure the speakers are a good fit for in-wall installation, and think about whether they can double as in-ceiling speakers if the situation calls for it. It's also a good idea to search for models with a grille you can paint to match your room's style. And don't forget to consider the depth of the wall cavity. Remember that some in-wall speakers need more room behind the wall than others, so that's something to consider when making your choice.
Speaker Impedance and Compatibility
Confirm that the in-wall speaker's impedance aligns with the capabilities of your AV receiver. Also, you must ensure that the speaker is compatible with your home theater system, encompassing both your receiver and amplifier. It's usually a good idea to match up 8-ohm in-wall speakers with an amplifier designed explicitly for 8-ohm speakers. This way, you won't overwhelm the amplifier, and you'll enjoy good audio quality.
Budget
Basically, in-wall speakers come under any budget range. Your mind should be set under the $1000 range. The budget also depends on how many in-wall speakers you need to install (1, 4, 6…). So the price will increase if you purchase two sets of in-wall speakers rather than a single one. It would help if you didn't compromise on quality when it comes to finding in-wall speakers that fit your budget.
Brand and Reputation And Warranty
It is a good idea to consider reputable audio brands such as Polk Audio, Klipsch, Yamaha, etc., which are renowned for their high-quality audio equipment and reliability. Also, you can obtain recommendations from friends or trusted sources who have experience with in-wall speakers. For money protection, check if speakers come with warranties that can give you peace of mind just in case something goes wrong. 
Speaker Specifications
It is also important to properly check the specifications of the in-wall speakers, including the power handling (wattage), frequency response, sensitivity, impedance, and recommended amplifier power.
Room Acoustics
Take into account the room's acoustics, too. It may be necessary to use sound treatments such as acoustic panels to optimize audio quality in a room with poor acoustics. In cozy little rooms, the sound waves tend to huddle together, creating a more focused vibe. But when you step into those bigger spaces, those sound waves spread out and get all spread thin, making things sound more scattered. A solid wall, such as a concrete or brick wall, will absorb sound more effectively than a lightweight wall, such as drywall. Reflective surfaces like furniture, mirrors, and windows impact sound by echoing, causing echoes and reverberations in the room. The room's noise floor is the background noise level; too much can hinder speaker sound clarity.
Frequently Asked Questions
What is the lifespan of in-wall speakers?
With proper care and maintenance, in-wall speakers typically have a long lifespan, often exceeding 5-6 years or more. Their longevity depends on factors like brand quality, regular usage, and environmental conditions. You can ensure they continue to provide high-quality audio by maintaining regular cleaning and avoiding extreme humidity.
Is it easy to install in-wall speakers?
Well, There's no rocket science in installation, but it's also not easy either. Installing in-wall speakers can be moderately challenging, requiring some DIY skills and tools. It involves cutting holes in the wall, running speaker wires, and mounting the speakers correctly. However, many people with basic handyman skills can do it themselves with patience and careful instructions, while complex installations may require professional help.
What are the benefits of In-wall speakers with Pivoting tweeter?
In-wall speakers with pivoting tweeters provide many advantages. As a first benefit, they provide precise sound directionality, allowing you to adjust the angle of the tweeter so that the audio is dispersed optimally. With pivoting tweeters, sound can be directed directly towards the listener's ear. As a result, a very immersive soundscape is created, reduces echoes, and gives you a front-row seat to your favorite songs.