If you are an avid audiophile or musician or whether you have experience of using In-ear monitors or planning to buy for the first time, it's always difficult to choose one from a hundred options. Well, I got you. Let's get into the article to learn some useful stuff on best IEMs under $500 and things you must consider when buying them.  As Detail-oriented IEMs are crafted with care so If you invest in high-quality IEMs, music will be much more enjoyable for you.
Earbuds and In-ear monitors (IEMs) are small and portable audio devices which can be your best buddy through thick and thin. Earbuds rest on the ears, IEMs inserted directly onto the ear canals. Therefore, provide an immersive listening experience.
There are plenty of reasons you need IEMs. If you're a musician, IEMs can provide accurate sound reproduction, allowing you to hear yourself and bandmates clearly. Besides this, it's necessary to invest in IEMs because they reduce stage noise. If you're an audio professional, it's a must-have gadget that could help in precise monitoring during mixing and mastering.
Editor Choice: Best IEMs Under $500 Range
Best IEMs Under $500 Reviews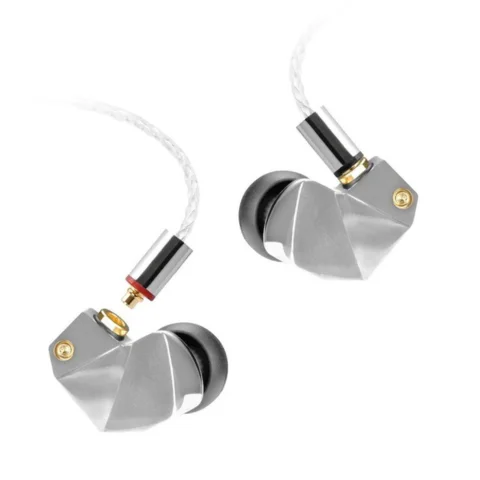 View on Amazon Read Customer Reviews
Our listing starts with  Final B3 IEM, which is an impressive addition to Final's B Series lineup and is giving sub-$500 audiophiles an exquisite listening experience. The Final B3 is a great IEM that boasts a sleek Silver Frost color and a stylish Stainless Steel Frost Silver Finish enclosure which means the B3 IEM exudes an elegant and sophisticated look.
In-ear monitors featuring the Final B3 feature a tweeter and a full-range network less driver, each equipped with balanced armatures and with the absence of a crossover network so that throughout the entire frequency range, a seamless and coherent presentation of sound is achieved. A snug, comfortable fit is provided by the B3's In-Ear design, and its much more lightweight construction further give the wearer a better and extended experience without fatigue.
The Final B3 comes with a 1.2-meter final Silver-coated cable so as to minimize signal loss and ensure excellent signal transmission, and if we talk about MMCX connection, then they ensure a great connection of IEMs and cables securely and reliably, keeping you at ease when you are using it every day.
The  Final B3 IEM has an impedance rating of 19 Ω and a sensitivity of 102 dB/mW, and we tested it in Wooster Lab by paired with a wide range of audio sources, including smartphones / portable music players/ headphone amplifiers, etc. As a whole, the sound quality of the Final B3 IEM is exceptional, it is built very well, and it is attractive and I will prefer it to a seasoned audiophile or a casual listener who will find the Final B3 as Best Iem under $500.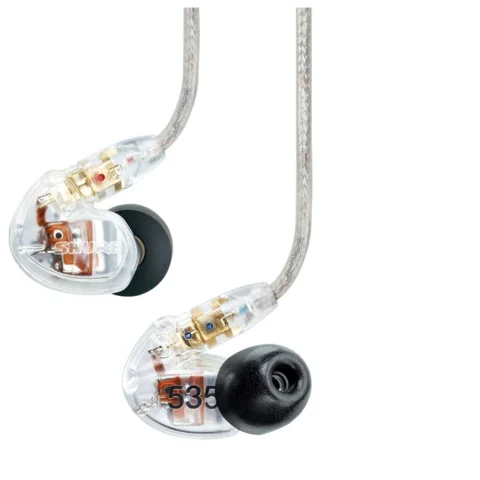 View on Amazon Read Customer Reviews
After Final B3, we will look at Shure SE535-CL IEM stands as a testament to Shure's commitment to audio quality that is second to none. We found Shure SE535-CL is equipped with triple high-definition drivers for quality sound, which audiophiles will appreciate and can easily get under $450.
We found SE535-CL features a sound-isolating design that is specifically made to block unwanted external noise, and you will also get several included sleeves that can block up to an impressive 37 dB of outside noise, so taking part in music is a completely immersive experience. 
With Shure SE535-CL, you will get a detachable cable that adds convenience and is easily replaceable or customizable and with a gold-plated MMCX connector with a lock-snap mechanism, you will get a safe experience from the risk of accidental disconnections, and also MMCX lock mechanism is able to provide 360-degree rotation so fitting comfortably and individually.
I tested the sound of Shure SE535-CL in the lab, and in response, I got high-definition audio + Clarity as SE535-CL has triple high-definition drivers, which reproduce detailed accuracy achieved through a coordinated effort and the bass I observed was much more natural, so you will achieve a richer, deeper sound. In summary, the Shure SE535-CL IEM is a bit of a budget option as compared to Final B3, and with triple high-definition drivers, detachable cable, and comfortable over-the-ear design, the superior sound isolation is provided and I will recommend SE535-CL to both audiophiles and professionals.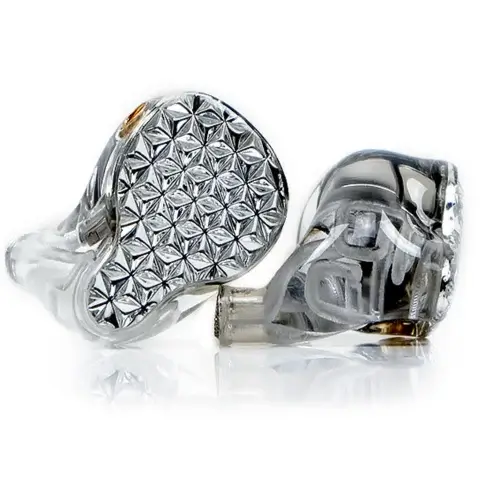 Best-sounding Fiio earphone
View on Amazon Read Customer Reviews
After Shure SE535-CL here is  FiiO FA9 IEM which is also a high-end offering that caters to the most discerning audiophiles and with a price under $480, this FiiO FA9 provides a memorable listening experience. You will find FiiO FA9 IEM available in two attractive colors which are clear and Black which looks stylish and highly functional. At the heart of the FiiO FA9 are six Knowles balanced armature drivers per ear, carefully arranged and tuned with a 4-way crossover and its meticulous design ensures great sound In all frequency spectrum.
The FiiO FA9 inclusion of a low-frequency ultra-long sound tube, with a length of 80.6mm, acts as a low pass filter, improves low-frequency response and delivers deep, impactful bass.I found on FiiO FA9 is the presence of three sound adjustment switches so users can customize sound signatures and this level of customizability ensures that the FiiO FA9 is multi-genre and personal preference-adaptable.
As compared to Shure SE535-CL and Final B3 the FiiO FA9 also features detachable MMCX design, coupled with the included 3.5mm-terminated 8-strand monocrystalline silver-plated copper cable offers conveniently transmits signals and is extremely reliable and cable itself is a testament to FiiO's commitment to detail-oriented quality.Moreover, two dedicated woofers are included in the FiiO FA9 to provide powerful bass and satisfying low-frequency response.
As a high-end IEM, the FiiO FA9 is Hi-Res Audio certified assuring faithful reproduction of sources of high-resolution audio and with the inclusion of the custom EJ-33877 driver it will contributes to the outstanding performance at mid-frequency so you will hear clear sounding vocals and instruments. So after testing FiiO FA9  in Wooster lab, I found FA9 as a masterpiece that provides customizable sound with combination of balanced armature drivers, sound adjustment switches, and dedicated woofers resulting in a stunning audio experience. The FiiO FA9 is best IEM under $500.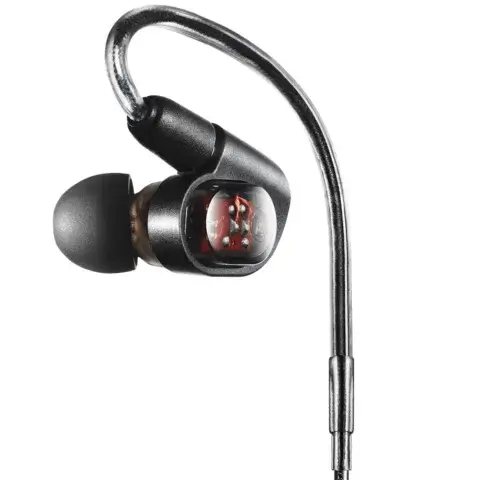 Best choice for IEM systems
View on Amazon Read Customer Reviews
After FiiO FA9 now, we will look at Audio-Technica ATH-E70, which is a flagship Iem model which is purchasable for under $400 and delivers accuracy, comfort, and affordability. In lab tests, I found Audio-Technica ATH-E70 has a design with three balanced armature drivers, due to which it provides precise results with a wide frequency response range, and with the sleek black design of the ATH-E70 exudes sophistication.
The Audio-Technica ATH-E70 features maximum isolation housing providing a secure fit and excellent noise isolation, and looks magical with its transparent colored detachable, which I found has a cable size of 1.6-meter and with its newly developed A2DC connectors; you will get a cable connection strengthened and durable. If we talk about weight, then I found the weight mentioned on Audio-Technica ATH-E70 packing was 9 grams, and I feel that this IEM is much light weighted, so with ATH-E70, the long listening sessions can be enjoyed without discomfort and as with the inclusion of Comply foam ear tips you will get comfortable and comfortable and personalized fit with effective noise isolation.
After being more technical with ATH-E70, I found that this Audio-Technica IEM has a frequency range of 20 - 19,000 Hz, and sensitivity of 109 dB/mW, and an impedance of 39 Ohms, making these IEMs easy to drive, Broadly covers the audio spectrum and multi-source audio compatibility.
The Audio-Technica ATH-E70 features an angled 3.5 mm stereo jack plug which helps in Reducing cable strain and adds convenience; while when someone uses ATH-E70 for a long time, you can get the benefit of long-wearing comfort so if you are an audiophile and professionals then I can say you will really appreciate ATH-E70 IEM.
View on Amazon Read Customer Reviews
Now after  FiiO FA9, here is Shure SE215, which is a bit more expensive than Audio-Technica ATH-E70, like a $100 you can save. But a question arises: is Shure SE215 worth it? So I found this answer after testing Shure SE215  in the lab. Under the $300 range of budget, you can get Shure SE215, and this remarkable IEM offers an affordable sound-isolating solution.
The Shure SE215 PRO IEM are great Sound Isolating™ Earphones that have performance-driven options affordably priced. You will find a detachable 3.5mm cable with the SE215 Pro, which will allow you for easy replacement or customization, and as the Shure SE215  IEM has a sound isolation design then, it's great for keeping external noise at bay, blocking up to an impressive 37 dB of unwanted sound so if you are a musician or audio professional then the SE215 is great for your music listening taste.
One notable inclusion with the SE215 PRO is the True Wireless Secure Fit Adapter which is great for a secure fit without sacrificing wireless convenience, and the sound codecs supportable by SE215 by Shure are aptX, AAC, and SBC Bluetooth codecs ensuring transmitting wireless audio with high quality.
You will find a bunch of colors available for the SE215 PRO, including clear, blue, black, and purple, giving users the option of styles being selected based on preferences and with the inclusion of three pairs of silicone and three pairs of memory foam ear tips measuring 12mm and 13mm an individualized fit is possible for each user.
So after testing Shure SE215 Pro in our lab, my final remarks are this SE215 in-ear monitor provides cost-effective sound isolation and customization, so if you are an avid listener, then SE215 will give you uninterrupted audio enjoyment.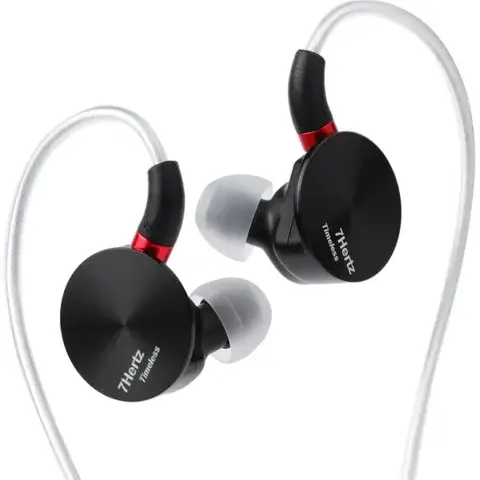 View on Amazon Read Customer Reviews
After the Shure SE215 PRO, here is Linsoul IEM, which is a true gem in the world of in-ear monitors and; as compared to the Shure SE215, Audio-Technica ATH-E70, and final B3, this one also provides you with the meticulously crafted audio experience.
The Linsoul 7HZ Timeless AE has its 14.2mm Planar Driver and ultra-thin diaphragm, which helps you in getting clear, precise, and unmatched sound and as compared to SE215, this Linsoul 7HZ also has a lightweight body that is mainly constructed from aviation-grade aluminum CNC to gives you a robust and durable shell and this material gives the highest level of strength and longevity. I found that Linsoul 7HZ comes with a silver-plated single-crystal copper cable, which results in higher sonic quality and delivers perfect signal transmission, and minimizes signal loss and if I talk more about cable, then this cable has detailed construction, so a faithful reproduction of each nuance of the audio is ensured.
The Linsoul 7HZ comes with an impedance of 14.8ohm, a sound pressure level of 104dB/1 Khz, and a wide frequency response range of 5-40000 Hz for delicate nuances as well as deep, resonant bass tones.
The Linsoul 7HZ in-ear monitor measures a mere 5.5g per single earbud which is for a fatigue-free listening experience even during extended sessions, and while testing Linsoul 7HZ in the lab, I found the connector features MMCX compatibility assuring the reliability and security of the connection of IEM and cable and is easily replaceable or customizable cables. So overall, I found Linsoul IEM to be very impressive and give you exquisite sound reproduction, exceptional build quality, planar driver technology, and lightweight construction. The Linsoul 7HZ is the best IEM under $500.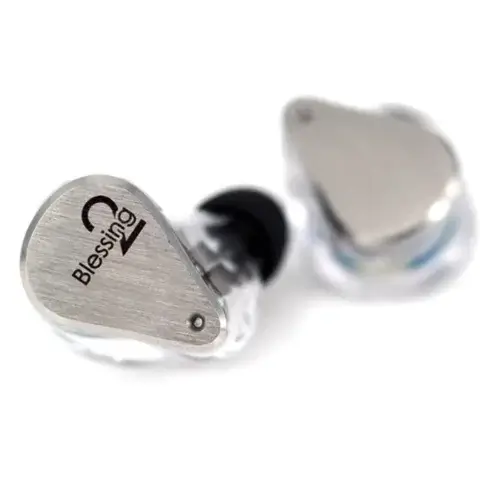 View on Amazon Read Customer Reviews
After Linsoul 7HZ Iem, here is Moondrop Blessing2 in-ear monitor, which is a testament to Moondrop's dedication and aims to create stunningly designed audio products.The Moondrop Blessing 2 features CNC stainless steel cover besides adding elegance, it also ensures durability and longevity and I found that this IEM features Hybrid type triple crossover which exhibits precision tuning and meticulous engineering, and there is a combination of a 1DD (Dynamic Driver) and 4BA (Balanced Armature) per side, with a triple crossover which resulting in a balanced and harmonious sound signature.
With an impedance of 22Ω@1kHz (±15%) and a frequency response range of 9-37KHz (Free Field, 1/4" MIC, -3dB), the Moondrop Blessing 2, besides capturing the delicate nuances of music, frequency ranges are accommodated by it, from highs to lows. Assimilated by Knowles SWFK as the high driver, Softears D-MID-A as the mid driver, and a 10mm paper diaphragm dynamic driver as the low driver, Moondrop Blessing 2 maintains coherence and detail throughout the entire frequency range.
The Blessing 2 maintains excellent channel matching, with a channel mismatch of ±1dB @1kHz, presenting a balanced, accurate sound; so overall, the Moondrop Blessing2 IEM impresses with its elegant design, precise engineering, and cohesive sound signature and with its hybrid driver configuration and triple crossover the performance and design should blend harmoniously.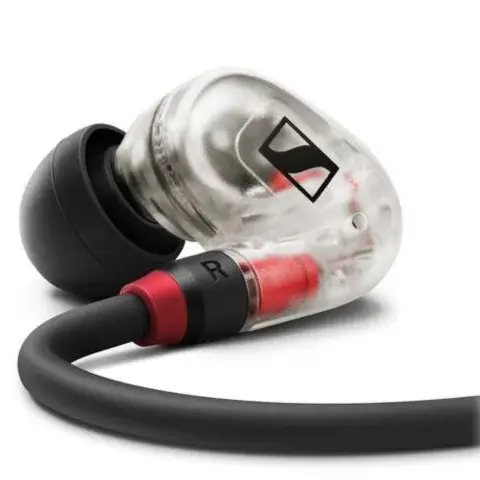 View on Amazon Read Customer Reviews
After the Moond-ear rop Blessing 2 Inmopnitor now I second lastly I will going to review Sennheiser Pro IEM, which has the same rice idea as Audio-Technica ATH-E70 and is under $400 and easily grabbable.
The Sennheiser Pro IEM comes with total harmonic distortion (THD) of less than 0.08% and is equipped with a dynamic 7mm wideband transducer and the TrueResponse driver system so that you will get an accurate and clean reproduction of sound, and furthermore, Sennheiser in-ear monitor delivers a wide frequency response range of 6 - 19,000 Hz for bringing out nuances as well as extended highs.
The Sennheiser Pro IEM features an impedance of 16 Ohms, so various audio sources can easily drive it. With a sound pressure level (SPL) of 123 dB (1kHz / 1 Vrms), this Sennheiser Pro IEM can, even at lower volumes, deliver powerful, dynamic audio, and its included 1.3-meter cable is pretty convenient and flexible.
The Sennheiser in-ear monitor with an attenuation of up to 26 dB will give you fully immersed music, and I found that its balanced design ensures accurate left-right channel balance and stereo imaging.  You will get Sennheiser Pro IEM in two color options one is Smoky Black and the other is Clear, and more its aesthetics and durability are further enhanced by its black straight cable, so overall, the Sennheiser Pro is the best IEM under $500.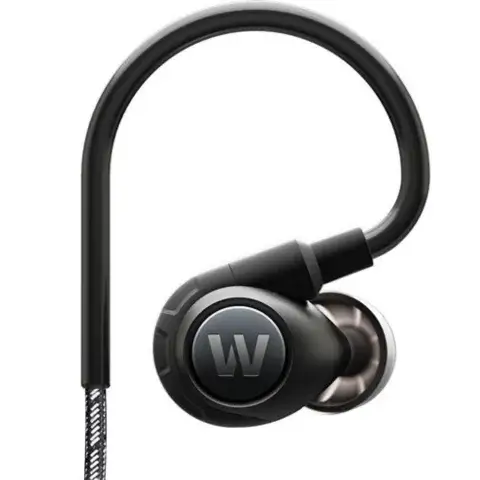 View on Amazon Read Customer Reviews
I lastly test Westone 78400 IEM in Wooster Audio Lab, and at that time, when I compare pice of it with Sennheiser Pro, Shure SE215, Final B3, Fiio, and Audio-Technica ATH-E70, then I really found Westone 78400 IEM as a budget-friendly gem.
The Westone 78400 IEM is greatly designed for those on the move as it is IPX weather-resistant, so if you find yourself at outdoor activities or workouts, then don't worry about elements as due to IPX, it provides you protection against the elements. I found that the Westone 78400 IEM is equipped with a 6.5mm micro driver, and its body construction is magnesium with aluminum faceplates offering both durability and a sleek aesthetic, and its design is enhanced by its black color.
The Westone 78400 IEM also enables you to have a built-in in-line microphone, so from now you can do hands-free communication that makes your life easier. With the Westone 78400 IEM, there are also some included silicone and comfort-foam ear tips in five different sizes, and they ensure not only a secure seal but also provide an average of 25 dB noise blockage.
So as being more budget-friendly Westone 78400 IEM will eye the star of any music lover, but when I tested the audio play then, I felt bitter disappointment about the sound, which was not as quality wise as the expensive IEM is giving like  Final B3 IEM or Audio-Technica ATH-E70 but Still Westone 78400 worth it under $100 range.
Quick Buying Tips
When considering the best IEM under $500, it's necessary to keep your budget and certain technical and non-technical requirements in mind.
Frequency Range
First thing first, frequency range is important to consider when buying In-ear monitor. Check the frequency range depending on your requirements and choose the one which better fulfills your demands and get an idea of the IEM's capability and refer to the range of frequencies measured in Hertz (Hz).
Note: Iem having broader frequency range is better and you can get better deep bass, midrange vocals, and crisp treble
Standard ohms levels (measured in ohms)
The impedance rating or Ohm rating of IEMs is important to know how much power would be required to get a good listening experience. IEMs can be of low-impedance (up to 32 ohms), moderate impedance (32-100 ohms), and high impedance (100 ohms and above). Therefore, keep it in mind when looking for an IEM pair. 
Budget Range
Budget is an important thing to consider when buying an IEM. So if you're buying for the first time, search for good performance and good tonality IEM under $200 and $500 price range. However, you have to sacrifice some features. After getting some experience, you can invest in some good quality IEMs.
Wired and wireless options
Even though the world has switched to wireless earbuds, IEMs still give an option of wired headphones to give a high listening experience to users. There are IEM connectors to use them either wired or wireless. You must keep this in mind when buying IEMs!
Independent earpiece tuning option
IEMs offer an option of independent earpiece tuning, and allows the users to adjust the sound depending on their liking.  This feature is essential if you're planning to buy your first pair of IEMs or replacing the old one. 
Subwoofer and tweeter balance
Subwoofer is designed for low-frequency sound while the tweeter is designed for high-frequency sound. The balance of the subwoofer and tweeter is necessary to get a well-rounded sound. Use your ears as testing probes and check whether volume is balanced after you wiggle it. 
IPX ratings
IPX ratings are worth knowing if you're buying new IEMs. The different rating systems have different meanings and are used to evaluate how resistant the product will be against environmental changes – dust and water. The IPX rating is usually mentioned on packaging.
How Do We Tested
Team Wooster Audio taken Popular IEMs and tested for above-mentioned criteria. Firstly, their frequency level and standard ohm level was checked to ensure that sound is perfect. After that, other options including independent earpiece tuning option, IPX rating, and Subwoofer and tweeter balance were checked manually. Price of each IEM was also kept in mind while selecting best IEMs under the $500 budget.
Based on testing, following IEMs are recommended:
Frequently Asked Questions
Is sound quality better with IEMs?
IEMs have more clarity and detail than earbuds. The in-ear design of IEMs provides a more accurate and detailed sound. However, IEMs feel louder as they have better passive noise isolation. So, they have fine sound quality and are better suited for small and medium-sized venues.
How dangerous is it to wear only one IEM?
Wearing one IEM is not good for ears as it increases the risk of ear fatigue. Wearing one IEM dropped down sound by 6dB and you need pushing your voice excessively. The ear without IEM is also prone to loud sound which is certainly not a good option.
How much volume is safe for IEMs?
Although there is no specific volume limitation, but experts recommend to keep the sound level somewhere between 60 to 85 dB so your ears are not damaged. However if you're listening loud, restrict the time.
Is IEM suitable for everyday use?
IEMs are similar to ear buds, designed for musicians and other performers. They have far good sound quality. So yes, as far as their quality is good you can use them for a longer period of time without being irritated.