Did you know that Direct-drive turntables serve diverse purposes? The Audiophiles really appreciate their high-fidelity sound; DJs rely on them for precision, and they're used in home entertainment, vinyl recording, music production, archiving, and audio restoration due to their stability and accuracy. Turntables with direct-drive motors are ideal for DJing and precise audio playback because they are faster, more stable, and start up more quickly than those with belt-driven motors.
Did you know: It was Shuichi Obata who invented the first direct-drive turntable.
Grab: Best Semi Automatic Turntable
Our team at Wooster Audio took some time to test some direct drive models that are good to go. Let me tell you how we tested them. While testing the Equipments we used are:
Yamaha R-N303 Stereo receiver
Cambridge Audio Solo Preamp
AudioQuest Type-9 Speaker wire
We used Stereo speakers, including KEF LS50 Meta and PreSonus Eris E3.5 Bookshelf speakers for sound quality output. We also use Fluance Signature HiFi 3-Way tower speakers. How can we forget Vinyl Records? The following one we used:
John Williams - Jurassic Park (1993)
Pink Floyd - Dark Side of the Moon (1973)
Daft Punk - Random Access Memories (2013)
Popular Recommendations
Best Direct Drive Turntables Reviews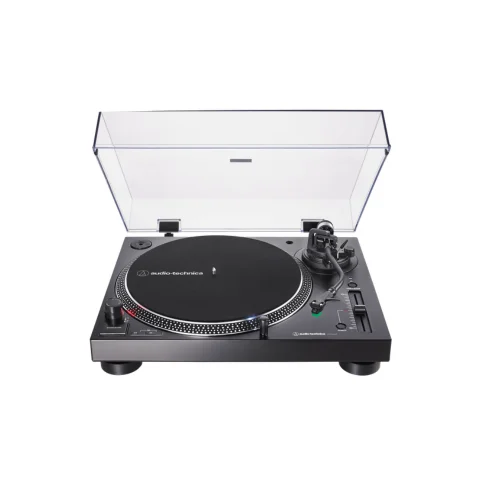 SPECIFICATIONS
Type: Fully manual operation / 3-speed ~ Motor: DC servo ~ Speeds: 33-1/3 RPM, 45 RPM, 78 RPM ~ Platter: Die-cast aluminum ~ Starting Torque >1.0 kgf.cm ~ Wow and Flutter:  <0.2% (WTD) @ 3 kHz (JIS) ~ Power Requirements: 100 to 240 V
Pros
+ Fantastic for beginners
+ Solid drive mechanism
+ Anti Skate improved
+ Entry level direct drive record player
Cons
- Dust cover hinges can be fragile
- Built-in preamp may not satisfy to some audiophiles
My first recommendation is AT-LP120XUSB-BK.Enjoy the high-fidelity sound of vinyl with the Audio-Technica AT-LP120XUSB-BK. This setup will cost you under $400—a DC servo motor with direct drive and selectable 33, 45, or 78 R speedsPM. The design also contains a damped base structure for reduced low-frequency feedback coloring. 
The manual setup has balanced, variable pitch control with a quartz speed lock and adjustable dynamic anti-skate control. The product has an S-shaped tonearm with a locking rest and hydraulically damped lift control. 
Setting up the arm balance on the Audio-Technica AT-LP120XUSB-BK is relatively easy, but people not mechanically inclined might need assistance. After then, it has done an excellent job of playing our old and new vinyl records, you receive more. 
Compared to the 120's tremendous noise, the platter/motor is tranquil. You won't be able to hear the motor even if you place your ear close to the 120X. So excellent. Users praised the LP120's RCA jacks, removable pilot light, and built-in pop-up light for allowing them to replace their cords. The LP120X additionally has a detachable light for rotational purposes.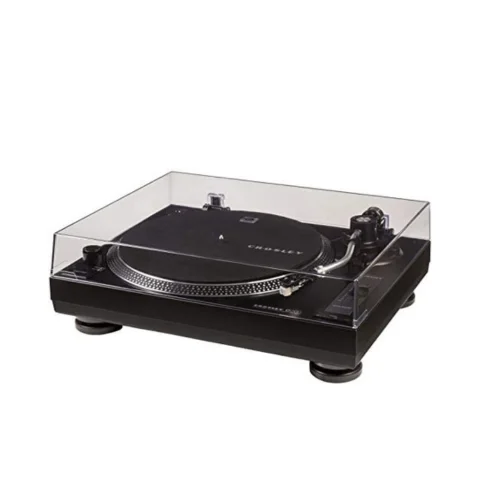 SPECIFICATIONS
Speed: 33 1/3 & 45 RPM ~ Platter: Aluminum ~ Built In Preamp: Yes ~ Type: Manual  / 2 speeds  ~ Tone Arm: S-Shaped
Pros
+ No frills design
+ Solid build quality
+ Easy to set-up
+ Phono preamp is build-in
Cons
- Short size RCA cables are included
Note: The Crosley C200A-BK is currently out of stock, I will update its availability as soon as it is available.
The cost of the Crosley C200A-BK is under $300 range. This system uses Crosley's first best direct drive turntable motor, which swiftly and smoothly accelerates records. To create the best mashup ever, you may use the built-in pre-amp or add your own. An AT-3600 moving-magnet cartridge, adaptable to any preference, is included with the C200.
The finest feature is balancing the S-shaped tonearm's smooth curves with an adjustable counterweight while selecting your beat with a different cartridge. Thanks to the built-in pre-amp, connect in powered speakers, and you're ready to rock. Of course, you may always use your pre-amp instead of the one with the device. Although the Crosley C200A-BKt was a tad fast right out of the box, several users claimed it was readily adjusted, so the dots on the platter seemed immobile in the lighting.
You may also change the cartridge and correctly set tracking with the counterweight. The high-quality stylus may be upgradeable. Bluetooth is quite handy regarding connectivity, and the audio quality is excellent. Your music from vinyl through the same Bluetooth headphones will sound better/warmer with the Crosley C200A-BK than the same song using the same headphones when streamed at the best streaming rate.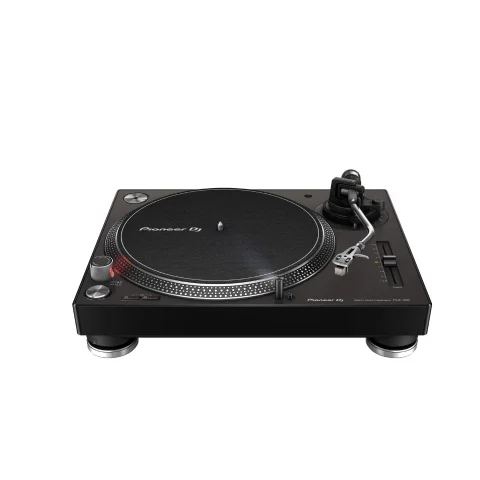 SPECIFICATIONS
Speeds: 33, 45, 78 ~ Pitch Control: ±8% ~ Platter: Aluminum ~ Arm Style: S Shape ~  Type: Manual  ~ Built In Phono Stage: Yes
Pros
+ Solid Pioneer build
+ Has great torque and stability
+ Budget friendly turntable
Cons
- Cheap RCA cables included
The Pioneer DJ PLX-500 offers a warm, clear analog sound and takes after the design of the PLX-1000 professional turntable. It's the ideal deck for beginning vinyl playback. This high-torque deck is well-made, has good vibration dampening, and has precise audio playback. 
It also includes a USB port for our free rekordbox software to digitize your vinyl collection. You may also use this player with the Rekordbox DVS Plus Pack (a compatible mixer and the RB-VS1-K Control Vinyl) to play and scratch with digital files. The Pioneer PLX-500 provides a high-quality vinyl sound, just like the PLX-1000. 
The shortest audio path from the stylus to the outputs minimizes distortion, and the phone/line output option enables direct connections to powered speakers or your home music system without an extra amplifier. Therefore, by simply connecting the turntable to your PC or Mac through the USB, you can now record your vinyl collection to high-quality digital files.
Alternately, have fun mixing and scratching your vinyl records, or pair the turntable with the RB-VS1-K, rekordbox dvs, and a suitable DJ mixer. You may now use vinyl to perform and playback your digital files.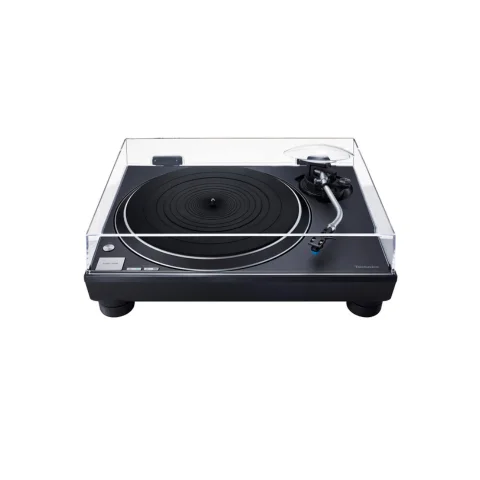 SPECIFICATIONS
Type: Manual  ~ Motor: Brushless DC ~ Turntable Speeds: 33 1/3, 45, 78 rpm  ~ Starting Torque: 0.18 N・m / 1.8 kg・cm ~ Braking System: Electronic brake ~ Wow and Flutter: 0.025% W.R.M.S.
Pros
+ High-precision stable rotation
+ Beautiful design
+ Audiophile-Grade Cartridge Included (AT VM95C)
This is a bit expensive player, costing more than $1000. With Technics Turntable, a Premium Class HiFi Record Player, embrace the Real Vinyl Culture. The SL-100C Turntable, with classic features of Technics' illustrious turntables, employs a single-rotor coreless direct drive brushless DC motor for steady, smooth playing. 
This player reads your records accurately by offering For the best tracking and quality; the high-sensitivity metal S-shape tonearm reads every signal in record grooves. The player includes High fidelity is provided with little setup required by an Audio-Technica cartridge, and the tonearm height is simply adjustable within a 6 mm range, making it possible to utilize different phono cartridges for simple upgrades. 
An auto-lifter that lessens the wear on records and styluses is also available. The lifter elevates the cartridge after a record. The sleek and elegant structure doesn't require motor power, eliminating electrical or resonance/ vibrational impact to help secure vinyl records from stylus wear. Your house may be decorated with a Technics Turntable, Premium Class HiFi Record Player in addition to being a player. A vinyl player provides an exquisite listening experience with a gorgeous body, design and attractive, high-quality functioning and is best direct drive turntable overall.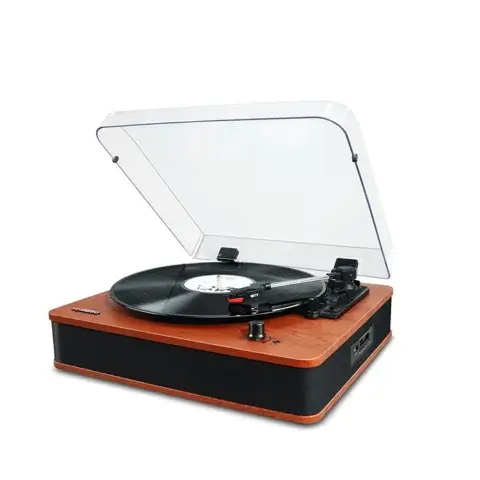 Direct Drive Turntable With Build-In Speakers
SPECIFICATIONS
Tonearm: S-shaped  ~ Tracking Error: Within 3° ~ Stylus Pressure Variable Range: 0-4 g ~ Motor:3-phase, brushless DC ~ Drive Method: Servo-type ~ Rotation Adjustment Range: ±8 % ~ Wow and Flutter:< 0.15% WRMS ~ Starting Torque: > 1.6 kgf・cm
Pros
+ Game-changer Bluetooth connectivity
+ Has built-in speakers
+ Easily connect using RCA cables
Cons
- Some complains about speaker sounds static
Vosterio Record Player will only cost you $100. This vintage-style record player gives you a genuine, complete, live vinyl experience in both treble and bass thanks to its two integrated stereo speakers and anti-vibration technology. Thanks to the wooden finish, it has a warm, velvety smooth feel, which also adds to the nostalgic vibe and transports you back to the good old days. 
The record player's LED panel on the back displays the appropriate mode. With the help of the buttons on the panel, you can quickly change settings or digitally save your record on a USB or SD card. In addition to having a stylish look, the Vosterio Record Player supports playing vinyl at three different speeds (33 1/3, 45, and 78). so that you can play every 7", 10", and 12" vinyl record in your collection; with its built-in HI-FI speakers and sturdy construction, the Vosterio record player may typically increase your enjoyment of vinyl records.
Regarding connectivity, Bluetooth allows you to stream music by linking your cellphones with Bluetooth. If FM radio is your thing, have no worries because this player supports frequencies between 87.5 and 108 MHz. The integrated FM tuner can also automatically find and save stations. Additionally, by plugging in your USB drive and TF card to the USB and TF jacks, you may play any digital music stored on them. Also, You may immediately record your vinyl into a USB device or TF card when playing a particular LP. By plugging a 3.5mm cable into the aux-in jack, you may stream music from your MP3 player, phone, or tablet.
Quick Buying Tips
Here's my advice: If you're looking for a reliable direct drive turntable that's precise, robust, and performs well, then follow the recommendations below.
Budget Range
When it comes to direct-drive turntables, you'll find options across the financial spectrum. But here's the deal: Stretch your budget a bit. Why? Well, Investing in high-quality turntable build and audio often pays off big time. So, be smart and consider your pocket range before grabbing any direct driven option.
Usage Intention
For Audiophile Listening, you can go for primo audio go for a turntable with a beefy plinth and solid isolation. If you're all about DJing, you need a direct drive option with serious torque. So hunt down Turntable models made with DJs in mind, packing tough parts and pitch control.
Build Quality
Turntables built to a higher quality are better suited for long-term use. So, if you consider a sturdy, well-built turntable with heavy plinths, vibration isolation, and high-quality components, you will always get a better option.
Speed Control
Most turntables spin at 33 1/3 and 45 RPM, and some 78 RPM for playing vintage records. So, to keep your music spot-on, pick one with a quartz lock or digital speed control, which greatly helps to ensure that the turntable's platter rotates at a constant speed. So, in this way, more pitch variations will be reduced, and as a result, sound quality will also be increased.
Tonearm
The tonearm quality is another point of consideration, as it is responsible for the tonearm on your records. So, look for anti-skate mechanisms, adjustable counterweights, and removable headshells for any time cartridge upgrade.
Cartridge and Stylus
Some direct drive options come with pre-installed cartridges and styluses, whereas with some options, you may need to purchase a separate one. So, I recommend you consider budget and cartridge type preferences (Moving Magnet or Moving Coil). One more thing: As time goes by, you may need to upgrade existing cartridges, which may result in poor sound quality.
Phono Preamp / USB and Digital
Plus Point, you can also check if the turntable also features a Phono Preamp (also called a phono stage). If it is present, then that is good; otherwise, you will need an external one to connect your stereo speakers or amp.
USB, Digital and Other Features
Some modern direct-drive turntables have USB outputs. If that's your thing, make sure you grab TT with sweet analog-to-digital converters and other features, including automatic start/stop, tonearm cueing, and Bluetooth connectivity.
Reviews and Recommendations
The only way you can evaluate a product's usability, features, merits, and demerits is to read other people's reviews on some of the turntables we have listed. If you choose SL-100C from our list, you can check its price on Amazon and see what other customers have to say about it.
Brand Reputation / Warranty and Customer Support
There are many popular brands in the market for Direct Drive options, like Audio-Technica (Top), Pioneer, Crosley, and more. The best way to choose a well-reputed brand and whose turntables are most popular among audiophiles is to check their comments, recent posts on Facebook or Instagram, and the brand's rating. Note: The Wooster Audio team always chooses products from well-known brands.
The following recommendations should be followed when purchasing a direct drive turntable so that you don't lose money.
How Direct Drive Turntable Works
Direct Drive turntables are like the rock stars of the vinyl world! They spin your precious albums with pinpoint accuracy and at lightning speed compared to other turntables. How do they do it? Well, there's this powerful motor right under the center of the platter, making a direct connection. No wobbles, no noise from gears, just smooth, beautiful music. And guess what? No moving parts means fewer annoying pops and clicks during your listening sessions.
Unlike their belt-driven cousins, Direct Drive turntables skip the whole belt-and-pulley drama. They're super user-friendly and pack a punch with their higher torque. It's like they're saying, "Hey, vinyl, I'm here to spin you flawlessly, and I'm not messing around!" 
How do I know if my record player is a direct drive?
Identify whether your turntable is direct drive or note by looking for the following features. First, check Motor Placement, if it is installed in the center, drive the platter, and rotate it to move discs. Check for Belt. You will not find a belt as the motor is directly coupled with the platter. Check Pitch Control. The platter's speed can be controlled by a pitch control in direct drive options, while in belt-driven, the pitch control is usually not present. Also, check for A 'direct drive' label on your turntable.
Frequently Asked Questions
Can you Djing With Direct Drive Turntable setup?
Obviously, It is possible to create a great DJ setup with a direct drive turntable which is explicitly designed for DJs and is also famous among them due to great features like high-quality rotors and high torque that allow very accurate playback of your music when DJing.
If you are Dj, we recommend you go with a specifically designed direct drive turntable with features you demand, like an adjustable pitch control design. Some DJ-oriented turntables, such as Pioneer Pro DJ PLX-500-K, are famous among Djs for reliable performance.
Why does a DJ need a good-quality DJ mixer?
Because no DJ would want people to boo to their songs, only a good-quality DJ mixer can produce the best sounds and excellent music that people will love. Using a low-quality DJ mixer ruins the real sound but cannot produce real sound waves.
What is the range of wow and flutter on a direct-drive turntable?
The range of wow and flutter on a direct-drive turntable is between 0.1% and 0.2%. On a direct-drive turntable, a suitable wow and flutter rating is less than 0.2%. A configuration that is below 0.1% is ideal. The human ear might be able to pick up a very slight variation in pitch on a steady test tone if it is above 0.2%.