It's Vinyl Time! Are you a High-end Audiophile and searching for a turntable whose platter spins via a Rubber Belt that is connected to a motor off to one side? This motor mechanism is found only in belt drive turntable types that produce less vibration for better sound quality.
You know, what makes a belt drive model stand out is its love for precision. Unlike those direct drive turntables, which have their motor bolted right onto the platter, belt drive ones use a nifty rubber belt to pass power from the motor to the platter. This clever setup helps keep vibrations and motor noise to a minimum, giving you a smoother and more accurate playback of your beloved music. 
The belt's isolation from the motor ensures smooth and consistent rotation, reducing speed fluctuations, wow, and flutter. Whether you're an avid collector or a casual listener, a belt drive functional turntable promises an analog magic of vinyl records that is faithfully embodied in this remarkable audio experience.
So our team at Wooster Audio did a lab test and listed the best belt drive turntables under different budget ranges, including Audio-Technica AT-LP3BK, Audio-Technica AT-LP60XBT-RD, Fluance RT80, etc.
Popular Recommendations
Best Belt Drive Turntables Reviews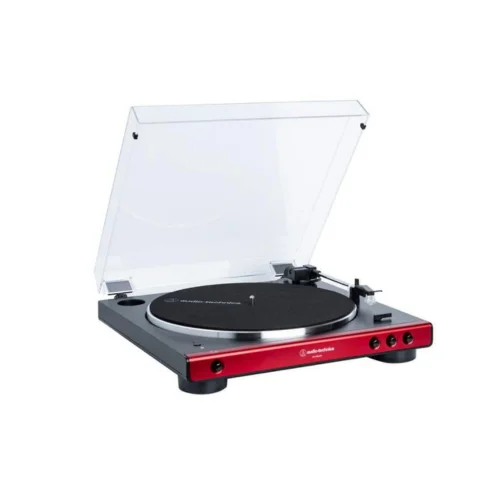 SPECIFICATIONS
Type: Fully automatic ~ Speeds: 33-1/3 RPM, 45 RPM ~ Turntable Platter: Aluminum ~ Wow and Flutter: Less than 0.25% (WTD) @ 3 kHz (JIS) ~ Power Requirement: 115/230V AC, 60/50 Hz ~ Phono Preamp Gain: 36 dB nominal
Pros
+ Well Balanced
+ Bluetooth and phono stage
+ Fully automatic
+ Easy setup
+ Wireless playback
Cons
- Normal Build quality
- Detail audio levels limited
The first option is Audio-Technica AT-LP60XBT-RD, which is the top-rated option under the $300 range. The AT-LP60XBT-RD features Bluetooth wireless technology, high-fidelity audio, and aptX codec compatibility. You may quickly connect your wireless headphones or speaker using the built-in Bluetooth and phono amp, or if your source doesn't have a phono amp input, you can join it to a line-level source. As a result, AT-LP60XBT-RD can connect wirelessly to powered speakers, Bluetooth speakers, other Bluetooth-enabled devices, and wired audio systems. 
The operation is fully automated with two speeds—33-1/3 and 45 RPM—and an anti-resonance, die-cast aluminum platter. The Audio-Technica AT-LP60XBT-RD has a high-quality Audio-Technica cartridge in addition to a redesigned tone arm base and headshell for increased tracking and less resonance. The Integral Dual Moving Magnet phono cartridge (ATN3600L) has a removable diamond stylus. 
Additionally, the AC adapter manages AC/DC conversion external to the chassis, lowering signal chain noise. A switchable phono pre-amplifier (built-in) can output at line- or phono-level. The casual vinyl listener would do well to choose this. It won't win any audiophile prizes, but on the plus side, the vinyl you play on it won't get damaged, thanks to the design. The AT-LP60XBT-RD includes anti-skate as well as an appropriate weight setting. So overall, the Audio-Technica AT-LP60XBT is the most popular option with hundreds of positive feedback. Here you can get good quality Semi Automatic Turntable for good sound.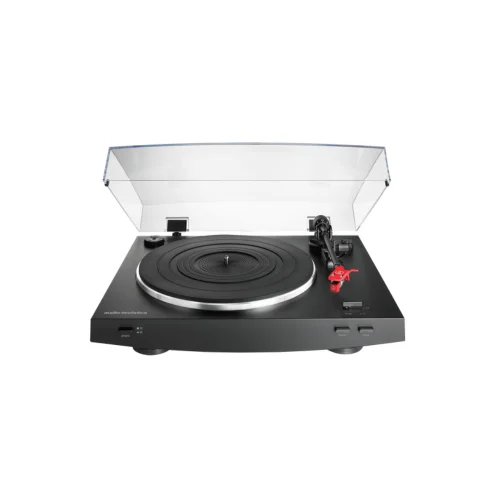 SPECIFICATIONS
Type: Fully Automatic / Belt drive ~ Motor Type:  DC motor ~ Speeds: 33-1/3 RPM, 45 RPM ~ Platter: Die-cast aluminum ~ Wow and Flutter: Less than 0.2% WRMS (33 1/3 RPM) ~ Power Requirement: 220 to 240 V / 50, 60 Hz ~ Signal-to-Noise Ratio: > 60 dB
Pros
+ Built-in phono stage
+ Expressive and musical
+ Fully automatic tonearm
+ Easy to use
Cons
- No tonearm safety latch
- Moving Coil option
After the AT-LP60XBT-RD, here is the AT-LP3BK, which is another Audio Technica quality player under the $250 range, which is reasonable for its features. With the sophisticated capabilities of the Audio-Technica AT-LP3BK that aren't generally available on automated turntables, take your analog listening experience to the next level—reduced low-frequency feedback coloration due to the damped base structure. The player includes an AT91R, a 1/2" mount universal headshell, and a balanced straight-tone arm. The Dual Moving Magnet phono cartridge provides excellent high-fidelity performance.
Fully automated operation is available with the Audio-Technica AT-LP3BK; to start playing, press the Start button, lift and reposition the tonearm, switch off the turntable, and press the Stop button. It is made of materials that reduce vibration and decrease low-frequency feedback. 
The AT-LP3BK contains a built-in switchable phono preamp with twin RCA outputs. These features facilitate connecting to powered speakers, home stereo, and other components with/without a dedicated turntable input. The AT-LP3BK player supports 33-1/3 and 45 RPM records. The AT-LP3BK is a beautiful turntable with plenty of upgrading potential for beginners who want to start collecting vinyl.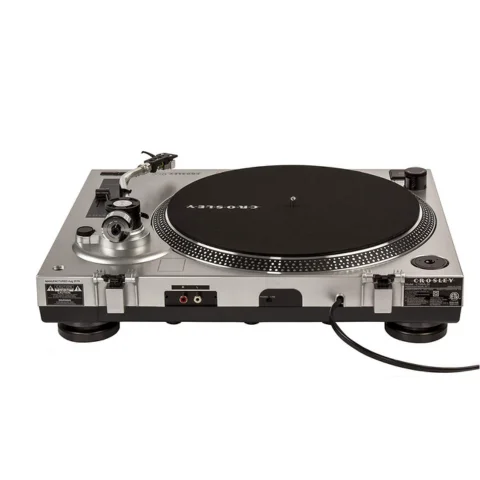 SPECIFICATIONS
Speed: 2-Speed (33 1/3 & 45 RPM) ~ Material: Aluminum ~ Adjustable Pitch Control: Yes ~ Anti-Skate Adjustment: Yes ~ Motor Type: Low-Vibration Synchronous Motor ~ Platter: die-cast aluminum
Pros
+ Budget Friendly Option
+ Good quality cartridge
Cons
- Useless pitch-slider
- Thin sound quality
- Plastic chassis
After the AT-LP60XBT-RD, here is the C100A-SI, which is my next recommendation in the belt drive category. Crosley C100A-SI will cost you under the $200 range, the best price for its features and designs. The user can easily change the belt-driven Crosley C100A-SI turntable's speed to choose between 33 and 45 RPM records. The manual start/stop controls give you total control over your vinyl records.
An adjustable s-shaped tone arm on this Crosley turntable lets you fine-tune the needle tracking force for your Crosley C100A-SI. This turntable is immediately ready to be plugged in and utilized with nearly any audio system, thanks to its built-in Pre-Amp and detachable RCA output cords. A steady, on-axis rotation is ensured by the damped die-cast aluminum platter and felt slide pad that comes standard with the Crosley C100A-SI. Quickly change between 33 and 45. Press the button. The belt must not be moved between spindles. The belt is acceptable if you're not trying to be a DJ.
The C100A-SI turntable comes in proper packaging, sets up quickly, has clear instructions, and sounds great when used with an ancient TEAC AV amplifier without pre-amp phono ports. The C100A-SI turntable's integrated pre-amp eliminates the need for a separate external component for wired applications.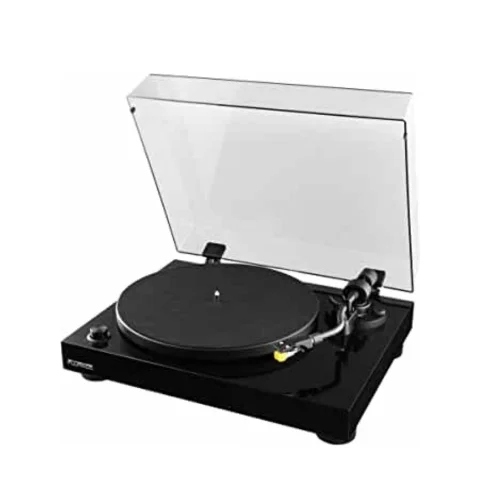 Best High Fidelity Option
SPECIFICATIONS
Motor: DC Motor ~ Motor Isolation: Three Point Rubber Isolation ~ Speed: 33 1/3 RPM, 45 RPM (78 RPM - No) ~ Wow and Flutter: 0.2% ~ Cantilever: Carbon Fiber ~ Stylus: 0.6mil Bonded Conical (Diamond) ~ Power Consumption: 1.5W
Pros
+ For Smooth Playback
+ Good Sound isolation feet
+ Beautiful Piano Black Finish
Cons
- Nothing in this price range
After C100A-SI, I will recommend you Fluance RT80 Classic, which you get under the $300 range. This high-quality belt-driven turntable can reproduce a performance precisely as the artist intended, thanks to the Premium components, which deliver a true analog listening experience. Superior clarity is produced with a high-grade Audio Technica cartridge. Also, The RT80 diamond-tipped stylus is made to follow the grooves of your records accurately for high-definition sound.
The RT80 S-Type tonearm's balanced and movable counterweight lets you enjoy each note fully. While brilliantly coaxing the music out of your vinyl, the tonearm's smooth bearing action and sophisticated anti-skating technology caress your record to prevent scratches and ensure the stylus is securely resting deep inside the groove.
Each turntable in the Fluance RT80 Classic is exquisitely made with thick, engineered wood, isolation feet, and an aluminum platter, providing the best possible isolation from undesired vibrations. A top-notch Texas Instruments pre-amp, a ground connection, and gold-plated RCA line outputs provide beautiful signal purity and warm, authentic sound. With the Fluance RT80 belt drive turntable, users remark on the excellent audio quality and the clarity of the assembly instructions.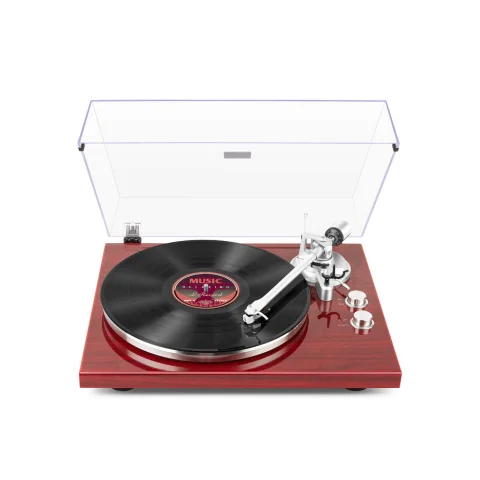 Best Wireless Belt Drive Turntable
SPECIFICATIONS
Speeds: 33 1/3, 45 ~ Bluetooth Connectivity: Yes ~ Adjustable Counterweight Force: Yes ~ Power consumption: 500 watts ~ Parts: Metal Component
Pros
+ Provide Vinyl playback enjoyment
+ Decent look
+ Support 95 Percent Bluetooth speakers
+ For accurate track grooves
Cons
- Some customers experience Skipped faults.
You can get a 1 BY ONE under the $200 range. The tonearm counterweight and sophisticated anti-skating system that come with the vinyl stereo record player ensure that the stylus is balanced and rests profoundly in the groove of your record, resulting in smooth stylus movement, safeguarding your records from damage and eliminating skips and distortion.
This allows for perfect playback every time. With the help of the included Magnetic type Preamp, you can now enjoy vinyl playback with any amplifier. 1 BY ONE Turntable also features Line and Phono Outputs to play vinyl with or without a Phono Equalizer. You can encode vinyl music into MP3s with this turntable's USB connection to your computer for digital storage and playing.
A fantastic, wire-free experience may be had by pairing the 1 BY ONE Turntable with Bluetooth speakers or headphones; even better, no receiver is required. The diamond-tipped stylus cartridge tracks your record's grooves precisely for high-definition audio. It's easy to set up, according to users. The directions provided are decent. After the tonearm is balanced, you can adjust the tracking force and fasten the anti-skate weight.
How We Tested
The Wooster Audio team tested all turntable models with the following procedure to find which belt drive record player is best for you. As the listening environment in our Wooster audio lab is already set, we start testing our listed turntable working mechanism (Motor Type, Speed Selection, and Other features). The needle was placed on the turntable, the play button was pressed, and we took a test and listened to the audio music production.
The playback quality of vinyl records from various decades was tested on each turntable by playing several Popular vinyl albums like Pink Floyd, Miles Davis, and Michael Jackson – Thriller. Our assessment was based on volume levels, clarity of sound, and overall satisfaction with the turntable performance. Generally, during the test, I found that all our listed belt drive units are constructed from better materials, such as metals and high-quality plastics, regarding build quality. Most users prefer belt drive option because they feel like they get a better audio experience.
Quick Buying Tips
Several things should be considered when choosing belt drive turntables, including the recommendations below from Team Wooster Audio.
Build Quality
When choosing a turntable, the build quality is crucial, and it's even more vital for belt drive TT because they have more moving parts than direct drive options. These parts must be of good quality, well-made, and properly aligned in order to get superior sound quality. Check motor specifications, Belt drive system, Platter material, tonearm spec, and Cartridge and stylus qualities.
Motor: Motors must be made from high-quality materials and, physically isolated from platters and shielded properly so that vibrations and noise can be reduced. For louder music genres, higher-powered motors are better, while lower-powered motors are better for quieter music genres. Check the motor specs to see how powerful the turntable is.
Platter: You see, the platter is basically the spinning surface where your vinyl record goes. It would help if you looked for platters that are made of sturdy, heavy material, such as aluminum or glass material.
Tonearm: It must be well-balanced and offer smooth movement.
Cartridge And Stylus: In order to read grooves on a record correctly, it is essential to use a stylus and Cartridge that are well-aligned and made of quality materials.
Sound Quality
It is my recommendation that quality of sound should be one of the top considerations if you intend to buy a belt drive TT. Ensure it is highly accurate with a rating of +/- 0.1% or better. Make sure the rumble and vibration levels are low (-60dB or lower) and that the tonearm tracking force can be adjusted. The accuracy of cartridges and styluses is crucial, as are factors like a platter and subplatter material, bearing quality, and isolation to prevent external vibrations. For high-quality audio.
Built-in phono preamp
Having a built-in phono preamp in your belt drive TT is like having one less thing to worry about. You don't need an extra piece of gear, like a separate amplifier or phono stage, and be able to connect additional equipment like powered speakers easily. TT with built-in preamps are less expensive and easy to use.
Automatic or Manual Option
You can choose between an automatic or manual belt-driven turntable based on your needs. The difference between them is automatic requires hand cranking and your turntable can magically lift and lower the tonearm and stop the platter all by itself when your record is done playing. Whereas Manual means you will manually lift and lower the tonearm and stop and start the platter. You know, manual turntables usually do a great job at keeping a steady speed, and they tend to be less fussy about noise and vibration.
Connectivity And Wireless Opportunity
Don't forget to consider additional features like auto-stop functionality, tonearm lift, and built-in phono preamps. Moreover, connectivity options are vital—look for USB or Bluetooth capabilities for wireless playback.
Belt Drive Vs. Direct Drive Turntables?
Direct drive or belt drive: everyone has their favorite type of turntable, but often the question is which is better: Direct Drive or Belt Drive? It depends on what you need. 
Mechanism: In a belt-drive turntable, there's this rubber or synthetic belt that makes the platter spin. It's kind of like a gentle push compared to the direct-drive ones, making belt-drive turntables quieter. On the flip side, direct drives are speed demons. Belt drives, though, are known for being reliable and budget-friendly.
Winner: Direct-drive turntables and belt-drive turntables each have their pros and cons. If you're an audiophile seeking pristine sound quality and stability, a belt-drive turntable might be your top choice due to its quiet operation and consistent speed. On the other hand, if you're a DJ or prioritize torque and durability, a direct-drive turntable could be the winner for you, as it offers higher torque and is better suited for scratching and back-cueing. Ultimately, there's no one-size-fits-all winner; it's about what suits your unique needs and preferences in music playback or mixing.
Frequently Asked Questions
At what point should I replace belt on Belt Drive Turntable?
Turntable with Belt Drive functionality should have their belts replaced annually or at least every two years. It might dry up even if you don't play your turntable frequently. Thus, this is only sometimes related to how often you use it. The platter bearing is crucial to the turntable's speed and overall longevity.
Why Should Get A Belt Drive Turntable?
You'll need less maintenance with a belt drive turntable; it's easier to move around, so it's a great choice for home use, it's more reliable than a direct drive turntable, and it is also quieter than a direct drive turntable, so it's an advantage if you are looking for an environment where you can listen to music quietly.
Can you scratch on a belt-drive turntable?
In fact, it is possible, but DJs prefer direct drive units because of their larger torques and quick response times. It is still possible to scratch records on turntables that are driven by belts. It is possible that the belt-drive system introduces a slight delay in response when manipulating the vinyl record due to the use of an elastic belt in order to transfer the motor's rotation to the platter.
Scratching effectively on a belt-drive turntable requires compensating for the slight delay after a platter is hit. For scratching techniques such as baby scratches, chirps, flares, and crabs, precise hand control and timing are required.
How to adjust Belt Drive Turntable Speed?
In some belt drive record players, you can adjust the speed by pressing a button on the front and turning a screw near the tonearm.  You may take your belt drive record player to a repair shop if it does not have this feature.
Adjust the speed slowly to get used to the new setting on your belt drive record player. After familiarizing yourself with the spinning speed, you can accelerate it. Keeping your speed under control can prevent your records from skipping.